Special Cash Package equivalent in lieu of Leave Travel Concession Fare during the block 2018-21: BPMS demands employee friendly clarification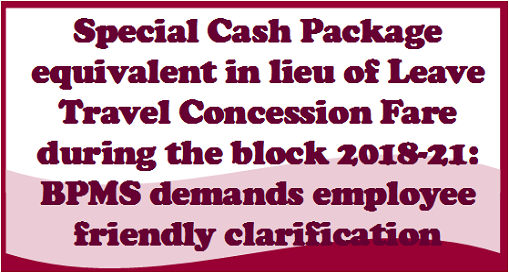 Bharatiya Pratiraksha Mazdoor Sangh
(AN ALL INDIA FEDERATION OF DEFENCE WORKERS)
(AN INDUSTRIAL UNIT OF B.M.S.)
(RECOGNISED BY MINISTRY OF DEFENCE, GOVT. OF INDIA)
REF: BPMS/ MoF/ LTC/ 50(7/2/R)
Dated: 13.03.2021
To,
The Secretary
Department of Expenditure
Govt of India, Ministry of Finance
North Block, New Delhi- 110001
Subject: Special Cash Package equivalent in lieu of Leave Travel Concession Fare for Central Government Employees during the block 2018-21.
Respected Sir,
With due regards, it is submitted that a Special Cash Package equivalent in lieu of Leave Travel Concession Fare was introduced by the Govt for Central Government Employees in order to boost economy disturbed due to prevalence of Covid-19 pandemic. Further, rules and clarifications were issued for proper implementation of this scheme.
It has been clarified vide para (3) and para (5) of letter No. 12(2)/ 2020/ E-Il.A dated 10 March 2021 that-
Para 3 Is the scheme admissible if payment is made digitally through friend, relative or any other person?
It has already been clarified in point 12 of the FAQ issued vide O.M. No. 12(2)/2020-E.II.A dated 20.10.2020 that for digital payment an employee can use credit card of himself/ herself, soouse or any family member.
In this regard, your kind attention is invited to the definition of family members mentioned in LTC Rules which is restricted and excludes Friends/ other family members/ relatives. Many employees are constrained to seek help from their friends/ relatives as 100% advance is not available in this scheme.
Therefore, you are requested to issue necessary clarification in this regard that digital payment through the account of friends, relatives or any other person is admissible too as it will also fulfil the same purpose for which the scheme was introduced.
Para 5 Portion of the payment was made in cash as against digital payment for the entire transaction. Whether this will be eligible under the Scheme?
The portion of digital payment may be allowed to be reimbursement subject to other conditions as contained in the O.M. dated 12.10.2020.
LTC Special Cash Package – FAQ No. 4 dtd. 10.03.2021: Finmin Clarification
As the payment in cash will also fulfil the purpose of this scheme to boost the economy, therefore, you are requested to allow the payment in cash.
Further, you are requested to extend the time limit of this scheme as many employees could not opt this scheme due to various reasons.
Thanking you.
Sincerely Yours
(MUKESH SINGH)
General Secretary/ BPMS &
Member JCM II Level Council (MoD)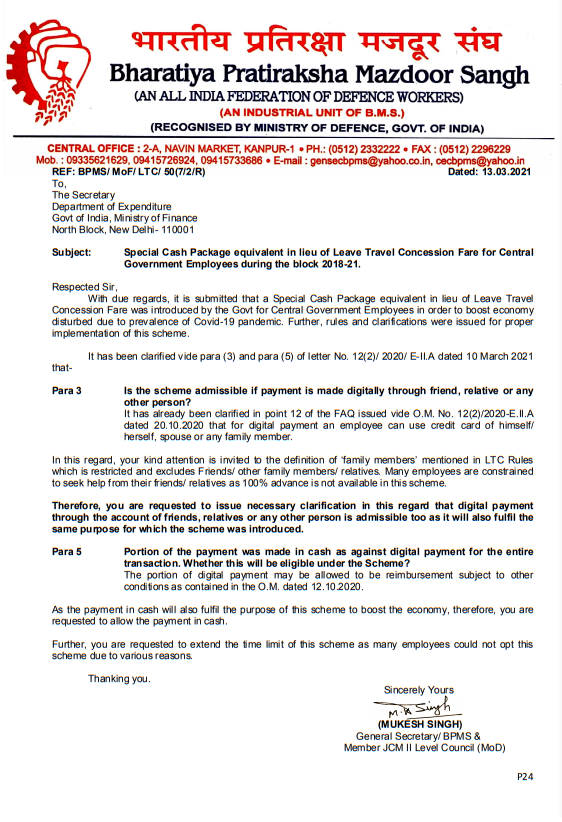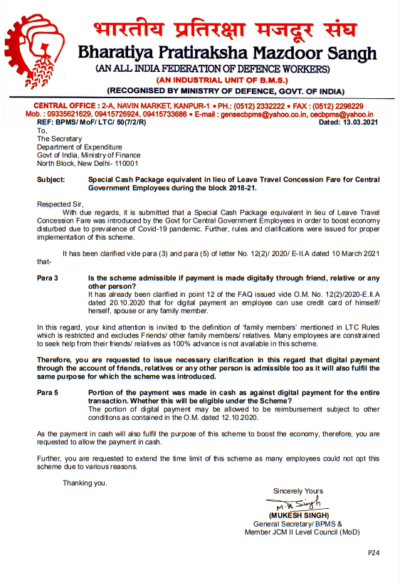 Source: Bharatiya Pratiraksha Mazdoor Sangh