Support to Ex-cadets of Indian Army, boarded out due to injuries during training
GOVERNMENT OF INDIA
MINISTRY OF DEFENCE
DEPARTMENT OF MILITARY AFFAIRS
LOK SABHA UNSTARRED QUESTION NO.2677
TO BE ANSWERED ON 10th March, 2021
SUPPORT TO EX-CADETS
2677. SHRI SHRINIWAS PATIL:
SHRIMATI RITA BAHUGUNA JOSHI:
Will the Minister of DEFENCE be pleased to state:
(a) the number of cadets boarded out due to injuries during training in the past five years;
(b) the percentage of cadets boarded out from those undergoing training at various academies during this period;
(c) the provisions available for disability pension, compensation, rehabilitation and other monetary benefits to the ex cadets on being boarded out on medical grounds; and
(d) the measures taken for continued support or alternative employment of the ex cadets on boarding out on medical grounds given their motivation to serve the nation but for unfortunate circumstances?
A N S W E R
MINISTER OF STATE (SHRI SHRIPAD NAIK) IN THE MINISTRY OF DEFENCE
(a) & (b): A total of 115 cadets of Indian Army have been boarded out in the past five years due to injuries during the training period. Their percentage training academy-wise is as under:-
| | | | | | |
| --- | --- | --- | --- | --- | --- |
| S.No | Year | IMA Dehradun | OTA Gaya | OTA Chennai | NDA |
| (i) | 2016 | 0.25 | 2.05 | 0.37 | 0.38 |
| (ii) | 2017 | 0.125 | 0.54 | 0.35 | 0.52 |
| (iii) | 2018 | Nil | 0.54 | Nil | 0.98 |
| (iv) | 2019 | 0.25 | Nil | 1.27 | 0.83 |
| (v) | 2020 | 0.37 | 1.25 | Nil | 1.35 |
Seven cadets of Indian Navy were invalided out of service due to injuries sustained during training in the past five years. They constitute 0.085% of cadets of Indian Navy who underwent training at different Naval academies in the past five years.
Six Flight Cadets were boarded out during training in the Training Establishments due to injuries in the past five years. They constitute 0.34% of the total Flight Cadets who underwent training in the past five years.
(c) The following Ex-gratia benefits are granted to cadets on being medically boarded out:
(i) Ex-Gratia Disability Award (For 100% disability, reduced proportionately) – Rs. 16,200/- pm + Dearness Relief.
(ii) Monthly Ex-Gratia – Rs. 9000/- pm + Dearness Relief.
(iii) Constant Attendance Allowance (For 100% disability only) – Rs.6,750/- pm
In addition, Army Group Insurance Fund (AGIF) provides disability and Ex-gratia benefits to cadets boarded out with disability.
(d) Sanction of Government of India exists for according priority-1 for the purpose of employment, to cadets boarded out on medical grounds attributable to Military Training.
As far as being considerate and compassionate towards cadets, there is a provision wherein, the trainees can be laterally absorbed into civil colleges post withdrawal. Indian Navy has signed MoUs with education institutes i.e. CT Group of Institutes (Jalandhar), Andhra University (Vishakhapatnam), Rai Soni Group of Institutes (Nagpur) to facilitate trainees being withdrawn. The trainees are granted Leave Pending Withdrawal (LPW) once the withdrawal case is forwarded to IHQ MoD (N), which enables them to undertake field scan/admission formalities for lateral absorption.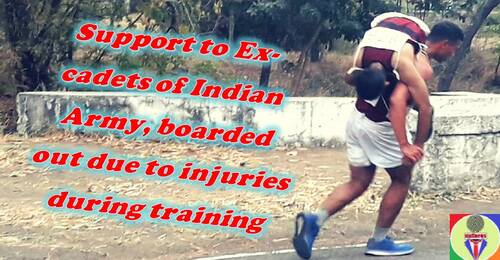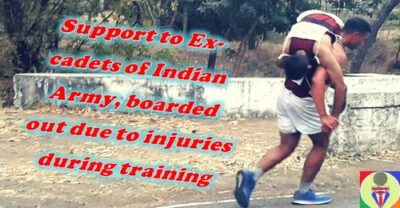 Source: Lok Sabha PDF Hindi & English