LTC Cash Voucher Scheme – Furnishing information regarding number of employees opted for Special Cash Package: Railway Board
MOST URGENT
भारत सरकार GOVERNMENT OF INDIA
रेल मंत्रालय MINISTRY OF RAILWAYS
(रेलवे बोर्ड)/ (RAILWAY BOARD)
No.E(W)2020/PS5-1/3
New Delhi, dated 29.04.2021
The General Managers (P)
All Indian Railways & PUs.
Sub: Furnishing information regarding number of employees opted for Special Cash Package equivalent in lieu of All India Leave Travel Concession (AILTC) Fare ie. LTC Cash Voucher Scheme only.
The Ministry of Finance, Department of Expenditure has called for information on the subject matter, in the following format, for furnishing to PMO immediately:-
| | | | |
| --- | --- | --- | --- |
| Total No. of employees | No. of employees opted for LTC Cash Voucher Scheme till 31.03.2021 | Total expenditure made under the Scheme | Cash Payment claimed |
| | | | |
2. MoF has also stipulated that the information should contain the figure of total expenditure made by the employees i.e. the sum of invoices submitted by the employees and the cash payment claimed i.e deemed LTC fare + leave encashment, if any given to the employees under the Scheme.
3. The details may be furnished in the above format, through e-mail at maheshkr.meena69[at]gov.in with copy to durgesh.sharma31[at]gov.in. It may be ensured that the information is furnished at the earliest and in any case before 03.05.2021.
4. THIS MAY BE TREATED AS MOST URGENT.
(Mahesh Kumar Meena)
Joint Director Estt. (Welfare)
Railway Board
Copy to:
JS/Railway Board – For furnishing information pertaining to Railway Board.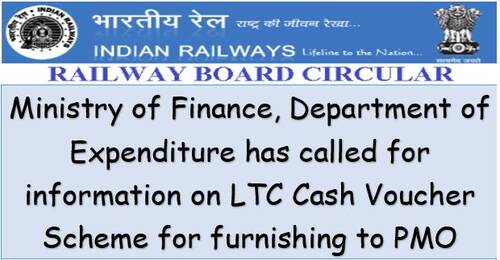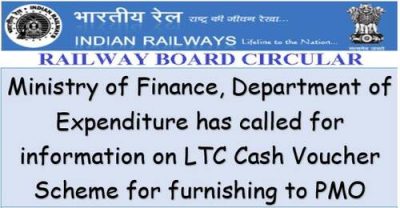 Source: Railway Board
[https://indianrailways.gov.in/railwayboard/uploads/directorate/establishment/pass%20rules/LTC-Cash-voucher.pdf]