Reimbursement of Medicines – Special Sanction till 31 Jul 2021 in view of Covid-19: ECHS
Central Organisation ECHS
Adjutant General's Branch
Integrated Headquarters
Ministry of Defence (Army)
Thimayya Marg, Near Gopinath
Circle, Delhi Cantt-110010
B/49761/AG/ECHS
16 Apr 2021
(All Regional Centres)
REIMBURSEMENT OF MEDICINES : SPECIAL SANCTION IN VIEW OF COVID-19
1. Further to CO ECHS letter No B/49761/AG/ECHS dt 16 Apr 2021.
2. The orders issued vide letter under ref at Para 1 above shall be valid from the date of issue of the letter under ref till 31 Jul 2021.
3. This has approval of MD ECHS.
Sd/x-x-X-X-X
(CA Mahajan)
Lt Col
(JD Med)
for MD ECHS
---
Central Organisation ECHS
Adjutant General's Branch
Integrated Headquarters
Ministry of Defence (Army)
Thimayya Marg, Near Gopinath
Circle, Delhi Cantt-110010
B/49761/AG/ECHS
16 Apr 2021
(All Regional Centres)
AMENDMENT FOR REIMBURSEMENT OF MEDICINES : SPECIAL SANCTION IN VIEW OF COVID-19
1. Further to this HQ letter No B/49761/AG/ECHS dated 23 Mar 2020, even No at 24 Apr 2020, 01 Jun 2020, 02 Jun 2020, 07 Aug 2020, 05 Oct 2020 and 01 Jan 2021.
2. A onetime sanction for purchase of medicines and claim reimbursement was issued till 28 Feb 2021. In view of increasing cases of COVID-19 and restrictions on mov in containment zones, to promote social distancing and avoiding unnecessary exposure to ECHS beneficiaries as well as minimizing footfall at ECHS Polyclinics, the ECHS beneficiaries having life style/ chronic ailments/ diseases on long treatment may purchase medicines lasting till 31 Jul 2021 in one go or month wise based on the prescription held (prescribed by doctor of Polyclinic / Service hospital / Empanelled hospital / Sehat OPD) irrespective of NA or otherwise. It is also clarified that the ECHS Polyclinics are functional and ECHS beneficiaries also have the option to collect medicines through ECHS Polyclinics as per normal practice, instead of purchasing from market, after taking prior appointment from respective OIC Polyclinic.
3. One time sanction is hereby accorded to reimburse the above expenditure under individual reimbursement of medical claims. The reimbursement will be done as per guidelines issued by this HQ vide letter No B/49761/AG/ECHS/Medicine Policy dt 18 May 2020 and even No dt 21 Jul 2020.
4. These orders shall be valid from date of issue till 31st Jul 2021.
5. The date upto 31 Jul 2021 indicates that the beneficiary may purchase medicines under this provision on any day before or on 31 Jul 2021, as per the date of his prescription. The medicines may be purchased as per prescription for a period of 30 days if purchased in the month of Jul.
Sd/xX-X-X-X-X
(C A Mahajan)
Lt Col (JD Med)
for MD ECHS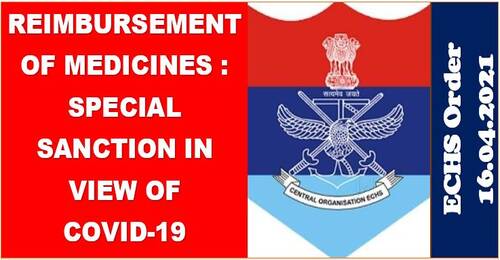 Source: Click here to view/download the PDF
[https://echs.gov.in/img/REIMBURSMENT%20OF%20MEDICINES%20SPECIAL%20SANCTION%20VIEW%20OF%20COVID.pdf]