Amendment in the Employee's Compensation Act, 1923: Railway Board Order RBE No. 64/2021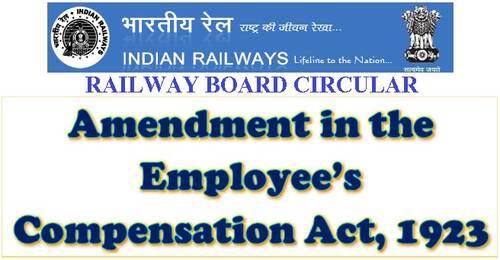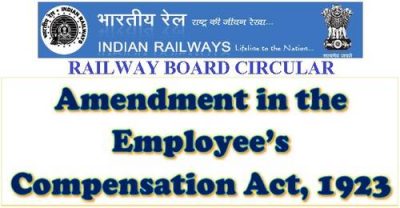 भारत सरकार/ GOVERNMENT OF INDIA
रेल मंत्रालय/ MINISTRY OF RAILWAYS
(रेलवे बोर्ड)/ (RAILWAY BOARD)
RBE NO. 64/2021
No.2021/E (LL)/ECA/1
New Delhi, Dated: 02.09.2021
The General Managers, All Indian Railways and Production Units
Metro Railway/Kolkata, CORE/Prayagraj
The CAO (Construction), All Indian Railways.
The Director General, RDSO/Lucknow
The DGs/ IRICEN, IRIEEN, IRIFM, IRIMEE, IRISET, IRETM
The DG/Railway Staff College/Vadodara
The CAO, COFMOW, Tilak Bridge, New Delhi
The CAO, MTP, Chennai and Mumbai
The Chief Administrative Officer, Rail Coach Factory, Delhi.
Sub: Amendment in the Employee's Compensation Act, 1923.
Ref: Railway Board's letter No.2011/E(LL)/WC/2 dated 11.05.2011.
Ministry of Labour & Employment vide Notification No.S-37025/03/2016-SS-I dated 03.01.2020 published in the Gazette of India (Extraordinary) Part II-Section 3-Sub Section (II), has notified amendment to the Employee's Compensation Act, 1923.
2. Copy of the said notification is hereby circulated for information and necessary action.
3. Please acknowledge the receipt.
DA: As above.
(Praveen Kumar)
Director Estt.(LL)
Railway Board