Dearness Allowance and Relief Hiked By 3% w.e.f. July, 2021 महंगाई भत्ते/राहत को 3 फीसदी बढ़ाने को कैबिनेट की मंजूरी
Cabinet approves release of an additional instalment of Dearness Allowance to Central Government employees and Dearness Relief to Pensions, due from 01.07.2021
An increase of 3% over the existing rate of 28% of the Basic Pay / Pension.
Update: Cabinet approves release of an additional instalment of Dearness Allowance and Dearness Relief due from 01.07.2021: PIB
The Union Cabinet on Thursday approved an additional release of Dearness Allowance (DA) instalment to the Central government employees and Dearness Relief (DR) to the pensioners. The decision will be effective from July 1, 2021.
The DA and DR hike announcement will benefit around 47.14 lakh Central government employees and 68.62 lakh pensioners respectively.
Impact on the exchequer on account of both DA and DR would be around ₹ 9,488.70 crore per annum.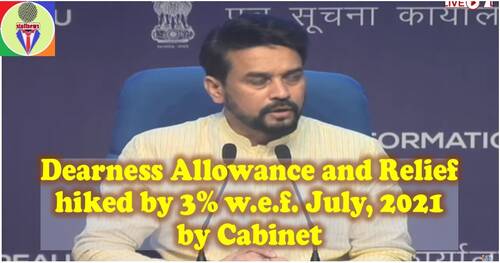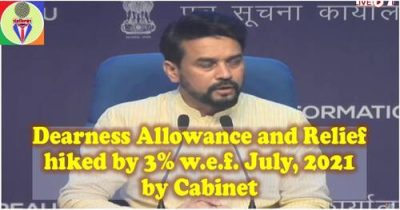 केंद्र सरकार के कर्मचारियों और पेंशनभोगियों के लिए आज बड़ा फैसला लिया गया है. उनके लिए दिवाली के तोहफे के रूप में  महंगाई भत्ते को बढ़ाने का फैसला लिया गया है. कैबिनेट मीटिंग में गुरुवार को केंद्र सरकार के कर्मचारियों और पेंशनभोगियों के लिए महंगाई भत्ते को 3 फीसदी बढ़ाने को मंजूरी दी गई है.
DA में 3 फीसदी की और बढ़त होने का मतलब यह है कि अब महंगाई भत्ता (DA) 31 फीसदी होगा. इस बढ़त का सीधा फायदा 1 करोड़ से ज्यादा केंद्रीय कर्मचारियों और पेंशनर्स को मिलेगा.
गौरतलब है कि इस साल जुलाई में ही सरकार ने महंगाई भत्ता (DA Hike) में 11 फीसदी की बढ़त कर इसे 28 फीसदी किया था. इससे पहले DA का भुगतान 17 फीसदी की दर से हो रहा था.
क्यों हुई बढ़त 
असल में लेबर मिनिस्ट्री ने AICPI (All India Consumer Price Index) के पिछले तीन महीनों के आंकड़े जारी किए थे. इनमें जून, जुलाई और अगस्त का नंबर शामिल था. AICPI इंडेक्स अगस्त में 123 अंक पर पहुंच चुका है. इससे ही यह संकेत मिल गया कि महंगाई भत्ते में सरकार आगे और बढ़त कर सकती है. इसके आधार पर ही केंद्रीय कर्मचारियों का महंगाई भत्ता तय होता है.
PIB News will follow.