Discontinuation/Recovery of HPCA/ PCA from the Civilian Health Workers under MoD during the Corona-19 Pandemic
Bharatiya Pratiraksha Mazdoor Sangh
(AN ALL INDIA FEDERATION OF DEFENCE WORKERS)
(AN INDUSTRIAL UNIT OF B.M.S.)
(RECOGNISED BY MINISTRY OF DEFENCE, GOVT. OF INDIA)
CENTRAL OFFICE : 2-A, NAVIN MARKET, KANPUR-1
REMINDER -2
REF: BPMS / MoD / HPCA / 50A(7/2/R)
Dated: 23.10.2021
TO,
The Secretary
Govt of India, Ministry of Defence
South Block, DHQ PO
New Delhi- 110011
Subject: Discontinuation/Recovery of HPCA/ PCA from the Civilian Health Workers under Ministry of Defence during the Corona-19 Pandemic.
Reference: – This federation's letter of even No. dated 18.02.2021 & 20.05.2021
Respected Sir,
Kindly refer MoD ID No. 11(3)/2016-D(Civ-l) dated 12 July 2017 whereby MoD circulated OM issued by MoF/ DoE regarding 7th CPC Allowances including Resolution dated 06.07.2017.
In this resolution, S.No. 83 deals with Hospital Patient Care Allowance (HPCA)/Patient Care Allowance (PCA) which states that Govt has accepted the recommendation of 7th CPC and resolved that Ministerial Staff to continue to get HPCA/ PCA as per R1H3 Rs. 4100 for level 8 and below and Rs. 5300 for level 9 and above) of Risk and Hardship Matrix. In compliance of the above, Min of Health & Family Welfare, Govt of India has issued OM No. Z. 28015/ 119/ 2012-H dated 17.05.2018 and dated 18.09.2019.
But MoD has not forwarded the above O.M. dated 17.05.2018, 18.09.2019 to subordinate Departments/ HQrs/ Organisations. Hence, concerned Accounts/Audit authorities has stopped the payment of HPCA/PCA of Civilian Health workers and commenced the recovery process.
It is worth to mention here that these Defence Civilian Health Workers are contributing their best during the Corona-19 pandemic but the discontinuation/recovery of HPCA/PCA is not only causing financial hardships, demoralization but adding insult to injury also.
Therefore, you are requested to issue necessary directives to the concerned authorities of MoD to comply with referred OMs of Min of Health & Family Welfare without further delay so that the Defence Civilian Health Workers may be paid their legitimate right of HPCA/PCA @ R1H3 without further delay.
Thanking You.
Sincerely yours
(MUKESH SINGH)
General Secretary/BPMS &
Member, JCM-II Level Council
(MOD)
Copy to: The Under Secretary D(JCM), MoD, New Delhi
– Kindly arrange a meeting with the concerned authorities.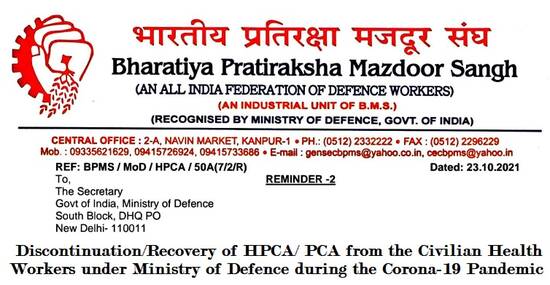 Source: http://bpms.org.in/documents/hpca1-kk9y.pdf