Views of DFS on Coverage under Old Pension Scheme after Courts' Judgement न्यायालयों के फैसलों के बाद पुरानी पेंशन योजना के अंतर्गत कवरेज के संबंध में वित्तीय सेवा विभाग के विचार
GOVERNMENT OF INDIA
MINISTRY OF FINANCE
DEPARTMENT OF FINANCIAL SERVICES
RAJYA SABHA
UNSTARRED QUESTION NO. 196
TO BE ANSWERED ON 301! NOVEMBER, 2021 (TUESDAY)/ /AGRAHAYANA 9,
1943 (SAKA)
VIEWS OF DFS ON COVERAGE UNDER OLD PENSION SCHEME AFTER COURTS' JUDGEMENTS
196. Shri Neeraj Shekhar:
Will the Minister of FINANCE be pleased to state:
a) Whether Department of Pension and Pensioners' Welfare (DoP&PW) has sought views of the Department of Financial Services (DFS) for excluding those employees of Central Government whose advertisements for recruitment were issued on or before 31/12/2003 from purview of New Pension Scheme (NPS) and to cover them under Old Pension Scheme in view of various judgements of Supreme Court and various High Courts;
b) If so, whether DES has furnished its comments to DoP&PW;;
c) If so, the details thereof along with the details of suggestions/recommendations made in this regard; and
d) If not, the reasons for delay and by when views of DFS would be furnished?
ANSWER
THE MINISTER OF STATE IN THE MINISTRY OF FINANCE
(DR BHAGWAT KARAD)
a) Yes, Sir.
b) Yes, Sir.
c) As Department of Pension and Pensioners' Welfare (DoP&PW) have been entrusted with the formulation of policy and co-ordination of matters relating to retirement benefits to Central Government Employees (Civil, Defence, and Railway Pensioners) under Government of India (Allocation of Business) Rules, 1961, DoP&PW has been requested to take appropriate decision with regard to matter mentioned in part (a) of the Question.
d) Does not arise.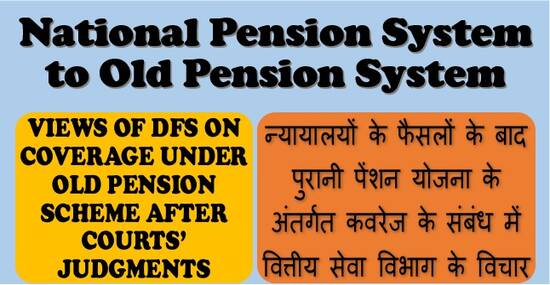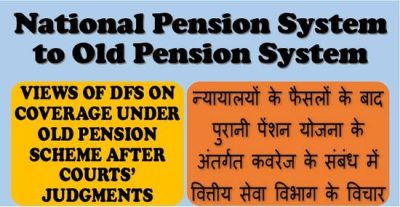 भारत सरकार
वित्त मंत्रालय
वित्तीय सेवाएं विभाग
राज्‍य सभा
अतारांकित प्रश्न संख्या 196
जिसका उत्तर 30 नवम्बर, 2021/9 अग्रहायण, 1943 (शक) को दिया गया
न्यायालयों के फैसलों के बाद पुरानी पेंशन योजना के अंतर्गत कवरेज के संबंध में वित्तीय सेवा विभाग के विचार
196. श्री नीरज शेखरः
क्या वित्त मंत्री यह बताने की कृपा करेंगे कि:
(कं) क्या पेंशन और पेंशनभोगी कल्याण विभाग (डीओपी एंड पीडब्लू) ने केन्द्र सरकार के उन कर्मचारियों, जिनकी भर्ती के लिए विज्ञापन 31/12/2003 को या उससे पहले जारी किए गए थे, को नई पेंशन योजना (एनपीएस) से बाहर रखने और उन्हें उच्चतम न्यायालय तथा विभिन्‍न उच्च न्यायालयों के विभिन्‍न निर्णयों के मद्देनजर पुरानी पेंशन योजना के अंतर्गत कवर करने के विषय पर वित्तीय सेवा विभाग (डीएफएस) के विचार मांगे हैं; .
(ख) यदि हां, तो क्या डीएफएस ने डीओपी एंड पीडब्लू को अपनी टिप्पणियां भेज दी हैं;
(ग) यदि हां, तो तत्संबंधी ब्यौरा क्या है तथा इस संबंध में दिए गए सुझावों/सिफारिशों का ब्यौरा क्या
(घ) यदि नहीं, तो इसमें ब्विलंब के क्या कारण हैं और डीएफएस की टिप्पणियां कब तक प्रदान की जाएंगी?
उत्‍तर
वित्त मंत्रालय में राज्य मंत्री (डॉ. भागवत कराड)
(क): जी, हाँ।
(ख):जी,हाँ।
(ग): चूंकि भारत सरकार (कार्य आवंटन) नियम, 1961 के- अधीन केन्द्र सरकार के कर्मचारियों (सिविल, रक्षा और रेलवे पेंशनभोगियों) के सेवानिवृत्ति लाभों से संबंधित नीति का निर्माण और उनसे संबंधित विषयों के समन्वय करने का कार्य पेंशन और पेंशनभोगी कल्याण विभाग (डीओपी एंड पीडब्ल्यू) को सौंपा गया है, इसलिए डीओपीएंडपीडब्ल्यू से प्रश्न के भाग (क) में उल्लिखित मामले के संबंध में उचित निर्णय लेने का अनुरोध किया गया है।
(घ): प्रश्न नहीं उठता है।
Source: Click here to view/download the PDF