Revision of rates of C.G.H.S. for empanelled Hospitals: Confederation writes to MoH&FW
CONFEDERATION OF CENTRAL GOVT. EMPLOYEES & WORKERS
1″ Floor, North Avenue PO Building, New Delhi — 110001
Ref: Confd./CGHS/2022
Dated – 27.01.2022
To
Shri Alok Saxena
Director General
C.G.H.S.
Ministry of Health & Family Welfare
Government of India, New Delhi
Sub: – Revision of rates of C.G.H.S. for empanelled Hospitals.
Sir,
We are receiving so many representations that so many C.G.H.S. empanelled hospitals in various metro cities are denying to provide treatment to C. G. II. S. beneficiaries on the existing rates which have not been revised since 2014. More and more hospitals are withdrawing from the panel of CGHS.
It has caused more sufferings to the Central Govt. Employees and pensioners as they are deprived from the treatment.
It is therefore requested to kindly cause necessary action to revise the rates so that the existing empanelled hospitals should not withdraw and efforts should be made to bring some more hospitals in the panel of CGHS.
An early action is highly solicited.
With regards,
Yours sincerely,
(R. N. Parashar)
Secretary General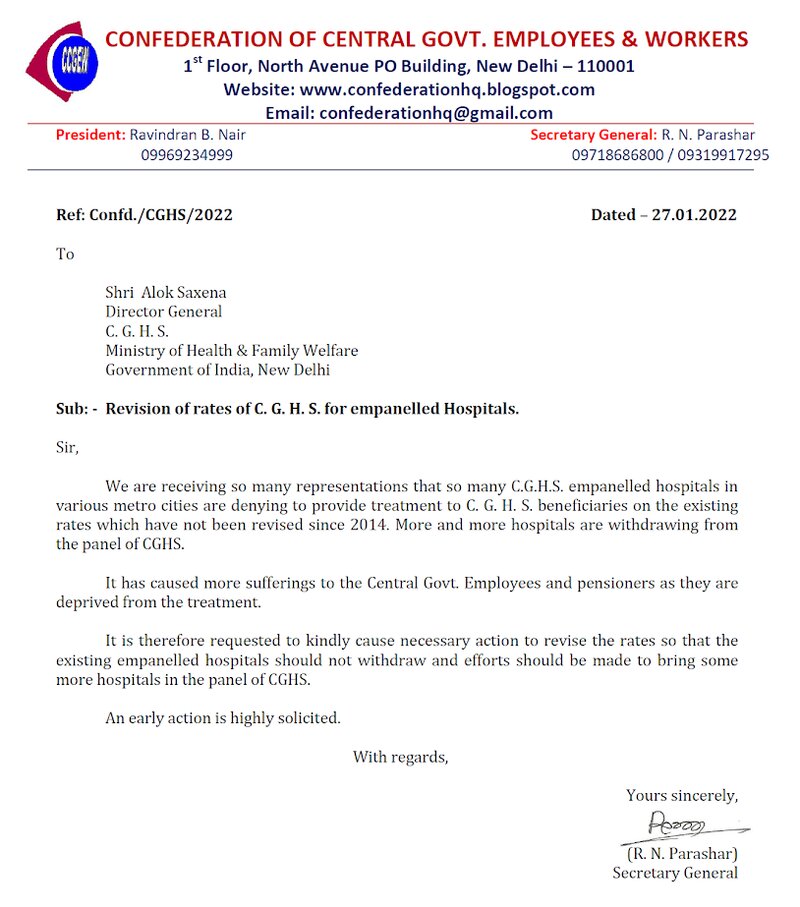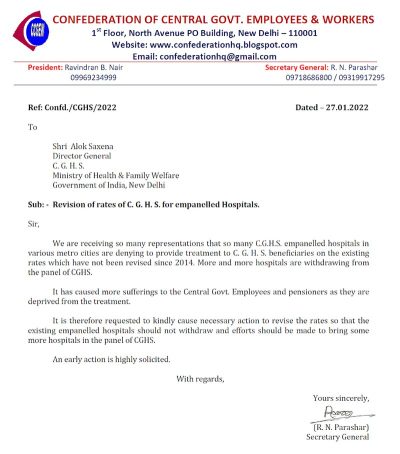 Source: Confederation