Action to be taken against the supervisory officials on involvement of RPF/RPSF personnel in corrupt practice: Security Circular No. 01/2022
GOVERNMENT OF INDIA
MINISTRY OF RAILWAYS
(RAILWAY BOARD)
No. 2021/Sec(CCB)/45/64 Bad Work
Dated, 31/01/2022
To Principal Chief Security Commissioners.
All Zonal Railways, RPSF, Metro Rail/Kolkata, All Production Units,
RDSO, CORE
Csc, KRCL
IG Const NR, ECoR
Director/JR RPF Academy, LKO
Director/RPF TC, MLY & KGP
SECURITY CIRCULAR No. 01/2022
Subject: Action to be taken against the supervisory officials and officials of CIB/SIB/IVG in case of involvement of RPF/RPSF personnel in corrupt practice.
Recently a surge in cases of RPF personnel getting trapped red handed by Anti Corruption Bureau of Central Bureau of Investigation/ State police while demanding/accepting bribe has been noticed. Such incidents tarnish the image of Railway Protection Force (RPF) and the Indian Railways and all the good work done by scores of RPF/RPSF personnel after toiling hard night and day goes down the drain.
Detailed guidelines for supervisory officers to prevent undesirable activities by RPF staff were circulated earlier through Security Circular No. 01/2021 dated 02.03.2021. It is felt that the same is not being adhered to in its true spirit. The supervisory officials have been failing in their duties in maintaining impeccable transparency and integrity in the actions of their subordinates. The authorities entrusted with the task of reporting objectionable activities of RPF officers/staff have also not been reporting about such black sheep amongst us, due to which the reputation and the image of the Force is being adversely affected. The malaise gives enough warnings before hitting the organization adversely. However, we have not been receiving warnings from the "sensors" entrusted to warn. It is high time we took stern action on the personnel responsible for tarnishing the image of the organization and those who were mandated to report about them beforehand, but chose not to do so. Therefore, the following guidelines in addition to those contained in Security circular mentioned above, are being issued for strict compliance –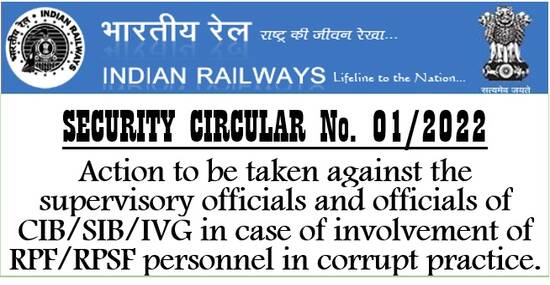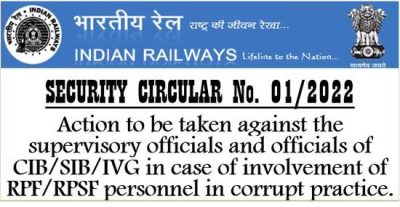 1. In case any incident of corrupt practice being adopted by RPF/RPSF personnel comes to light, the disciplinary authority should ensure strict, Swift & exemplary D&AR action against the delinquent under the relevant DAR Rules. The proceedings of disciplinary action should be disposed on priority by holding the DAR enquiry in continuous sittings, through close monitoring.
2. The immediate supervisor (in addition to those above) is the vigilance officer of men he/she commands. It is his responsibility that all RPF personnel under him discharge their duties with impeccable integrity. The immediate supervisor for the purpose of these guidelines will be
identified as under:
i) Where the Force is organised in Company and platoon pattern like RPSF or companies in RPF, the following officers will be treated as immediate supervisors:
Click to read further