Disbursement of Railway Pension through Private Sector Banks – RBA No. 29/2022
Government of India (भारत सरकार)
Ministry of Railways (रेल मंत्रालय)
Railway Board (रेलवे बोर्ड)
RBA No. 29/2022
No. 2018/AC-II/21/2/ARPAN
New Delhi, dated 12.05.2022
Pr.Financial Advisors,
All Zonal Railways & PUS
Pr. Chief Personnel Officers,
All Zonal Railways & PUs
Sub:- Disbursement of Railway Pension through Private Sector Banks.
Ref: Board's Letter No. 2021/AC-II/9/2/e dated 18.02.2022(RBA No. 12/2022) and No. 2010 /AC-II/21/12(pt) dated 23.02.2022 (RBA no. 14/2022)
*****
Please connect Board's letter ibid vide which authorisation of four Private Sector Banks viz., AXIS Bank, HDFC Bank, ICICI Bank and Kotak Mahindra Bank for disbursement of Railway Pension(As per RBI's endorsement) was communicated to all Zonal Railways and Production Units(copies available in Accounts Compendium in the IR website). In this connection, it has now been confirmed that out of these four banks, AXIS Bank has completed all technical modalities for transmission of e-PPOs. As regards the remaining banks, the process is still under way.
The retiring employees may, therefore, be advised to opt for such banks who have established full-fledged technical connectivity for transmission of e-PPOs, as of now.
(Ajay Bartwal)
Joint Director Finance/CCA
Railway Board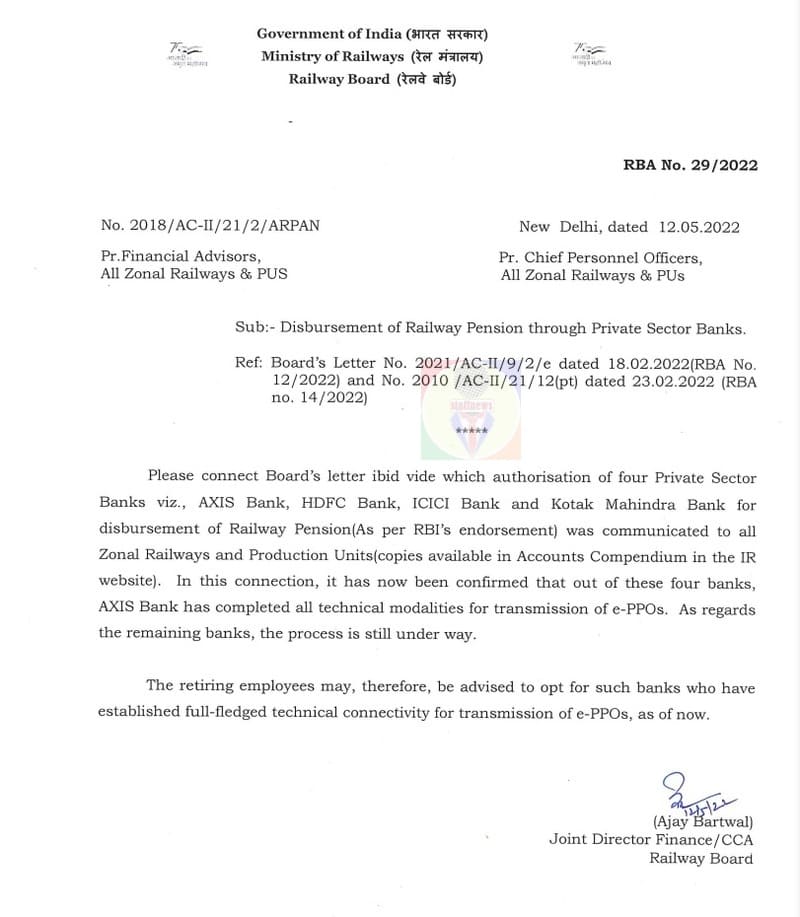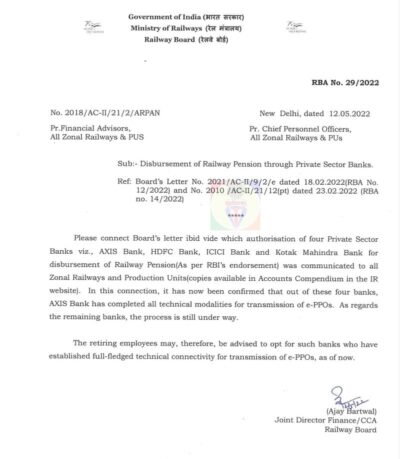 Source : Click to view/download PDF