Pensioners' Awareness Program organized by DOPPW at Puducherry on 28th June, 2022 To create awareness to ensure Ease of Living, information on CC
Pensioners' Awareness Program organized by DOPPW at Puducherry on 28th June, 2022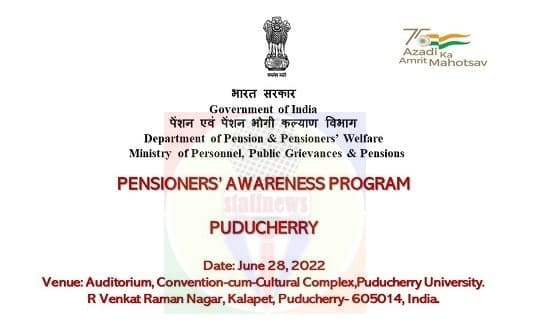 To create awareness to ensure Ease of Living, information on CCS Pension Rules 2021 and other Pension related matters is being provided through a Pensioners' Awareness Program organized by DOPPW at Puducherry on 28th June, 2022.
SESSIONS
Family Pension & its commencement –Procedure & Documents required & those not required.
CCS 2021 Rules – Changes affecting existing pensioners/ family pensioners.
Annual Certificates – Income/Marriage.
Entitlements- DR, Payment of LTA, Nomination Rules, FMA related Rules, Restoration of Commuted Pension, Additional Pension.
CGHS related matters.
Consortium of Banks – doorstep services.
Transfer of Pension Accounts to other PDAs.
NRI Pensioners related guidelines.
Best Practices in Banks.
Modes of submitting Life Certificates
– Digitization of LCs
– IPPB
– Face Authentication Technique
– Video KYC
Income Tax related Rules for Pensioners.
Address of Chief Controller Pensions, MoF.
Source: DoPPW – Twitter