Central Secretariat Manual of Office Procedure (CSMOP, 2022) issued by Ministry of Personnel, Public Grievances and Pension, Department of Administrative Reforms and Public Grievances.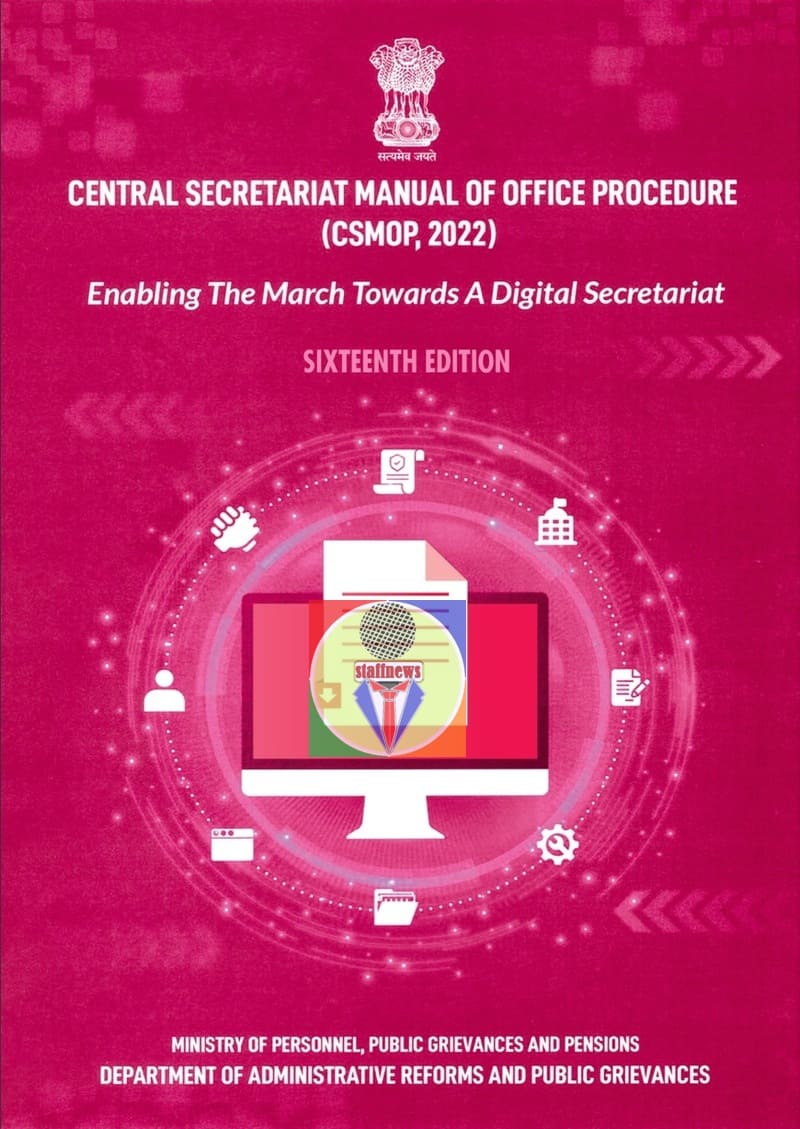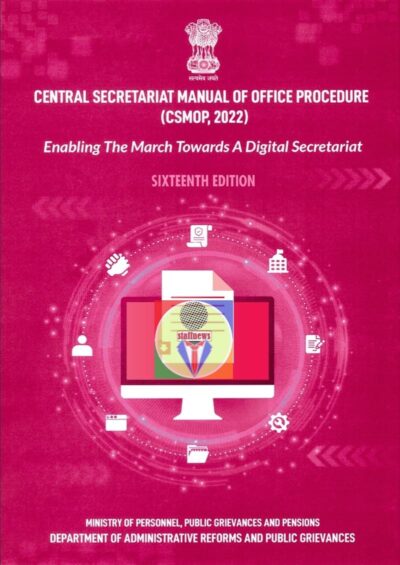 CENTRAL SECRETARIAT MANUAL OF OFFICE PROCEDURE (CSMOP, 2022)
Enabling The March Towards A Digital Secretariat
SIXTEENTH EDITION
MINISTRY OF PERSONNEL, PUBLIC GRIEVANCES AND PENSION
DEPARTMENT OF ADMINISTRATIVE REFORMS AND PUBLIC GRIEVANCES
DR. JITENDRA SINGH
Minister of State (Independent Charge), of the Ministry of Science and Technology,
Minister of State (Independent Charge)
of the Ministry of Earth Sciences, Minister of State in the Prime Minister's Office, Minister of State in the Ministry of Personnel, Public Grievances and Pensions,
Minister of State in the Department of Atomic Energy and
Department of Space, Government of India
MESSAGE
It gives me immense pleasure to note that DARPG is bringing out the sixteenth edition of Central Secretariat Manual of Office Procedure (CSMOP). In this edition, several path breaking reforms, initiated by DARPG and implemented by Ministries and Departments during 2020 and 2021, have been incorporated.
2. This edition of Manual aims to increase efficiency in decision making and creates a foundation for building a robust knowledge management system in line with National Programme for Civil Services Capacity Building (NPCSCB), the Mission Karmayogi. In addition, the renewed emphasis on digitization of all dak will help usher in a paperless Central Secretariat and enhancing the ease of doing business.
3. I hope that this edition of CSMOP will also help the Ministries/Departments to consolidate their administrative instructions and present them as Master Circulars, thus facilitating a comprehensive understanding of administrative instruction s on a given subject and help the policy makers, analysts and researchers to not only access the policy framework with ease & convenience but also appreciate the overall context in which policy reforms have been undertaken.
4. I am sure that CSMOP 2022 will help Ministries and Departments to dispose their pending matters well in time, closely monitor the workflows and strengthen digital governance across the country. I compliment the efforts of Shri V. Srinivas, Secretary, DARPG and his team, who has been instrumental in incorporating the new age reforms in this Manual
(Dr. Jitendra Singh)
MBBS (Stanley, Chennai)
M.D. Medicine, Fellowship (AIIMS, NDL)
MNAMS Diabetes & Endocrinology
---
V. Srinivas, IAS
SECRETARY
GOVERNMENT OF INDIA
MINISTRY OF PERSONNEL, PUBLIC GRIEVANCES & PENSIONS,
DEPARTMENT OF ADMINISTRATIVE REFORMS & PUBLIC GRIEVANCES
SARDAR PATEL BHAWAN, SANSAD MARG,
NEW DELHl-110001
FOREWORD
The Department of Administrative Reforms and Public Grievances is the Nodal Department for prescribing procedures for Secretariat Works which are comprehensively embodied in Central Secretariat Manual of Office Procedure (CSMOP). It gives me immense pleasure to share the 15th Edition of CSMOP . The new Edition incorporates the Administrative Reforms ushered in the Central Secretariat under the" Initiatives for Increasing Efficiency in Government' and under the "Special Campaign for Disposal of Pending Matters".
The 15th Edition has focused on the 4-pronged approach of Delayering, Delegation, Operationalization of Desk Officer System, Digitization of Central Registration Units and implementation of e-Office Version 7.0 as part of the silent transformation underway in the context of Increasing Efficiency in Decision Making in the Government. Government directions for weekly implementation of the Swachhta Campaign in all Ministries/Departments , and Monthly monitoring/review have been incorporated . The introduction of Nodal Appellate Authorities and revised timelines for grievance redressal also finds mention in the report.
For those who are working in the Government and for future entrants, the manual will be an invaluable source of training , guidance and reference.
Dated: July 13, 2022
(V. Srinivas)
---
TABLE OF CONTENTS
Sl. No.
Content
Para No.
Page No.
1
Chapter 1
Introduction
1
1-4
2
Chapter 2
Organisational Structure of Government of India
2
5
Government
2.1
5
Council of Ministers
2.2
5
Allocation/Transaction of govt. Business
2.3
5-6
Ministry/Department
2.4
6-7
Integrated Headquarters of Ministry of Defence
2.5
7-8
Attached and Subordinate Offices
2.6
8
Constitutional Bodies
2.7
8
Statutory Bodies/Regulatory Bodies
2.8
8
Autonomous Bodies
2.9
8
Central Public Sector Enterprises
2.10
8
Information and Facilitation Counter
2.11
9
Appendix – 2.1 Illustrative list of functions to be performed by designated section handling work the Internal Work Study Units/O&M
Para 2.4 (viii)
9-12
3
Chapter 3
Functionaries and Functions
3.1
13-15
Appendix- 3.1
Detailed responsibilities of Section Officer
3.1(vi)
16-17
4
Chapter 4
Decision making in Government
Para 4.1-para 4.8
18-23
5
Chapter 5-
Management of Dak Receipts
Receipt of Dak
5.1
24-25
Scrutiny of Dak
5.2
25-26
Registration of Dak
5.3
26-27
Acknowledgement of Dak
5.4
26-27
Distribution of Receipts
5.5
27-28
Perusal and Marking/sending of Receipts
5.6
28
Movement of Receipt
5.7
29
Action by higher officer
5.8
29
Allocation of disputed Receipts
5.9
29
Action on receipt by functionaries in the Department
5.10
29-31
Appendix Dak @ Register
Para 5.3 (i)
32
Functions of CRU
Appendix 5.2
33
Guidelines for handling of Daks in CRU
Appendix 5.3
35
Appendix Scanning Guidelines
Appendix 5.4
36
6
Chapter 6
File Management System
37-59
File
6.1
37
File Management System
6.2
37-39
Instances where files need not be opened
6.3
39
File Register
6.4
40
File Movement Register
6.5
40
Filing of Papers
6.6
40-42
Referencing
6.7
42-43
docketing
6.8
43-44
Linking of files
6.9
44
Part File
6.10
44-45
Transfer, reconstruction and renumbering of files
6.11
46
Movement of Files and other papers
6.12
47
Urgency grading
6.13
48
Appendix
Essentials of a functional file index and an identifying file numbering system
Appendix 6.1
49-52
Appendix
Assigning file numbers under the File number system based

on subject classification

Appendix 6.2
53-54
Appendix File Register
6.3
55
Appendix File Movement Register
6.4
56
Appendix Illustrative of Docketing and Referencing on the notes portion
6.5
57
Appendix Illustrative of referencing of previous references in the correspondence portion
6.6
58-59
Appendix Specimen of standard heads of a section
6.7
60-73
7
Chapter 7
Guidelines on Noting
60
Note
7.1
60-63
Guidelines for noting
7.2
61-64
Examination in Section by Dealing Officer
7.3
64-65
Examination by Section Officer
7.4
65
Examination by Branch Officer and above
7.5
65-66
Level of disposal and channel of submission
7.6
66-67
Deviation from normal procedure or rules
7.7
67
Running summary of facts
7.8
67
Oral Discussion
7.9
67-68
Oral instructions by higher officers
7.10
68
Oral order on behalf of or from Minister
7.11
68-69
Confirmation of oral instructions
7.12
69
Modification of notes or order
7.13
69
Functional approach to noting
7.14
69-73
Appendix
7.1
74
8
Chapter 8
Communication, Forms, Channels and Procedure
75-100
Inter-Departmental Consultation
8.1
75-77
Noting on files received in nodal Sections or nodal Ministries from other Departments
8.2
78
Emails
8.3
78-79
Other forms of written communication
8.4
79-80
Email, fax, speed pot, registered post, Telephonic communications, etc.
8.5
81
Correspondence with attached and subordinate offices
8.6
81-82
Single File System (SFS)
8.7
82-83
References to constitutional authorities
8.8
83-85
Prompt response to letters received
8.9
86
Use of official language in Government Communications
8.10
86
Appendix 8.1 Specimen of a letter & Endorsement of a letter Specimen of a demi-official letter & endorsement of a D.O letter Specimen of Office Memorandum Specimen of Office Order Specimen of Order Specimen of Inter- Departmental Note Specimen of Notification and Endorsement of Notification Specimen of Resolution Press Communique/Note
87-96
Appendix 8.2 Composition of the Gazette of India and instructions for sending material for publication therein
97-100
9
Chapter 9
Guidelines on Drafting of Communications
101-109
Procedure for preparing draft communications and its approval
9.1
101
General Instructions for drafting
9.2
102-103
Authentication of Government orders
9.3
103
Addressing communications to officers by name
9.4
104
Drafting of demi-official letters
9.5
104
Responsibility mapping regarding issue of communications
9.6
104-108
Appendix
9.1
109
10
Chapter 10
Records Management
110-118
Activities involved in records management
10.1
110
Stage of recording
10.2
110
Departmental instructions of records management
10.3
111
Categorisation of records
10.4
111-112
Procedure for recording
10.5
112
Stage of indexing
10.6
113
Record Retention Schedule
10.7
113
Custody of records
10.8
113-114
Review and weeding of records
10.9
114-115
Quarterly progress reports of recording and reviewing of files
10.10
116
Maintenance/transfer of records in the personal offices of Ministers
10.11
116-117
Records maintained by officers and their personal staff
10.12
117
 Requisitioning of records
10.13
117-118
Appendix Register for watching the progress of recording
10.1
119
Appendix Illustrative list of records fit for permanent preservation because of (a) their value for administrative purposes, and 9b) their historical importance
10.2
120-121
Appendix List of files transferred to National Archives of India/Departmental Record Rooms/Sections/desks
10.3
122
Appendix Record Review Register
10.4
123
Appendix List of files due for review
10.5
124
Appendix Quarterly progress report on recording of files
10.6
125
Appendix Quarterly progress report on review of files
10.7
126
Appendix Consolidated monthly progress report on recording of files
10.8
127
Appendix Consolidated monthly progress report on review of record files
10.9
128
Appendix Retention schedule for records prescribed in the Manual of Office Procedure
10.10
129-130
11
Chapter 11 Knowledge Management
131-139
What are aids to processing
11.1
131
Note for the Successor
11.2
131 – 132
Standard Process Sheet
11.3
132 – 133
Standing Guard File
11.4
133-134
Standing Note
11.5
134
Precedent book
11.6
134-135
Reference Folder
11.7
136
Induction Material
11.8
137
Master Circulars
11.9
137 -138
RESPONSIBILITY MAPPING
11.10
138
Appendix Note for the Successor
11.1
138 – 139
Annexure to Appendix
11.1
139 – 140
Appendix Format of Precedent Book
11.2
140 – 141
12
Chapter 12 Monitoring of Timely Disposal
142 – 146
Primary responsibility
12.1
142
Time limits for disposal of cases
12.2
142
Watch on disposal of communications received from Members of Parliament and VIPs
12.3
142 – 143
Monitoring of court/CAT cases and implementation of Court/CAT Order
12.4
143-144
Requests received under Right to Information Act, 2005 (RTI)
12.5
144
Register of Parliamentary Assurances
12.6
144
Check-list of periodical reports
12.7
145
Review of periodical reports/returns
12.8
145
Monitoring of Websites
12.9
145 – 146
Disposal of Pending Matters
12.10
146
Appendix- Register for keeping a watch on the disposal of communications received from Members of Parliament/VIPs
12.1
147
Appendix Register for keeping a watch on the disposal of communications received from Members of Parliament and VIPs
12.2
148
Appendix Particulars of M.Ps/VIPs letters pending over a fortnight
12.3
149
Appendix Illustrative list of VIPs
12.4
150
Appendix Details of Pending Court/CAT Cases
12.5
151
Appendix Status of Implementation of court/CAT Judgements
12.6
152
Appendix Register of Parliamentary Assurances
12.7
153
Appendix Check list for watching receipt of incoming periodical reports for the year
12.8
154
Appendix Check list for watching despatch of outgoing periodical reports for the year
12.9
155
Appendix Reports on O&M Activities
12.10
156-158
13
Chapter 13 Security of Official Information and Documents
159-161
Communication of official information
13.1
159
Treatment of classified papers
13.2
159
Confidential character of I.d. Notes/files
13.3
159-160
Communication of information to the press
13.4
160
Use of restrictive classification for printed reports etc
13.5
160-161
14
Chapter 14 Annual Action Plan & Citizen's /Client's charter
161-166
Annual Action Plan
14.1
162
Citizen's/client's Charter
14.2
162-164
Public Grievances Redressal Mechanism
14.3
164
The main guidelines on Grievance Redressal
14.4
164 – 165
Central Public Grievance Redress and Monitoring system (CPGRAMS)
14.5
165 – 166
Issues not taken up for Redressal of Grievances
14.6
166
Machinery and work relating to Public Grievances
14.7
166
Appeal Mechanism in CPGRAMS is as under
14.8
166
Appendix
14.1
167
15
Chapter 15 eOffice Digitization Framework
167-181
Governance Structure
15.1
167
Digitization Framework
15.2
168
Phase of Digitisation Process Phase1: Plan Phase 2: Prepare Phase 3 : Implement Digitisation Process Mode of Scanning Scanning Specifications & Format Entry of the Metadata Storing the scanned documents
169-178
Guidelines, Standards & procedure Guidelines for Metadata Guidelines for Storage and Storage format
Guidelines for maintaining Quality Control Security guidelines User Training
15.3
179-181
Integration into eOffice
15.4
182-183
16
Chapter 16 Inspection
182-191
Purpose and periodicity
16.1
182
Simplification of the process of inspection
16.2
182
Inspection teams/authority
16.3
183
Inspection program
16.4
183
Inspection Report
16.5
183 – 184
Supplementary inspection
16.6
184
Periodic inspection by supervisory officers
16.7
184
Appendix Inspection questionnaire for Departments on implementation of e Office
16.1
185 – 186
Appendix Inspection questionnaire for CRU where eOffice has commenced
16.2
187
Appendix Inspection questionnaire for Departmental Records Room
16.3
188
Appendix Inspection questionnaire for a Section/Desk
16.4
189-190
Inspection questionnaire for a personal section/staff
16.5
191-192
Glossary
193 – 201
INTRODUCTION
CHAPTER- 1
1.1 The prime objective of all public service is to meet the citizens' needs and to further enhance their welfare. At the same time, those who are accountable for the conduct of that business have to ensure that public resources are managed with utmost care and prudence, as per the laws and the laid down rules & procedures. It is, therefore, necessary in each case to keep appropriate record not only of what has been done but also of why was so done.
1.2 The efficiency of Government to a large extent depends on evolution of adequate processes and procedures and ability of its functionaries to follow them. Accordingly, the efficiency of persons handling information in a Department is judged by their ability to dispose of issues with speed and quality following the procedures prescribed for the purpose. To achieve the twin objectives of efficiency and speed for public good, various Departments of the Government of India over the last decade or so have taken a number of initiatives like introduction of eOffice system.
1.3 The procedures prescribed in this manual attempt to balance the conflicting consideration of speed, quality, transparency and propriety. In a dynamic context, this balance cannot be rigidly or permanently fixed.
1.4 In order to create awareness about these processes and practices especially at the cutting edge level and to sensitize new entrants inducted at various levels in the Central Secretariat, the Department of Administrative Reforms & Public Grievances, as a nodal agency in the field of 'Organisation & Methods', has laid down various procedures for performance of secretariat work by the functionaries in various Ministries/Departments of the Government of India in the form of Central Secretariat Manual of Office Procedure (CSMOP). The First Edition of the Central Secretariat Manual of e-Office Procedure (CSMeOP), brought out in the year 2012, was a step forward towards evolving a paperless environment of decision making process while concurrently achieving speed and accuracy.
1.5 The procedures laid in earlier manuals (relating to physical paper work) have been dovetailed with the new eOffice applications that aim at paperless office. The procedures laid down in this new edition of manual have been adopted for use after careful examination of methods and procedure followed in Ministries/Departments/Offices in Government of India. While doing so the organizational needs of operating functionaries at the initiating level have been the primary concern. The Departments are expected to proactively adapt and to ensure that their teams too switch over to the e-Office.
1.6 First published in March, 1955, CSMOP has been updated from time to time in accordance with the changing scenario. This is the sixteenth revised edition in the series. Newly inducted officials must be trained on the procedures contained in the CSMOP and Refresher Courses should also be organized.
1.7 This Manual also lays down the essential procedures for efficient information and file management i.e. processing, handling and control of official information either on paper or in digital form in the Central Secretariat across Central Ministries and Departments. To provide sufficient flexibility, the Manual suggests the issue of Departmental Instructions which could supplement or vary, within broad limits, the prescribed procedures to suit special conditions and requirements. The various provisions of the Manual which visualize issue of Departmental Instructions are listed in Appendix 1.1. Each Department may devise suitable arrangements, including inspections to ensure compliance of provisions contained in this Manual and Departmental Instructions issued by it.
APPENDIX 1.1
(Para 1.6)
Matters in respect of which Departments are to issue Departmental instructions)
| | | |
| --- | --- | --- |
| Sl. No. | Subject | Reference to Para in the Manual |
| (1) | (2) | (3) |
| 1. | Designating Link Officers | 31 (Glossary) |
| 2. | Designating an officer to receive urgent dak outside office hours (for Departments having no resident clerk or night duty staff for the purpose) | 5.1.(iii) |
| 3. | Categories of receipts which should be entered in the dak register | 5.3.(ii) |
| 4. | Types of receipts which should be seen by higher officers before they are processed | 5.6.(iii) |
| 5. | Designating of an officer to decide allocation of disputed receipts | 5.9 |
| 6. | Categories of 'routine cases which the section officer can dispose of and types of 'intermediate action' which he can take on his own | 5.10.(c) |
| 7. | (a) Levels at which different classes of cases may be finally disposed of and (b) channel of submission of each category of cases | 7.6.(i) |
| 8 | Categories of cases for which standard process sheets are to be devised | 7.14.(v) |
| 9. | Levels competent to make or authorize inter-departmental references | 8.1.2 |
| 10. | Approval of information        to be uploaded on web-sites like PRAGATI, etc. | 9.6.(i) |
| 11. | Instructions on the need for and maintenance of Stamps Accounts Register | 9.6(ii) |
| 12. | Regulate review of records | 10.3 |
| 13. | Categories of record to be treated as of historical importance | 10.4(i)(b) |
| 14. | Instructions for categories of files for which card indices are to be prepared | 10.6 |
| 15. | Departmental record retention schedule prescribing retention periods for different categories of records connected with substantive functions | 10.7(i)(d) |
| 16. | Procedure for review and weeding out of records maintained by officers and their personal staff | 10.12 |
| 17. | Time limits for disposal of cases | 12.2 |
| 18. | Restriction of access of various categories of classified documents | 13.2 |
| 19. | Level to which inspection report and compliance reports should be submitted | 16.5(iii) |
| 20. | Issue of VPN to the Officers of the rank of US | Box e 7.1 |
Click here to view/download CSMOP, 2022