The practice of holding Pension Adalats through video conferencing should be promoted: ATR on recommendation of DRPSC on Personnel, Public Grievances, Law and Justice.
PARLIAMENT OF INDIA
RAJYA SABHA
DEPARTMENT-RELATED PARLIAMENTARY STANDING COMMITTEE ON
PERSONNEL, PUBLIC GRIEVANCES, LAW AND JUSTICE
Rajya Sabha Secretariat, New Delhi
December, 2022 / Agrahayana, 1944 (Saka)
ONE HUNDRED TWENTIETH REPORT
ON
ACTION TAKEN ON ONE HUNDRED TENTH REPORT OF THE COMMITTEE ON
"PENSIONER'S GRIEVANCES – IMPACT OF PENSION ADALATS AND CENTRALIZED
PENSION GRIEVANCES REDRESS AND MONITORING SYSTEM (CPENGRAMS)"
PERTAINING TO
THE DEPARTMENT OF PENSION & PENSIONERS' WELFARE
(MINISTRY OF PERSONNEL, PUBLIC GRIEVANCES & PENSIONS)
(Presented to the Rajya Sabha on 8th December, 2022)
(Laid on the Table of the Lok Sabha on 8th December, 2022)
The practice of holding Pension Adalats through video conferencing should be promoted
RECOMMENDATIONS/OBSERVATIONS IN RESPECT OF WHICH THE COMMITTEE DOES NOT ACCEPT THE REASONS GIVEN BY THE GOVERNMENT AND REITERATES ITS RECOMMENDATIONS
EFFECTIVENESS OF CPENGRAMS AND PENSION ADALATS – WAY FORWARD
Recommendation/Observation
3.12 The Committee is pleased to note that Pension Adalat has emerged as an effective platform for the redressal of pension grievances. The Committee recommends the Department to harness video conferencing technology and hold Virtual All India Pension Adalats on a half-yearly basis so that the grievances which could not be resolved through CPENGRAMS during the six-month period and beyond can be redressed at once. The Committee urges the Department to ensure that pension Adalats cover all Ministries/Departments having long pending grievances on a rotational basis so that no Ministry/ Department is left out. Further, the Committee impresses upon individual Ministries/Departments to ensure that pension adalats should be presided over by officers of appropriate level and reasonable seniority having sufficient knowledge of current as well as past rules and procedures. (2.30)
Action Taken
3.13 DoP&PW is convening a Nation-wide Pension Adalat in third week of March, 2022, by each Ministry/Department/Organization/Field formation through Video Conferencing.
Further observation
3.14 Considering the effectiveness of Pension Adalats in disposing off the grievances of the pensioners, the frequency of conducting it should be increased. The Department should explore the feasibility of holding Pension Adalats regularly and more frequently. Further, as per the experience gained during COVID times, the practice of holding Pension Adalats through video conferencing should be promoted.
***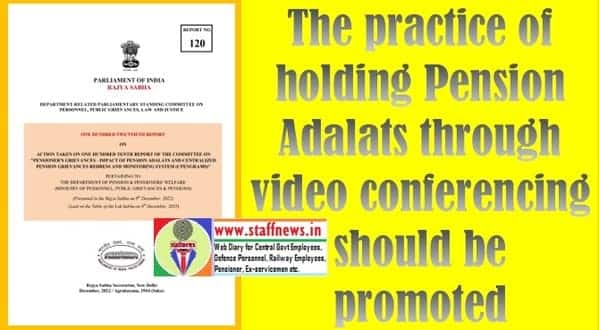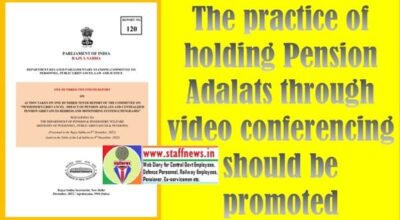 View/Download Report