Declaration of Holiday on 14th April, 2023(Friday) — Birthday of Dr. B.R. Ambedkar: Railway Board Order dated 11.04.2023
भारत सरकार GOVERNMENT OF INDIA
रेल मंत्रालय  MINISTRY OF RAILWAYS
(रेलवे बोर्ड RAILWAY BOARD)
No.2020/E(LR)II/LR/HL 1/1
Rail Bhawan, New Delhi — 110 001,
dated : 11.04.2023
The General Managers,
All Indian Railways including
Production Units and Metro Railway, Kolkata.
(As per standard list)
Sub: Declaration of Holiday on 14th April, 2023(Friday) — Birthday of Dr. B.R. Ambedkar.
On the above mentioned subject, Department of Personnel and Training vide O.M. No. 12/4/2020-JCA dated 11.04.2023 has advised under:
"It has been decided to declare the 14th April, 2023 (Friday), as a closed holiday, on account of the birthday of Dr. B.R. Ambedkar, for all Central Government Offices, including Industrial Establishments, throughout India, by invoking the power under
Section 25 of Negotiable Instrument Act, 1881 (26 of 1881)."
Zonal Railways and PUs may please bring the above to the notice of all concerned.
D.A.: As above.
(Hem Chander)
Jt. Director, Estt(IR)
Railway Board
Encl: Declaration of Holiday on 14th April, 2023 — Birthday of Dr. B.R. Ambedkar: DoPT Order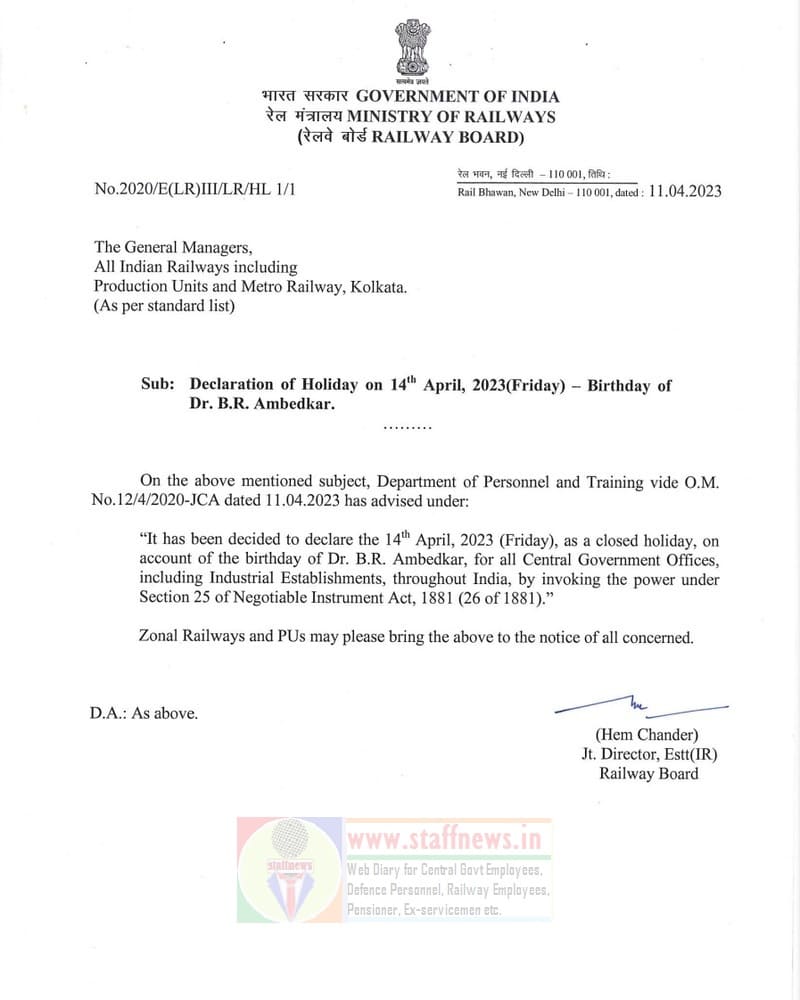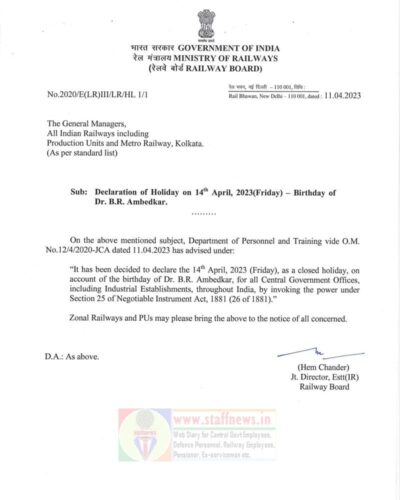 View/download the PDF
[https://indianrailways.gov.in/railwayboard/uploads/directorate/establishment/E(LR)/Circular%20-%20Holiday%20on%2020230414.pdf]