Standardized alphabetical codes for Zones & Divisions of Indian Railway: Railway Board Order dated 17.07.2023
GOVERNMENT OF INDIA/ भारत सरकार
MINISTRY OF RAILWAYS/ रेल मंत्रालय
(RAILWAY BOARD)
No. 2023/E&R/1(7)/1
New Delhi, dt. 17.07.2023
The General Managers,
All Zonal Railways &PUs.
Sub: Standardized alphabetical codes for Zones & Divisions.
To avoid any mismatch/contradiction in the codes of Zones and Divisions maintained separately in multiple IR-applications by CRIS & Rate Branch System (RBS), Board (CRB & CEO) has approved the use of standardized alphabetical codes for Zones and Divisions across Indian Railways. The list of standardized codes for the above enclosed herewith for ready reference.
The above directives have been put forth to ensure standardization and uniformity in the coding system employed across all Indian Railways applications. It is essential that these instructions are duly implemented within all |R-applications & in each zonal railway to ensure seamless integration and compatibility across the network and due consideration is given to Upper and lowercase while using the codes.
The older codes on stations, other installations and rolling stock should be gradually replaced by the above standardized codes of Zones and Divisions during next painting cycle/POH etc.
(Sanjeev Kumar)
Executive Director(E&R)
Railway Board
(Accompanying Board's Letter No. 2023/E&R/1(7)/1 Dt 17.07.2023)
IR- ZONES Codes (as in RBS's Database)

S.No.
ZONE CODE
ZONE NAME
1
CR
CENTRAL RAILWAY
2
ER
EASTERN RAILWAY
3
ECR
EAST CENTRAL RAILWAY
4
ECOR
EAST COAST RAILWAY
5
NR
NORTHERN RAILWAY
6
NCR
NORTH CENTRAL RAILWAY
7
NER
NORTH EASTERN RAILWAY
8
NFR
NORTHEAST FRONTIER RAILWAY
9
NWR
NORTH WESTERN RAILWAY
10
SR
SOUTHERN RAILWAY
11
SCR
SOUTHERN CENTRAL RAILWAY
12
SER
SOUTH EASTERN RAILWAY
13
SECR
SOUTH EAST CENTRAL RAILWAY
14
SWR
SOUTH WESTERN RAILWAY
15
WR
WESTERN RAILWAY
16
WCR
WEST CENTRAL RAILWAY
17
MRK
METRO RAILWAY KOLKATA
(Accompanying Board's Letter No. 2023/E&R/1(7)/1 Dt 17.07.2023)
Non-IR ZONES Codes (as in RBS's Database)

S.No.
ZONE CODE
ZONE NAME
1
CP
CHENNAI PORT TRUST RAILWAY
2
CPT
KOLKATA PORT TRUST RAILWAY
3
DFCR
DEDICATED FREIGHT CORRIDOR
4
KRC
KONKAN RAILWAY
5
BR
BANGLADESH RAILWAY
6
PR
PAKISTAN RAILWAY
(Accompanying Board's Letter No. 2023/E&R/1(7)/1 Dt 17.07.2023)
IR– Zone Wise Division Details (as in RBS Database)

SNo
ZONE CODE
ZONE NAME
ZONE CODE
1
BSL
BHUSAVAL
CR

2
CSTM
MUMBAI
3
NGP
NAGPUR
4
PUNE
PUNE
5
SUR
SOLAPUR
6
ASN
ASANSOL
ER
7
HWH
HOWRAH
8
MLDT
MALDA
9
SDAH
SEALDAH
10
DDU
PT.DEENDAYALUPADHYAYA
ECR
11
DHN
DHANBAD
12
DNR
DANAPUR
13
SEE
SONPUR
14
SPJ
SAMASTIPUR
15
KUR
KHURDA ROAD
ECOR
16
SBP
SAMBALPUR
17
WAT
WALTAIR
18
DU
DELHI
NR
19
FZR
FIROZPUR
22
UMB
AMBALA
23
AGRA
AGRA
NCR
24
JHS
JHANSI
25
PRYJ
PRAYAGRAJ
26
BSB
VARANASI NER
27
IZN
IZZAT NAGAR
28
LUN
LUCKNOW
29
APDJ
ALIPURDUAR JN
NFR
30
KIR
KATIHAR
31
LMG
LUMDING
32
RNY
RANGIYA
33
TSK
TINSUKIA
34
AM
AJMER
NWR
35
BKN
BIKANER
36
JP
JAIPUR
37
JU
JODHPUR
38
MAS
CHENNAI
SR
39
MDU
MADURAI
40
PGT
PALGHAT
41
SA
SALEM
42
TPJ
TIRUCHCHIRAPALLI
43
TVC
TRIVANDRUM
44
BZA
WWAYAWADA
SCR
45
GNT
GUNTUR
46
GTL
GUNTAKAL
47
HYB
HYDERABAD
48
NED
NANDED
49
SC
SECUNDERABAD
50
ADRA
ADRA
SER
51
CKP
CHAKRADHARPUR
52
KGP
KHARAGPUR
53
RNC
RANCHI
54
BSP
SECR
SECR
55
NAG
NAGPUR
56
R
RAIPUR
57
MYS
MYSURU
SWR
58
SBC
BENGALURU
59
UBL
HUBBALLI
60
ADI
AHMEDABAD
WR
61
BCT
MUMBAI CENTRAL
62
BRC
VADODARA
63
BVP
BHAVNAGAR
65
RTM
RATLAM
66
BPL
BHOPAL
WCR
67
JBP
JABALPUR
68
KOTA
KOTA
(Accompanying Board's Letter No. 2023/E&R/1(7)/1 Dt 17.07.2023)
Non-IR Zone Wise Division Details (as in RBS Database)

SNo
DIVISION
DIVISION NAM
ZONE CODE
1
HOM
CHENNAIHARBOUR
CP
2
C
KIDDERPORE DOCKS
CPT
3
EDFC
EASTERN DEDICATED FR
DFCR
4
WDFC
WESTERNDEDICATED FR
5
KAWR
KARWAR
 KROL
6
RN
RATNAGIRI
7
BAN
BANGLADESH
BR
8
LHR
LAHORE
PR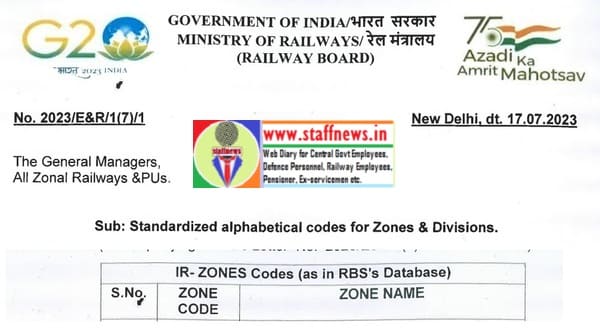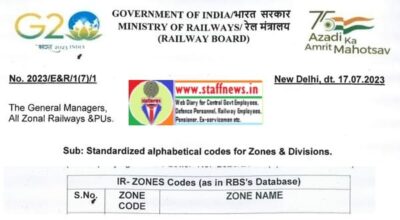 View/Download the PDF