The date of effect of the recommendations of the 7` Central Pay Commission will be decided once the Report is submitted – Finance Minister has stated in a reply of undermentioned Lok Sabha Starred Question:-
GOVERNMENT OF INDIA
LOK SABHA
STARRED QUESTION NO 243
SEVENTH PAY COMMISSION
243 .
Shri M. KRISHNASWAMY
Will the Minister of FINANCE be pleased to state:-
(a) whether the Government has initiated the process to constitute the Seventh Central Pay Commission for the Central Government employees;
(b) if so, the details and the present position thereof;
(c) the date by which the new pay is likely to be made effective;
(d) whether the representatives of the Defence forces are likely to be included in the Commission and if so, the details thereof; and
(e) if not, the reasons therefor?
ANSWER
MINISTER OF FINANCE (SHRI P. CHIDAMBARAM)
(a) to (e) A statement is laid on the Table of the House.
see also: The 7th pay commission report – when is it going to be submitted?
STATEMENT AS REFERRED TO IN REPLY TO PARTS (A) TO (E) OF LOK SABHA STARRED QUESTION NO.243 TO BE ANSWERED ON 7 FEBRUARY, 2014 REGARDING SEVENTH PAY COMMISSION BY SHRI M. KRISHNASSWAMY
(a) and (b): The Government has decided to constitute the 7th Central Pay Commission as under: –
1. Shri Justice Ashok Kumar Mathur, -Chairman
(Retired Judge of the Supreme Court and
Retired Chairman. Armed Forces Tribunal)
2. Shri Vivek Rae, – Member (Full time)
(Secretary, Petroleum & Natural Gas)
3. Dr. Rathin Roy. – Member (Part time)
(Director, National Institute of
Public Finance and Policy)
4. Smt. Meena Agarwal, – Secretary
(OSD, Department of Expenditure,
Ministry of Finance)
(c): The date of effect of the recommendations of the 7` Central Pay Commission will be decided once the Report is submitted.
(d) and (e): The composition of the 7th Central Pay Commission is broadly in line with the composition of the previous Central Pay Commissions. The scope of the task before the Central Pay Commission is framed in such a fashion as to enable the Commission to examine holistically all aspects of emoluments` structure of various categories of Central Government employees, including personnel of Defence Forces, having regard, inter-alia, to the issues specific to them and make recommendations thereon.
Note: Above reply was uploaded on or after 22.04.2013 on Lok Sabha website:-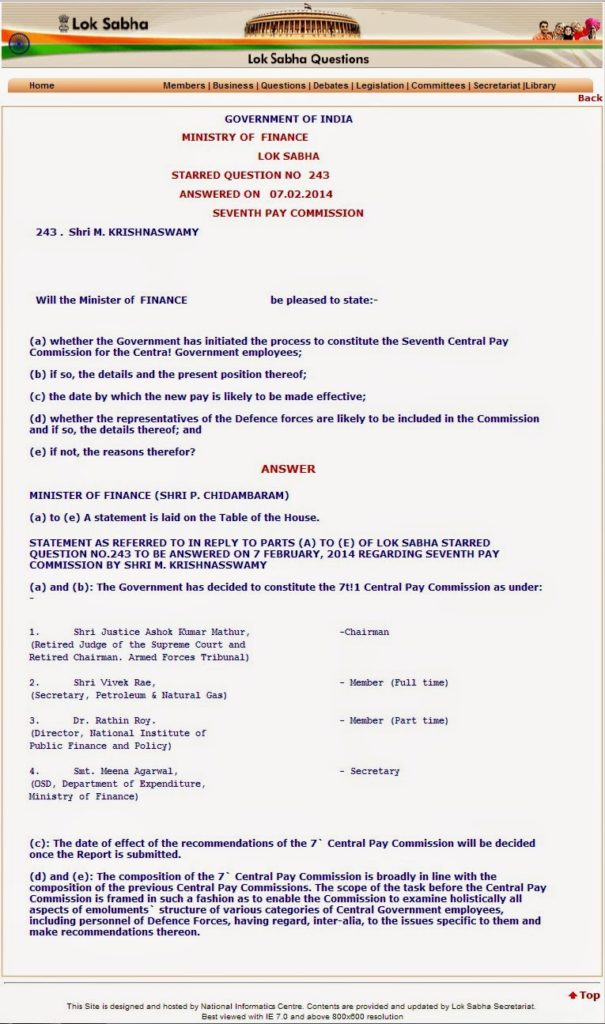 Stay connected with us via Facebook, Google+ or Email Subscription.
Subscribe to Central Government Employee News & Tools by Email [Click Here]
Follow us: Twitter [click here] | Facebook [click here] | Google+ [click here]
Admin