Irregularity in booking — Modification of tickets on ARP date
GOVERNMENT OF INDIA
MINISTRY OF RAILWAYS
(RAILWAY BOARD)
No. 2014/TG-I/20/P/ARP
New Delhi, dated 10.3.2015
The Managing Director,
CRIS, Chanakyapuri
New Delhi
The Chief Commercial Manager
All Zonal Railways
Commercial Circular No. 14 of 2015
Sub: Irregularity in booking — Modification of tickets on ARP date.
As per extant provisions, postponement or preponement of journey on the confirmed or RAC or waitlisted ticket shall be allowed in the same class and for the same destination or any higher class by the same train or by any other train for any subsequent days, subject to condition that the ticket is surrendered during the working hours of reservation office and at least forty eight hours before the scheduled departure of the train in which originally booked.
2. Cases have come to the notice wherein the reservation staff modify previously
generated PNRs on the ARP date so as to obtain confirmed tickets. As the journey and passenger details are auto populated on the modification form by entering PNR number only, modified tickets for opening ARP were generated in less time. Due to modification of tickets at the time of opening of counter, the passengers standing in queues are not able to get confirmed tickets which leads to complaints.
3. In view of the above, Board desires that the facility of journey modification (preponement and postponement) may be blocked/disabled during the first hour of the opening of ARP with immediate effect.
4. Necessary instructions may be issued to all concerned.
sd/-
(Vikram Singh)
Director Passenger Marketing
Railway Board
Source: www.indianrailways.gov.in [http://www.indianrailways.gov.in/railwayboard/uploads/directorate/traffic_comm/Comm-Cir-2015/CC_14_2015.pdf]
Related Press News in Hindi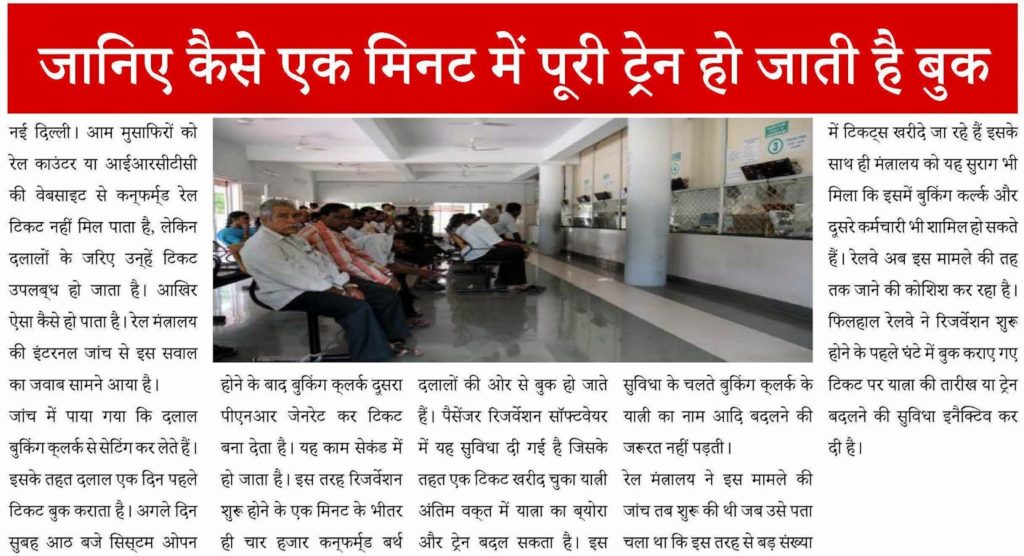 Stay connected with us via Facebook, Google+ or Email Subscription.
Subscribe to Central Government Employee News & Tools by Email [Click Here]
Follow us: Twitter [click here] | Facebook [click here] | Google+ [click here]
Admin