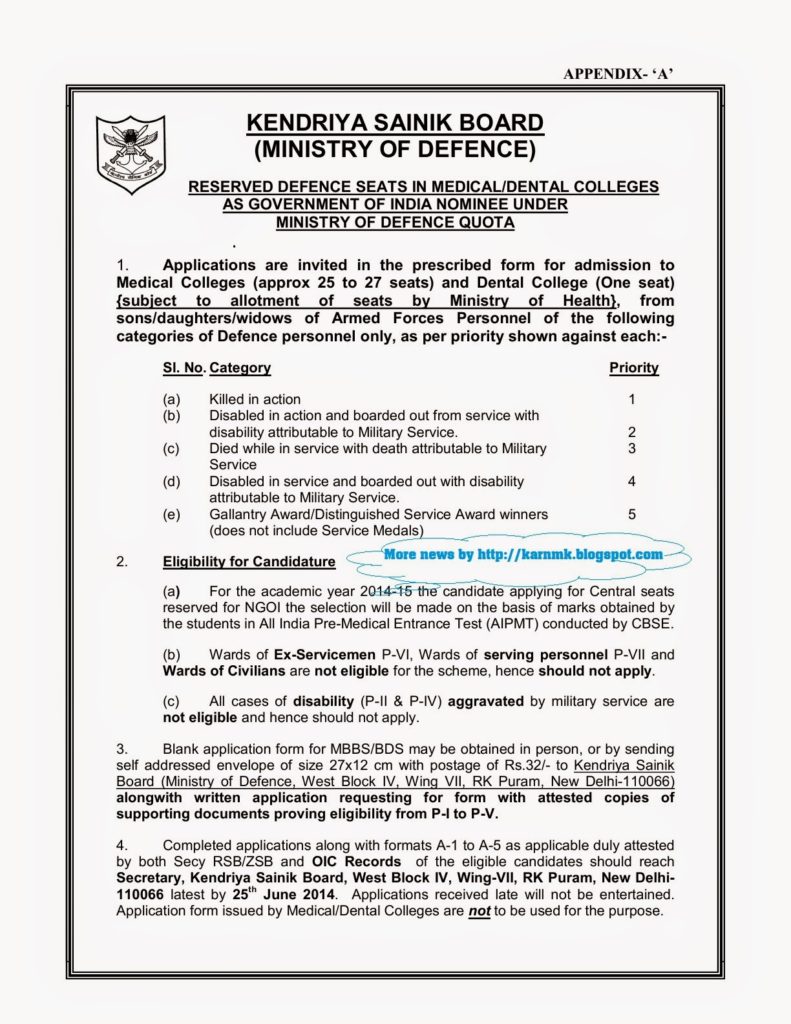 KSB has invited applications in the prescribed form for admission to Medical Colleges (approx 25 to 27 seats) and Dental College (One seat) {subject to allotment of seats by Ministry of Health}, from sons/daughters/widows of Armed Forces Personnel of the following categories of Defence personnel only
APPENDIX-'A'
KENDRIYA SAINIK BOARD
(MINISTRY OF DEFENCE)
RESERVED DEFENCE SEATS IN MEDICAL/DENTAL COLLEGES AS GOVERNMENT OF INDIA NOMINEE UNDER MINISTRY OF DEFENCE QUOTA
1. Applications are invited in the prescribed form for admission to Medical Colleges (approx 25 to 27 seats) and Dental College (One seat) {subject to allotment of seats by Ministry of Health}, from sons/daughters/widows of Armed Forces Personnel of the following categories of Defence personnel only, as per priority shown against each:-
Sl. No.
Category
Priority
(a)
Killed in action
1
(b)
Disabled in action and boarded out from service with
disability attributable to Military Service.
2
(c)
Died while in service with death attributable to
Military Service
3
(d)
Disabled in service and boarded out with disability
attributable to Military Service.
4
(e)
Gallantry Award/Distinguished Service Award winners
(does not include Service Medals)
5
2. Eligibility for Candidature
(a) For the academic year 2014-15 the candidate applying for Central seats reserved for NGOI the selection will be made on the basis of marks obtained by the students in All India Pre-Medical Entrance Test (AIPMT) conducted by CBSE.
(b) Wards of Ex-Servicemen P-VI, Wards of serving personnel P-VII and Wards of Civilians are not eligible for the scheme, hence should not apply.
(c) All cases of disability (P-II & P-IV) aggravated by military service are not eligible and hence should not apply.
3. Blank application form for MBBS/BDS may be obtained in person, or by sending self addressed envelope of size 27×12 cm with postage of Rs.32/- to Kendriya Sainik Board (Ministry of Defence, West Block IV, Wing VII, RK Puram, New Delhi-110066) alongwith written application requesting for form with attested copies of supporting documents proving eligibility from P-I to P-V.
4. Completed applications along with formats A-1 to A-5 as applicable duly attested by both Secy RSB/ZSB and OIC Records of the eligible candidates should reach Secretary, Kendriya Sainik Board, West Block IV, Wing-VII, RK Puram, New Delhi-110066 latest by 25th June 2014. Applications received late will not be entertained. Application form issued by Medical/Dental Colleges are not to be used for the purpose.
Stay connected with us via Facebook, Google+ or Email Subscription.
Subscribe to Central Government Employee News & Tools by Email [Click Here]
Follow us: Twitter [click here] | Facebook [click here] | Google+ [click here]
Admin