Seventh Pay Commission: Infact Central Employees will richer or….
New Delhi: Nowadays, the table of expected pay scales in 7th pay commission comparing with the 6th pay commission is sharing in huge on social networking sites.
According to the said table the expected pay of the lowest category of employees (Peon/Khalasi/Mali/Chowkidar) will be enhanced from Rs.7,000 to Rs.21,000 at the time of entry in service.
Similarly the entry pay of clerk will enhance from current Rs.11,360 to Rs.34,080. The entry pay of the Director level officers in Ministry will enhance from currently Rs.46,100 to 1,38,300.
And what about the Secretaries in Ministry, currently they are getting fixed pay of Rs.80,000, which may be increased to Rs.2,40,000. Similarly the pay of Cabinet Secretaries will be enhanced from Rs. 90,000 to 2,70,000.
However, while an officer of finance ministry was asked upon this, then he stood this misleading. According to him the seventh pay commission was constituted on 28th February, 2014 and the commission has the 18 months time to give its report. Presently commission is on work. No any interim report has been given by the commission like this.
The coming time will tell us that whether it is right or only speculations. And it is also to see that employees will richer or ……
The above article is the translation of following hindi news:-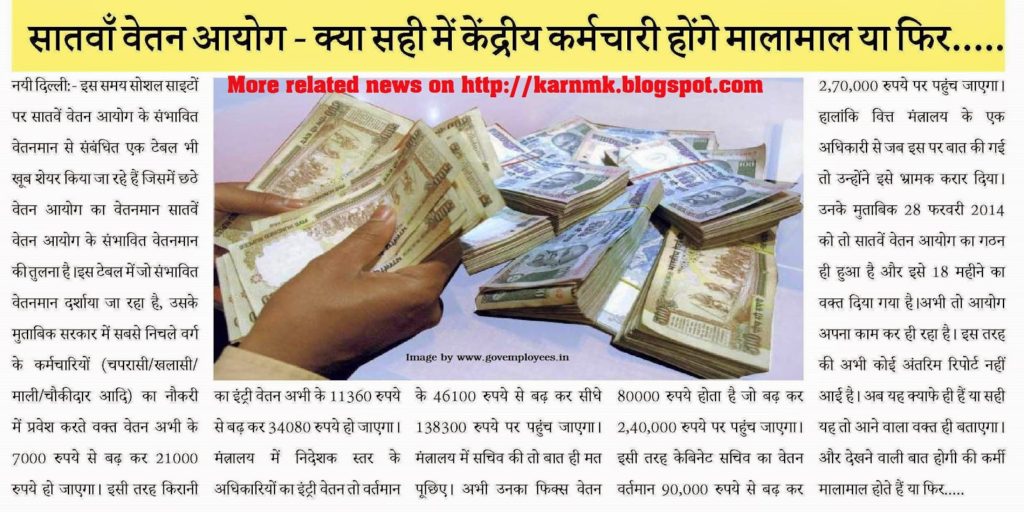 सातवाँ वेतन आयोग – वया सही में केंद्गीय कर्मचारी होंगे मालामाल या फिर ….
नयी दिल्ली: – इस समय सोशल साइटों पर सातवें वेतन आयोग के संभावित वेतनमान से संबंधित एक टेबल भी खूब शेयर किया जा रहे है जिसमें छठे वेतन आयोग का वेतनमान सातवें वेतन आयोग के संभावित वेतनमान की तुलना है। इस टेबल में जो संभावित वेतनमान दर्शाया जा रहा है, उसके मुताबिक सरकार में सबसे निचले वर्ग के कर्मचारियों (चपरासी/खलासी/माली/चौकीदार आदि) का नौकरी में प्रवेश करते वक्त वेतन अभी के 7000 रुपये से बढ़ कर 21000 रुपये हो जाएगा।
इसी तरह किरानी का इंट्री वेतन अभीके 11360 रुपये से बढ़ कर 34080 रुपये हो जाएगा मंत्रालय में निदेशक स्तर के अधिकारियों का इंट्री वेतन तो वर्तमान के 46100 रुपये से बढ़ कर सीधे 138300 रुपये पर पहुंच जाएगा। मंत्रालय में सचिव की तो बात ही मत पूछिए। अभी उनका फिक्स वेतन 80000 रुपये होता है जो बढ़ कर 2,40,000 रुपये पर पहुँच जाएगा। इसी तरह केबिनेट सचिव का वेतन वर्तमान 90,000 रुपये से बढ़ कर 2,70.000 रुपये पर पहुंच जाएगा।
हालांकि वित्त मंतातय के एक अधिकारी से जब इस पर बात की गई तो उन्होंने इसे भ्रामक करार दिया। उनके मुताबिक 28 फरवरी 2014 को तो सातवें वेतन आयोग का गठन ही हुआ है और इसे 18 महीने का वक्त दिया गया है। अभी तो आयोग अपना काम कर ही रहा है । इस तरह की अभी कोई अंतरिम रिपोर्ट नहीं आई है। अब यह क्यासे ही है या सही यह तो आने वाला वक्त ही बताएगा और देखने वाली बात होगी की कर्मी मालामाल होते है या फिर…..
Image Source: http://www.govemployees.in/wp-content/uploads/2015/05/ya-phir.jpg
Stay connected with us via Facebook, Google+ or Email Subscription.
Subscribe to Central Government Employee News & Tools by Email [Click Here]
Follow us: Twitter [click here] | Facebook [click here] | Google+ [click here]
Admin