One Rank One Pension: Press Release by UFESM on 17th Day of Relay Hunger Strike
Dear Sir/ Ma'am,
The seventeenth day of the relay hunger strike. The fasting at Jantar Mantar continued today with 45 volunteers from Punjab, Haryana, UP & Delhi undertook relay hunger strike. The strength at Jantar Mantar today was 250 with 50 officers present. 11 veteran General officers and their ladies sat in support of OROP. PTROTEST MARCHES WERE CARRIED OUT AT ALL DISTRICTS OF KERALA, West Bengal & Karnataka. by members of NEXCC a constituent of UFESM. A delegation of ESM marched to and presented a memorandum to the DM's of Dindigul in Tamil Nadu and Halar District of Gujarat.Similar activities were reported from 60 cities across the country.
The names of the General Officers, some with their wives who observed RHS today are: –
Lt Gen's SS GREWAL, JBS YADAV, HARI UNIYAL, AK SAINI, & Maj Gen's BS DHILLON, PL SOORMA, RN WADHWA, VK TIWARI, SURJIT SINGH & SATBIR SINGH.
One day Rally was held in Takluka Chikodi, District – Belgaum on 29 Jun 2015 under the guidance of Hony Capt Thitagudbi and Cpl BM Sangroli. The ESM and Veer Naris, numbering about 1200, gathered in the main ground and took a procession to the Tehsildar's office where they handed over the Protest Letter expressing their anger about the failure of the Central Govt in issuing the notification of OROP implementation. The participants came from all villages of Chikodi.
The presence of Shri Rajeev Chandrashekhar, an Independant MP of Rajya Sabha at the site of the RHS (Relay Hunger Strike) at Jantar Mantar will act as a great morale booster for the veterans.
Col Anil Kaul, VrC Veteran
Media Advisor & Spokesman
UFESM
Hindi Version
प्रिय सर / मैडम,
रिले भूख हड़ताल के सत्रहवें दिन। जंतर-मंतर पर उपवास भूख हड़ताल रिले चलाया पंजाब, हरियाणा, उत्तर प्रदेश और दिल्ली से 45 स्वयंसेवकों के साथ आज भी जारी रहा। जंतर-मंतरपर शक्ति आज 50 अधिकारियों वर्तमान के साथ 250 था। 11 दिग्गज जनरल अधिकारियों और उनकी महिलाओं के OROP के समर्थन में बैठ गया। PTROTEST मार्च बिल्कुल केरल,पश्चिम बंगाल और कर्नाटक के जिलों से बाहर किए गए। NEXCC के सदस्यों UFESM के एक घटक के द्वारा। ईएसएम के एक प्रतिनिधिमंडल के लिए मार्च किया और देश भर में 60शहरों से सूचित किया गया है कि तमिलनाडु और Gujarat..Similar गतिविधियों की Halar जिला डिंडीगुल के डीएम को एक ज्ञापन प्रस्तुत किया।
जनरल अधिकारियों के नाम, आज आरएचएस मनाया जो अपनी पत्नियों के साथ कुछ इस प्रकार हैं: –
लेफ्टिनेंट जनरल के एस एस ग्रेवाल, जे बी एस यादव, हरि उनियाल, एके सैनी, और मेजर जनरल के बी एस ढिल्लों, पीएल SOORMA, आर.एन. वाधवा, वीके तिवारी, सुरजीत सिंह वसतबीर सिंह।
मानद कैप्टन Thitagudbi और कारपोरल बी.एम. Sangroli के मार्गदर्शन के तहत 29 जून 2015 पर बेलगाम – एक दिन रैली Takluka Chikodi, जिले में आयोजित किया गया था।ईएसएम और वीर Naries, के बारे में 1200 नंबर, मुख्य भूमि में एकत्र हुए और वे OROP कार्यान्वयन की अधिसूचना जारी करने में केंद्र सरकार की विफलता के बारे में अपने गुस्से कोव्यक्त विरोध पत्र सौंपा जहां तहसीलदार के कार्यालय में एक बारात ले लिया। प्रतिभागियों को Chikodi के सभी गांवों से आए थे।
जंतर-मंतर पर आरएचएस के स्थल पर श्री राजीव चंद्रशेखर, राज्य सभा की एक स्वतंत्र सांसद की उपस्थिति दिग्गजों के लिए एक महान मनोबल बूस्टर के रूप में कार्य करेगा।
कर्नल अनिल कौल, वीर चक्र वयोवृद्ध
मीडिया सलाहकार और प्रवक्ता
UFESM
11 GENERALS PARTICIPATE IN HUNGER STRIKE AT JANTAR MANTAR::
In a first of its kind 11 General officers undertake rhs today. They are: –
1. Maj Gen BS Dhillon
2. Lt Gen SS Grewal
3. PI soorma
4. Maj Gen RN Wadhva
5. Lt Gen JBS Yadav
6. Maj Gen VK Tiwari
7. Maj Gen Bhutani
8. Lt Gen Hari Unial
9. Lt Gen AK Saini
10. Maj Gen Surjit Singh
11. Maj Gen Satbir Singh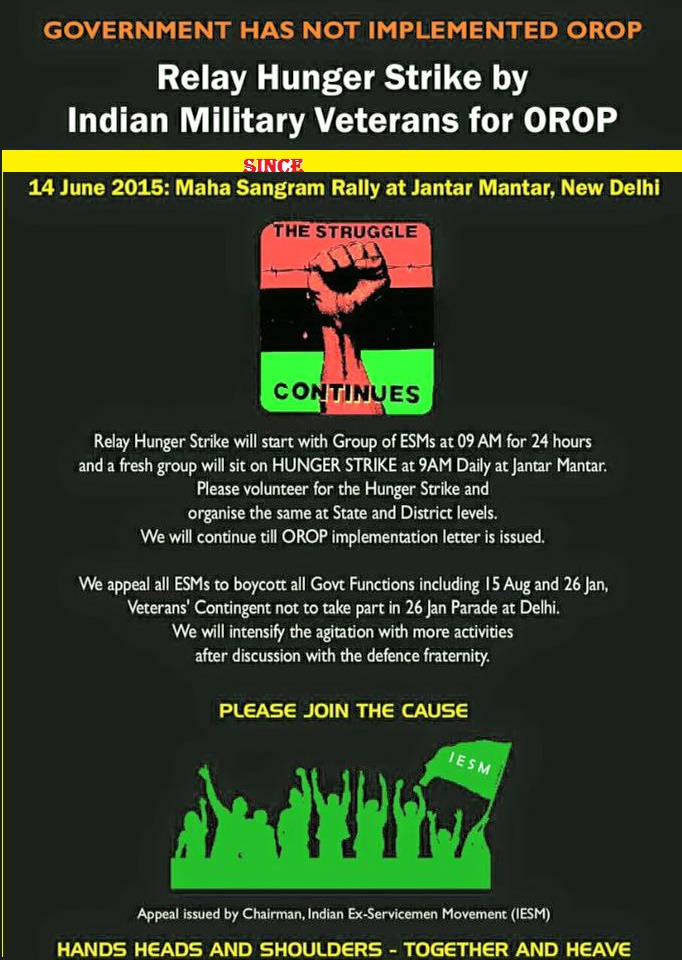 Click here to follow UFESM website for details news and images
http://unitedfrontofexservicemen.blogspot.in/2015/07/press-release-01jul-2015-dear-sir-maam.html
Stay connected with us via Facebook, Google+ or Email Subscription.
Subscribe to Central Government Employee News & Tools by Email [Click Here]
Follow us: Twitter [click here] | Facebook [click here] | Google+ [click here]
Admin