Three pages report titled "REPORTS OF THE SEVENTH PAY COMMISSION" "HIGHLIGHTS" spreading in Social Media. See the below picture click on picture to enlarge, the suspicious contents printed on this document, which are marked in red circle/rectangle. :-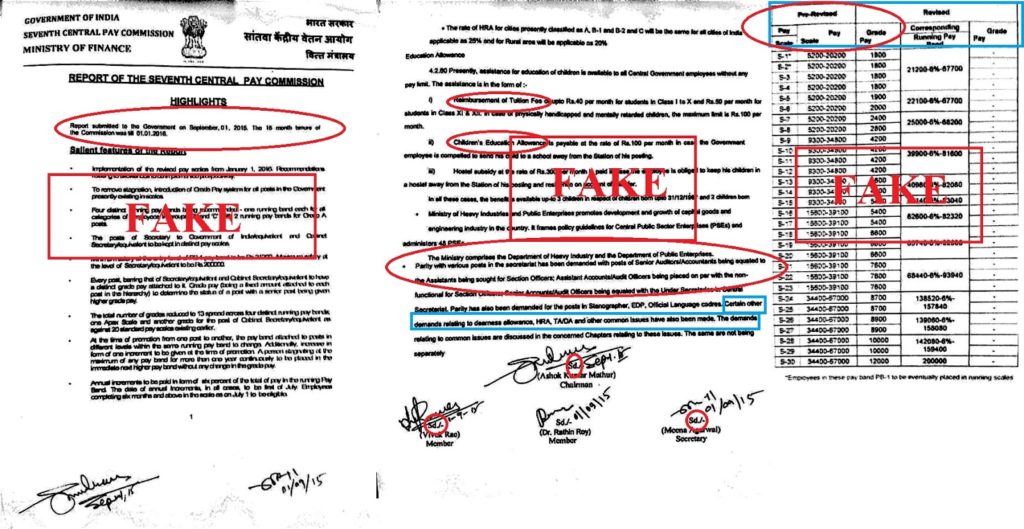 The starting para of the report states that "The 15 months tenure of the commission was till 01.01.2016" is wrong.
In Second page under para "Education Allowance" a para number is given 4.2.60 is also suspicious.
In Education Allowance point (i) states "Reimbursement of Tuition Fee" and point (ii) mentioned "Children Education Allowance" is also seems altered and illogical. The amount shown in this para is funny.
The last two point of second page is related to Ministry of Heavy Industries and seems the part of any CPSE report.
The distance of two lines in second page shows that cut-paste work has been done.
Main thing is the stamp and signatures of 7th CPC member all signature-stamp containing "sd/-" means signed and a signature is not needed on "sd/-". This shows the document is totally fake.
The third page regarding pay structure is totally fake. No need to mention 5th CPC Scale in 7th CPC Report. The table shown in this page is also not well structured and the revised column consist the "Grade Pay" sub column of Pre-revised Scale.
Reproduction of such type of fake document is a serious matter and readers are advised to be alert on this. The previous post of this website
7वें वेतन आयोग ने सिफारिशें केंद्र को सौंपी- दैनिक भास्कर का दावा
seems based on it. And many other daily news paper/media speculate on this that Pay Commission will submit report soon. The govt. has extended the term of 7th CPC for 4 months and time given to submit the report upto 31.12.2015. It 7th CPC has any lengthy task and not likely to submit his report before two or three months. However the notification of extension of 7th CPC term is also stipulates the commission may submit any part of report to govt.
Stay connected with us via Facebook, Google+ or Email Subscription.
Subscribe to Central Government Employee News & Tools by Email [Click Here]
Follow us: Twitter [click here] | Facebook [click here] | Google+ [click here]
Admin