OROP announced, ex-servicemen start counting the gains
NEW DELHI: Even as the fine-print of the 'one rank, one pension' (OROP) formula decided by the government is still awaited, back-of-the-envelope calculations show retired military officers will get a pension hike ranging from Rs 8,000 to Rs 22,000 per month, while jawans and junior commissioned officers will get Rs 2,200 to Rs 9,000.
These figures factor in the existing 113% dearness allowance. "But they are very complex calculations depending on when an officer retired, at what rank and what length of service … the situation will be much clearer after the detailed government order comes out. The devil will be in the details," said an officer.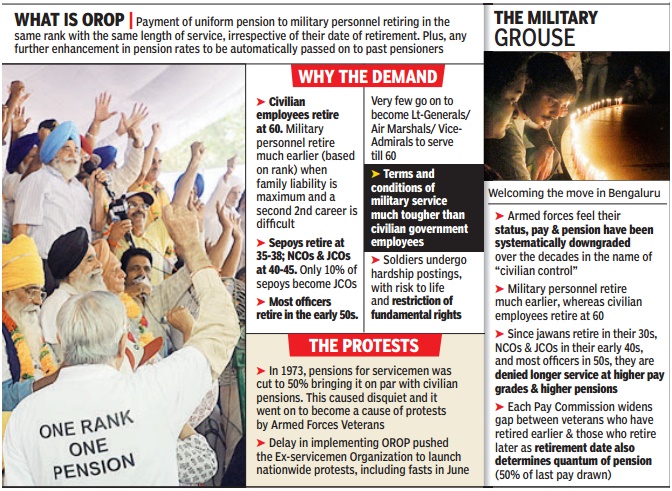 While figures will vary from one retired personnel to another, here are three illustrative examples:
— Havildar Major Singh, who is among the veterans protesting at Jantar Mantar for the last 84 days. Discharged from the Sikh Light Infantry in 1991, he currently gets Rs 5,595 as his monthly pension. "With OROP, he will get an additional Rs 4,000 every month," said one of his colleagues.
— A Colonel who retired in 2001 gets Rs 44,000 as pension now. After OROP, it will increase by around Rs 10,000 to Rs 15,000 per month.
— A Brigadier who retired in April 1996 after almost 33 years of service, gets Rs 62,300 as monthly pension in his hand as of now. "I have been told I will get at least Rs 9,000 to Rs 10,000 more after OROP," he said.
Stay connected with us via Facebook, Google+ or Email Subscription.
Subscribe to Central Government Employee News & Tools by Email [Click Here]
Follow us: Twitter [click here] | Facebook [click here] | Google+ [click here]
Admin