PPF, NSC rates to be cut; bank FDs may fetch lower interest

Senior Citizens, Women Likely To Be Protected
Sidhartha, New Delhi:The government is set to reduce interest rates on small savings products such as public provident fund (PPF) and National Savings Certificate (NSC) over the next few days–a move that will impact returns on your bank fixed deposits but also pave the way for banks to pare lending rates in the coming months and reduce the EMI burden.
The new formula will see small savings rates linked to returns on government securities of comparable maturity, with the reduction expected to be up to 50 basis points (100 basis points equal a percentage point). The finance ministry is finalizing product-specific rates and sources said the impact would be higher in case of maturity period of less than five years. There are indications that senior citizens and women will be protected.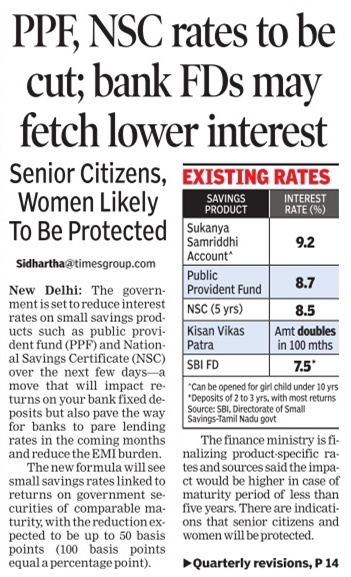 Times of India
Stay connected with us via Facebook, Google+ or Email Subscription.
Subscribe to Central Government Employee News & Tools by Email [Click Here]
Follow us: Twitter [click here] | Facebook [click here] | Google+ [click here]
Admin