Income Tax Exemption notification under Atal Pension Yojana (APY)
THE GAZETTE OF INDIA : EXTRAORDINARY
[PART II—SEC. 3(ii)]
MINISTRY OF FINANCE
(Department of Revenue)
(CENTRAL BOARD OF DIRECT TAXES)
NOTIFICATION
New Delhi, the 19th February, 2016
Income-tax
S. O. 529(E).— In exercise of the powers conferred by sub-section (1) of section 80CCD of the Income-tax Act, 1961 (43 of 1961), the Central Government hereby notifies the 'Atal Pension Yojana (APY)' as published in the Gazette of India, Extraordinary, Part I, Section 1, vide number F. No. 16/1/2015-PR dated the 16th October, 2015 as a pension scheme for the purposes of the said section.
2. This notification shall come into force from the date of its publication in the Official Gazette.
[Notification No. 7 /2016, F.No.173/394/2015-ITA-I]
DEEPSHIKHA SHARMA, Director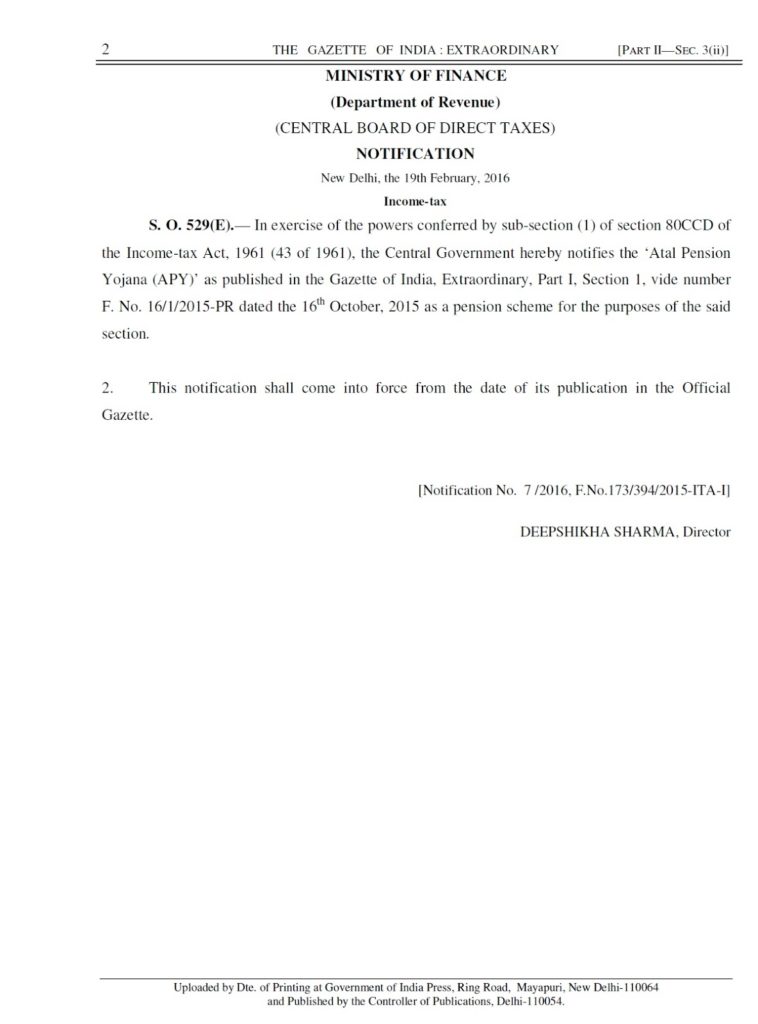 Source: http://www.npstrust.org.in
Stay connected with us via Facebook, Google+ or Email Subscription.
Subscribe to Central Government Employee News & Tools by Email [Click Here]
Follow us: Twitter [click here] | Facebook [click here] | Google+ [click here]
Admin