7th CPC: Indefinite Strike postponed, New date from 11 July, 2016
NFIR
National Federation of Indian Railwaymen
3, CHELMSFORD ROAD, NEW DELHI – 110 055
Affiliated to:
Indian National Trade Union Congress (INTUC)
InternationalTransport Workers' Federation (ITF)
No. NJCA/II/95
Dated: 07/03/2016
MESSAGE
The National Joint Council of Action (NJCA) met at New Delhi today i.e., 07th March 2016 and took stock of the situation prevailing in the country. The Cabinet Secretary requested the NJCA to give more time to the Government for considering the charter of demands as the issues are to be dealt in consultation with various ministries and departments. The NJCA also has taken into consideration the elections in five States scheduled to be held in April/May 2016.
The NJCA has decided to postpone the date for serving the Strike Notice to 09th June 2016 for launching the INDEFINITE STRIKE from 11th July 2016 6.00AM
The affiliates of NFIR should continue their strike preparation without any
sd/-
Dr. M. Raghavaiah
(General Secretary)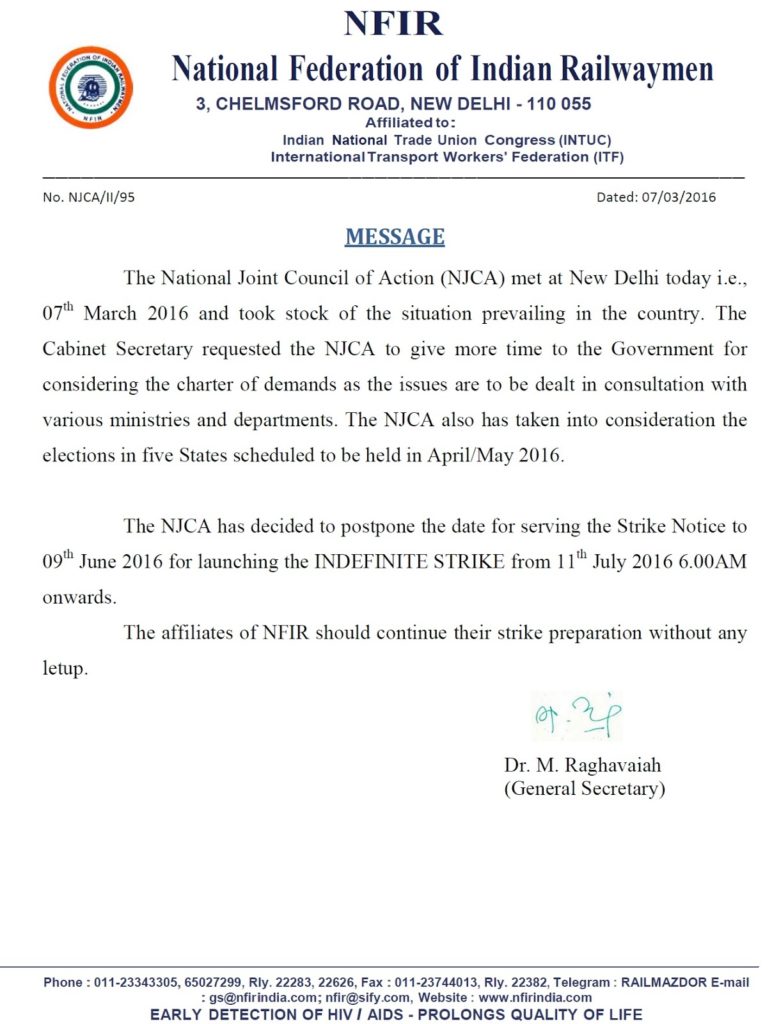 Source: NFIR
Stay connected with us via Facebook, Google+ or Email Subscription.
Subscribe to Central Government Employee News & Tools by Email [Click Here]
Follow us: Twitter [click here] | Facebook [click here] | Google+ [click here]
Admin