After 7th Pay Commission report, OROP scheme implementation, India to grow at 7.7 pct: ICRA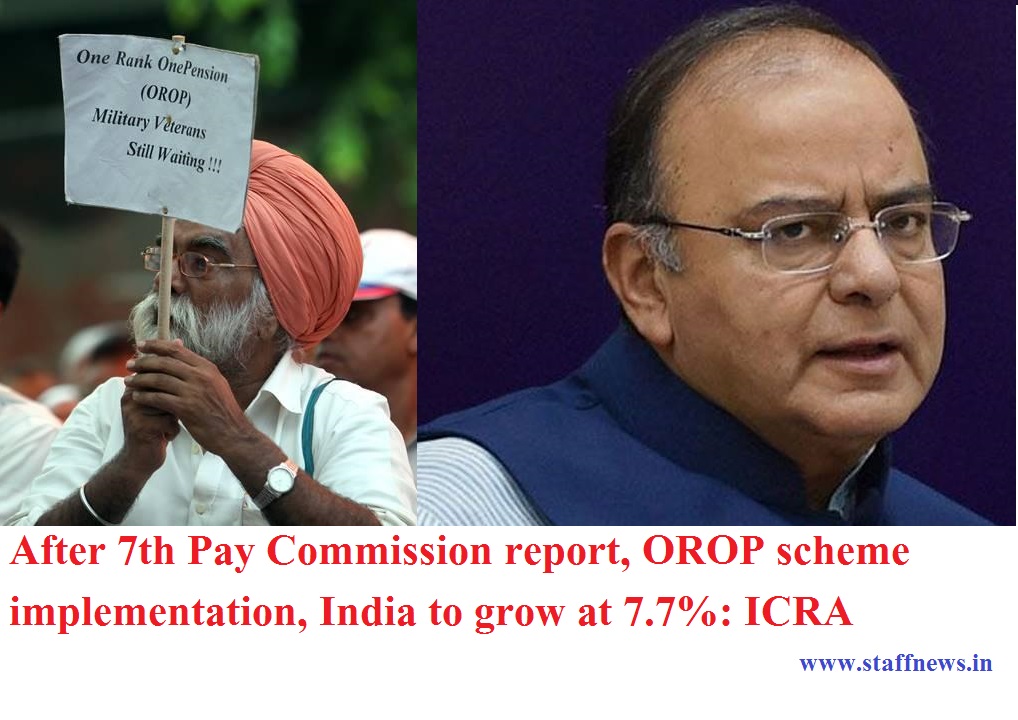 On the back of implementation of 7th Pay Commission report and OROP scheme recommendations, for which Budget rating agency ICRA says it sees Indian economic growth improving to 7.7 per cent in next fiscal, which will be led by domestic consumption demand. With absence of an explicit overall provision for the 7th Pay Commission in FM Arun Jaitley's Budget 2016 raising questions, government has clarified the pay hike has been built in as interim allocation for different ministries. Implementation of the 7th Pay Commission report is to cost the government Rs 1.02 lakh crore.
7th Pay Commission report, OROP scheme: ICRA, in its Macroeconomic Update, however, said that although the fresh project pipeline appears robust, commencement of work will lag announcements, given moderate capacity utilisation in some sectors. "A pickup in domestic consumption post the implementation of the Seventh Central Pay Commission's recommendations and One Rank One Pension (OROP) scheme for the defence services as well as a potential upturn in rural demand is expected to boost economic growth in FY17," it said.
7th Pay Commission report, OROP scheme: ICRA said a sizeable portion of the planned rise of Rs 1.2 lakh crore in Plan expenditure in 2016-17 is to be funded through extra-budgetary sources, progress on which will influence the pace of infrastructure augmentation and economic growth.
"In ICRA's view, Indian economic growth is expected to improve to 7.7 per cent in FY17," the report said. Indian economy is estimated to have grown 7.6 per cent in current fiscal. As per official projection, growth is likely to be between 7-7.75 per cent in 2016-17.
7th Pay Commission report, OROP scheme: As regards project activity, it said announcements of new project in October-December quarter of current fiscal stood at Rs 1.2 lakh crore, concentrated in electricity, machinery, transport equipment, transport services and miscellaneous services. "Value of revived projects improved to a four quarter high of Rs 40,000 crore in the third quarter of FY16, while remaining low; facilitation of clearances, lower input costs for firms are not sufficient to revive investment plans in the absence of a pickup in demand," it said.
7th Pay Commission report, OROP scheme: Project completion declined by 12.8 per cent on a year-on-year basis to Rs 80,000 crore in third quarter of current fiscal, which was dominated by electricity, transport services, construction and real estate. "A limited Rs 20,000 crore of projects stalled in the third quarter, smaller than the value of revived projects after a gap of 30 quarters," ICRA said. It said structural issues continue to affect a considerable portion of the existing project pipeline.
7th Pay Commission report, OROP scheme: More than two-thirds of the projects of Rs 32.2 lakh crore submitted to the Cabinet Committee on Investment (CCI) are concentrated in the power, steel and petroleum & natural gas sectors. As regards government finances, the report said five rounds of hikes in excise duty on fuels have taken place since November 2015 to boost tax revenues by Rs 17,000 crore in last five months of this fiscal.
Read at: Financial Express
Stay connected with us via Facebook, Google+ or Email Subscription.
Subscribe to Central Government Employee News & Tools by Email [Click Here]
Follow us: Twitter [click here] | Facebook [click here] | Google+ [click here]
Admin