Para 3 of Budget at Glance document says that funds allocation to meet the obligations of 7th CPC & OROP have been provided. The text of para 3 of Budget 2016-17 reproduced below:-
3. Budget 2016-17 reflects Government's firm commitment to substantially boost investment in Agriculture, Social Sector, Infrastructure and employment generation on the one hand and simultaneously sticking to the fiscal consolidation path.
This is substantiated by a huge 15.3% jump in Plan outlay and 9% increase in Non Plan outlay in 2016-17 over RE (2015-16) while simultaneously conforming to the fiscal deficit target of 3.5%. Besides additional allocation to meet the obligations of 7th pay commission recommendation and implementation of one rank one pension (OROP) in Defence have also been provided.
4. In RE (2015-16), the plan outlay at `4,77,197
crore is more than the BE (2015-16) by `11,920 crore. With minor reduction in Non-Plan, the total expenditure
outlay in RE (2015-16) at `13,08,194 crore is ` 7,914
crore more than BE (2015-16). Accordingly, the Fiscal
Deficit target of 3.9% has been achieved without
reduction in expenditure outlay at RE stage. The total
plan outlay for 2016-17 is ` 5,50,010 crore and NonPlan
outlay is `14,28,050.45 crore.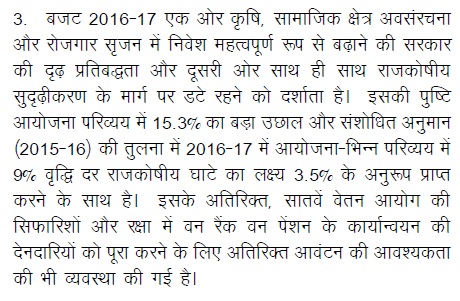 Budget document also says that 7th CPC will be implemented from 1st January, 2016.
Source: Budget Document
Stay connected with us via Facebook, Google+ or Email Subscription.
Subscribe to Central Government Employee News & Tools by Email [Click Here]
Follow us: Twitter [click here] | Facebook [click here] | Google+ [click here]
Admin