Provision of CGHS facility for life time to dependent/ disabled/ mentally retarded children even after marriage: Item No. 44/19/SC Standing Committee Meeting
AGENDA DISCUSSED DURING THE STANDING COMMITTEE MEETING HELD ON 26.2.2021 – DECISIONS TAKEN
A. Unresolved Items of the Earlier SCM held on 7.3.2019
Item No. and Ministry / Deptt: Item No. 44/ 19/SC MoHFW
Subject

: Provision of CGHS facility for life time to dependent/ disabled / mentally retarded children of Central Government Employees/ Pensioners.

The mentally retarded son gets benefit of CGHS facility even after his marriage. However, daughter loses this benefit the movement she gets married.

Decision in the Meeting of 7.3.2019: AS(H), M/o H&FW stated Director CGHS to examine the issue m the light of extant provisions under CCS Pension Rules.

Status as on 25.02.2021: M/o Health vide their letter dated 25.2.2021 informed that the in accordance with the Pension Rules, 1972, Central Government employees/ Pensioners' children with special needs and disabilities are allowed family pension, whereas CGHS facilities for mentally/ physically disabled married daughters of Central Government employees/ Pensioners is not allowed. The matter is now being examined, so as to provide CGHS facilities to dependent daughters of the Central Government Employees/ Pensioners after their marriage.

Staff Side is to give a fresh representation in this regard limiting it to really needy.

Hence, for the present, the item may be treated as closed.

[ainserter name="p2″]

Discussions/Decision on 26.02.2021: It was decided that the Ministry of Health & FW will hold discussions with the Department of Disabilities and the Department of Pension & PW. Thereafter, a final decision will be taken by them.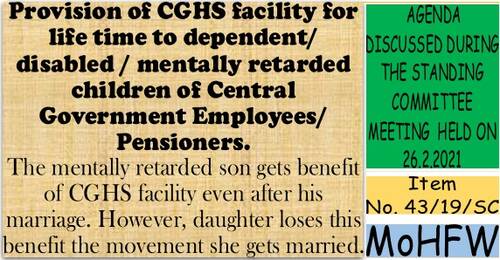 View other Items of Standing Committee Meeting: