Rs. 10000 minimum wages for Contract Worker Soon: Union Minister
Rs 10k min wage for contract workers soon: Times of India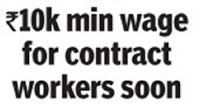 The Centre will issue an executive order to ensure contract workers get a minimum wage of Rs 10,000 per month, Union minister of state for labour and employment Bandaru Dattatreya said on Sunday .
"It is the endeavour of the central government to make reforms in labour laws and to proceed from minimum wage to universal wage. Because the opposition is not cooperating in the Parliament, we will do it through an executive order," Dattatreya said.

"We have framed this rule and sent to the law ministry (for approval) and shortly a notification will come and after this all the state governments will implement this decision," he said.


Source: Times of India (18.04.2016)
Stay connected with us via Facebook, Google+ or Email Subscription.
Subscribe to Central Government Employee News & Tools by Email [Click Here]
Follow us: Twitter [click here] | Facebook [click here] | Google+ [click here]
Admin