Seventh Pay Commission: Good News! Employees likely to get minimum salary of Rs 20,000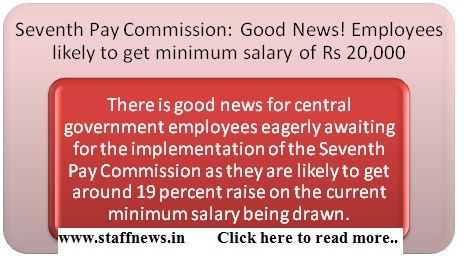 New Delhi, Apr 2: There is good news for central government employees eagerly awaiting for the implementation of the Seventh Pay Commission as they are likely to get around 19 percent raise on the current minimum salary being drawn.
According to reports, the Empowered Committee of Secretaries (CoS) is planning to propose a minimum pay of Rs 20,000 instead of Rs18,000 as proposed earlier.
Government employees demanded a minimum salary of Rs 26,000 as against Rs 18,000 recommended in November last year.
The 7th CPC award is likely to come with salary increment which was anyway due in the month of July.
CoS also wants to address various concerns raised by the Joint Consultative Machinery (JCM) before taking a final call on the recommendations of the commission. Defence Ministry also sought a fresh analysis of the concerns raised by the Army, Navy and the Air force- over the recommendations of the seventh pay commission.
n a recent interview, Defence minister Manohar Parrikar assured that concerns raised by the armed forces would be taken up by the commission.
The empowered committee with 12 secretaries on board was set up on January 27 to process the recommendations of the Seventh Central Pay Commission.
Stay connected with us via Facebook, Google+ or Email Subscription.
Subscribe to Central Government Employee News & Tools by Email [Click Here]
Follow us: Twitter [click here] | Facebook [click here] | Google+ [click here]
Admin