Central Civil Services (Leave Travel concession) Rules, 1988- Reimbursement of rail fare on LTC in respect of children of 5-12 yrs age group.- Clarification
No. 31011/3/2016-Estt (A.IV)
Government of India
Ministry of Personnel, Public Grievances and Pensions
Department of Personnel and Training
Establishment A-IV Desk
North Block, New Delhi-110 001
Dated: April 29, 2016
OFFICE MEMORANDUM
Subject:- Central Civil Services (Leave Travel concession) Rules, 1988- Reimbursement of rail fare on LTC in respect of children of 5-12 yrs age group.- Clarification reg.
As per Railway Board's circular No. 71 of 2015, Ministry of Railways have decided that in case of children above 5 years and under 12 years of age, for whom full berth/seat is sought at the time of reservation, full fare shall be charged. It is mentioned that if berth/seat is not sought for the children of age 5 years and under 12 years of age at the time of reservation, then half of the adult fare shall continue to be charged subject to minimum distance for charge. This would be effective for the travel w.e.f. 10.04.2016.
2. In this regard, several references have been received in this Department from various Ministries/ Departments seeking clarification as to whether the full fare charged by the Railways for reservation of berth for children between 5 years and 12 years shall be reimbursable while availing LTC facility.
3. The matter has been examined in consultation with Department of Expenditure, Ministry of Finance and it has been decided that for the family members of the Government servant, aged between 5 yrs and under 12 yrs, the actual rail fare shall be reimbursed for LTC, as per the choice of rail tickets purchased by the Government servant.
sd/-
(Surya Narayan Jha)
Under Secretary to the Government of India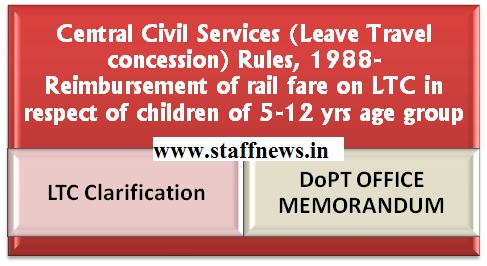 Source: www.persmin.nic.in
[http://documents.doptcirculars.nic.in/D2/D02est/31011_3_2016-Estt.A-IV-29042016.pdf]