7th CPC Pay revision – List of Central Government Autonomous Bodies covered by Finance Ministry Orders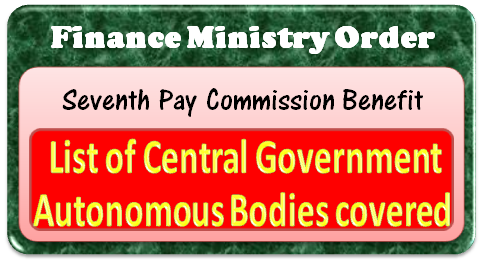 After a long wait Govt has issued orders for implementation of 7th Pay Commission Pay revision in the form of guidelines to the Autonomous Bodies.
The recommendations of the 7th Central Pay Commission, to the employees of the Quasi-government Organizations, Autonomous Organizations, Statutory Bodies, etc., Set up and funded/controlled by the Central Government, where pattern of emolument structure, i.e. pay scales and allowances, in particular Dearness Allowance, House Rent Allowance and Transport Allowance, are identical to those in case of the Central Government employees, has been considered by the Government and it has been decided that the revised pay scales as per the Pay Matrix, as contained in Part-A of the Schedule of the CCS(RP) Rules, 2016 as well as the principle of pay fixation as contained in the said rules, may be extended to the employees of such organizations.
As per the orders issued by Finance Ministry on 13.01.2017, While Part A of 7th Pay Commission (Revised) Pay Rules 2016, will be straightaway applicable to Autonomous Bodies employees viz., Revision of existing pay as per New 7th CPC Pay Matrix, Part B and C of Rules viz., upgradation existing grade pay before 7th Pay Commission Pay revision for certain cadres may not be applicable automatically.
Following is the Ministry wise List of Autonomous Bodies coming under Central Government
Ministry of Agriculture

1 Coconut Development Board, Cochi
2 Indian Council of Agricultural Research
3 National Coop. Union of India
4 National Council for Cooperative training
5 National Dairy Development Board
6 National Horticulture Board
7 National Institute of Agricultural Marketing
8 National Institute of Agri. Extension Management
9 Veterinary Council of India
10 National Oil Seeds & Vegetable Oil Development Board

Ministry of Atomic Energy

11 Atomic Energy Education Society's School, Mumbai
12 Institute of Mathematical Sciences, Chennai
13 Institute of Physics, Bhubaneswar
14 Institute of Plasma Research, Gandhinagar
15 Mehta Research Institute of Mathematics and Meth. Physics
16 Saha Institute of Nuclear Physics, Calcutta
17 I.I.F.R., Mumbai
18 Tata Memorial Centre, Mumbai

Ministry of Chemicals and Fertilizers

19 Central Institute of Plastic Engineering & Technology
20 Institute of Pesticides Formulation Technology
21 National Institute of Pharmaceuticals Education & Res.(NIPER)

Ministry of Civil Aviation

22 Indira Gandhi Rashtriya Uran Academy

Ministry of Commerce

23 Agricultural & Processed Food Products Export Development Authority
24 Coffee Board
25 Export Inspection Council and its Agencies
26 Indian Institute of Foreign Trade
27 Indian Institute of Packing
28 Marine Products Export Development Authority
29 Rubber Board
30 Spices Board
31 Tea Board
32 Cashew Export Promotion Council
33 Tobacco Board

Ministry of Communications

34 Centre for Development of Telematics
35 T.R.A.I. General Fund

Ministry of Coal

36 Coal Miners' PF Organisation, Dhanbad

Ministry of Culture

37 Raja Ram Mohan Roy Library
38 Allahabad Museum Society
39 Asiatic Society, Calcutta
40 Central Institute of Buddist Studies-Leh
41 Central Institute of higher Tibetan Studies-Varanasi
42 Centre for Cultural Resources & Training
43 Delhi Public Library
44 Gandhi Samriti and Darshan
45 Indian Museum, Calcutta
46 Indira Gandhi National Centre for Arts
47 Indira Gandhi Rashtriya ;Museum Sangharalaya
48 Kalakshetra Foundation
49 Khuda Bux Oriental Library Patna
50 Lalit Kala Akademy
51 Maulana Abdul Kalam Azad Institute of Asian Studies
52 National Council of Science Museum Calcutta
53 National Museum of History of Art Conservation of Museology
54 National School of Drama
55 Nav Nalanda Mahavihara
56 Nehru Memorial Museum & Library
57 Rampur Raja Library Board
58 Sahitya Akademy
59 Salarjung Museum
60 Sangeet Natak Akademy
61 Thanjavur Maharaja Sarasvati Mahal Library
62 Victoria Memorial Hall

Ministry of Defence

63 Himalayan Mountaineering Institute, Darjeeling
64 Jawahar Institute of Mountaineering & Winter Sports, Pehalgam
65 Nehru Institute of Mountaineering, Uttarkashi

Ministry of Environment & Forests

66 Central Pollution Control Board
67 Central Zoo Authority
68 G.B.Pant Himalayan Institute of Environment
69 Indian Council of Forestry Research & Education, Dehradun
70 Indian Institute of Forest Management, Bhopal
71 Indian Plywood Research & Training Institute-Bangalore
72 Wildlife Institute of India
73 National Wastelands Development Board

Ministry of External Affairs

74 Indian Council for Cultural Relations
75 Indian Council for Research on International Economic Relations
76 Indian Society of International Law
77 Society for Res. & Info. System for NAM & other Developed Countries
78 Indian Council for Social Science Research
79 Indian Council of World Affairs
80 Institute of Chinese Studies

Ministry of Finance

81 National Institute of Financial Management
82 National Institute of Public Finance & Policy
83 SEBI
84 Economic Research Institutes
85 Indian Investment Centre
86 Insurance Regulatory and Development Authority

Ministry of Food & Consumer Affairs

87 Bureau of Indian Standards

Ministry of Health & Family Welfare

88 All India Institute of Medical Sciences
89 All India Institute of Speech & Hearing
90 Cancer Institute, Chennai
91 Central Council for Indian Medicine
92 Central Council for Research in Ayurveda and Siddha
93 Central Council for Research in Unani Medicine
94 Central Council for Research in Yoga & Naturopathy
95 Central Council of Homeopathy
96 Central Council of Research in Homeopathy
97 Central Drugs Research Institute, Lucknow
98 Central Research Institute of Yoga, New Delhi
99 Chittaranjan National Cancer Institute, Calcutta
100 CSIR – Health Wing
101 Dental Council of India
102 Gujarat Cancer & Research Institute
103 Indian Council of Medical Research
104 Indian Medical Association
105 Indian Nursing Council
106 Indian Red Cross Society
107 Institute of Human Behaviour & Allied Sciences
108 Institute of Post Graduate Training, Jamnagar
109 Institute of Naturopathy Yoga & Physiotheraphy
110 International Instiute of Population Sciences, Mumbai
111 Kasturba Health Society Sevagram
112 Kidwai Memorial Institute of Oncology
113 Lala Ram Sarup Institute of Tuberculosis & Allied Diseases
114 Medical College, Thiruvananthapuram
115 Medical Council of India
116 Morarji Desai Institute of Yoga
117 National Academy of Medical Science
118 National Board of Examinations
119 National Illness Assistance Fund
120 National Institute of Ayurveda
121 National Institute of Biological Standardisation & Quality
122 National Institute of Homeopathy
123 National Institute of Mental Health & Neuro-Sciences
124 National Institute of Naturopathy, Pune
125 National Institute of Unani Medicine
126 National Instiute of Health & Family Welfare
127 National Instt.of Siddha, Channai
128 North East Indira Gandhi Institute of Health Medical Science
129 Pasteur Institute of India, Conoor
130 Pharmacy Council of India
131 Post Graduate Institute of Medical Education Research
132 Rashtriya Ayurved Vidyapeeth New Delhi
133 Regional Cancer Centre Society
134 St. Johns Ambulance Association
135 T.B. Association of India
136 Vallabh Bhai Patel Chest Institute

Ministry of Home Affairs

137 National Human Rights Commission

Ministry of Human Resource Development

138 Auroville Foundation Auroville
139 Kendriya Hindi Siksha Mandal, Agra
140 National Council for Promotion of Sindhi Language, Vadodara
141 National Council for promotion of Urdu Language
142 University Grants Commission
143 AICTE
144 Aligarh Muslim University
145 Assam University, Shillong
146 Babasaheb Bhimrao Ambedkar University, Lucknow
147 Banaras Hindu University
148 Board of Apprenticeship Training, Mumbai
149 Board of Apprenticeship, Chennai
150 Board of Apprenticeship, Kanpur
151 Board of Practical Training,Calcutta
152 Central Agricultural University,Imphal
153 Central Institute of Indian Languages
154 Central Tibetan Schools Society Administration
155 Central University Pondicherry
156 Children's Book Trust
157 Delhi University
158 Dr. Zakir Hussain Memorial College
159 Engineering College, Jammu
160 I.G.N.O.U.
161 ICHR
162 ICSSR
163 IIIT, Allahabad
164 Indian Council of Philosophical Research
165 Indian Institute of Advanced Studies, Shimla
166 Indian Institute of Information Technology
167 Mahatma Gandhi Institute of Medical Sciences, Wardha
168 Indian Institute of Management, Bangalore
169 Indian Institute of Management, Calcutta
170 Indian Institute of Management, Lucknow
171 Indian Institute of Science, Bangalore
172 IIT, Chennai
173 IIT, Delhi
174 IIT, Guwahati
175 IIT, Kanpur
176 IIT, Kharagpur
177 IIT, Mumbai
178 Institute of Higher Learning
179 ISM, Dhanbad
180 Jamia Milia Islamia
181 Jawaharlal Nehru University
182 Kendriya Vidyalaya Sangthan
183 Laxmi Bai National Institute of Physical Education
184 LBS Rashtriya Sanskrit Vidyapeeth
185 Mahatma Gandhi Antarrashtriya Hindia Vishwavidylaya
186 Maulana Azad College of Technology, Bhopal
187 Maulana Azad National Urdu University, Hyderabad
188 Nagaland University, Kohima
189 National Bal Bhawan
190 National Book Trust
191 National Commission of Women
192 National Council of Educational Research & Training
193 National Council of Teacher Education
194 National Culture Fund
195 National Gallery of Modern Art
196 National Institute of Adult Education
197 National Institute for Training in Industrial Engineering
198 National Institute of Foundry and Forge Technology, Dhanbad
199 National Institute of Public Coop. & Child Development
200 National Library, Calcutta
201 National Literacy Mission Authority
202 National Open School
203 Navodaya Vidyalaya Samiti
204 NBDC
205 Nehru Yuva Kendra Sangthan
206 NIEPA
207 North Eastern Regional Institute of Science & Technology, Shillong
208 North Eastern Hill University, Shillong
209 Project of History of Indian Science, Philosophy and Culture
210 Punjabi University, Patiala
211 Rajiv Gandhi National Institute of Youth Development
212 Rashtriya Manav Sangrahalaya, Bhopal
213 Rashtriya Sanskrit Sansthan
214 Rashtriya Sanskrit Vidyapeeth, Tirupathi
215 Regional Engineering College, Allahabad
216 Regional Engineering College, Hamirpur
217 Regional Engineering College, Jaipur
218 Regional Engineering College, Jallandhar
219 Regional Engineering College, Kozhikode
220 Regional Engineering College, Kurekshetra
221 Regional Engineering College, Nagpur
222 Regional Engineering College, Rourkela
223 Regional Engineering College, Srinagar
224 Regional Engineering College, Surat
225 Regional Engineering College, Warangal
226 Regional Institute of Technology, Jamshedpur
227 Sant Longowal Institute of Engineering Technology
228 School of Planning and Architecture
229 Shramik Vidya Peeths
230 Sports Authority of India
231 Technical Teachers Training Institute, Bhopal
232 Technical Teachers Training Institute, Calcutta
233 Technical Teachers Training Institute, Chandigarh
234 Technical Teachers Training Institute, Chennai
235 Tej Pur University
236 University of Allahabad
237 University of Calcutta
238 University of Hyderabad
239 University of Jadavpur
240 University of Madras
241 University of Mumbai
242 University of Mysore
243 Vishwa Bharti University Shanti Niketan
244 Zonal Cultural Centre, Allahabad
245 Zonal Cultural Centre, Udaipur
246 Zonal Culture Centre, Calcutta
247 Zonal Culture Centre, Chennai
248 Zonal Culture Centre, Nagaland
249 Zonal Culture Centre, Nagpur
250 Zonal Culture Centre, Patiala
251 Rashtriya Ved Vidya Pratisthan

Ministry of Industry

252 Automotive Research Association of India
253 Central Manufacturing Technology Institute, Bangalore
254 Central Pulp and Paper Institute
255 Fluid Control Research Institute
256 ID of Elect Measurement, Mumbai
257 Indian Rubber Manufacturing Research Association
258 National Council for Cement & Building Material
259 National Institute of Design
260 National Productivity Council
261 National Small Industries Corporation
262 Quality Council of India
263 Development Council for Automotive & Allied Industries
264 Footwear Design & Development Institute

Ministry of Information & Broadcasting

265 Indian Institute of Mass Communication
266 F.T.I.I., Pune
267 Film Society of India
268 National Centre for Children & Young People
269 Prasar Bharti
270 Press Council of India
271 Satyajit Ray Film & Television Institute, Calcutta

Ministry of Information Technology

272 Centre for Development of Advanced Computing, Pune
273 Centre for Electronics Design & Technology of India
274 Centre for Liquid Crystal Research
275 Centre for Materials for Electronics Technology Research
276 Department of Electronics – Accreditation
277 Education and Research Network India
278 Electric & Computer Software Export Promotion Council
279 Electronics Research & Development Centre of India
280 National Centre for Software Technology
281 Society for Applied Microwave Electronic Engineering and Research
282 Society for Electronics Tests Engineering
283 Software Technology Parks of India
284 Regional Computer Centre, Chandigarh
285 Regional Computer Centre, Calcutta

Ministry of Labour

286 Central Board for Workers Education
287 Central Instructional Media Institute, Chennai
288 Employees Provident fund Organisation
289 Employees State Insurance Corporation
290 V.V.Giri National Institute of Labour
291 Advanced Training Institute, Chennai
292 Advanced Trg. Inst. for Farm Machinery and Power, Ludhiana
293 Advanced Trg. Institute for Electronics & Processed Instrumentation
294 Central Institute for Research & Training in Employment services
295 Central Staff Training & Research Institute, Calcutta
296 Foreign Training Institute, Bangalore
297 National Arbitration Promotion Board
298 National Council for Training in Vocational Studies
299 National Labour Institute, Noida
300 National Regional Vocational Training Institute

Ministry of Law, Justice & Company Affairs

301 Indian Law Institute
302 Institute of Constitutional and Parliamentary Studies
303 International Centre for Alternative Dispute Resolution
304 National Legal Service Authority

Ministry of Mines & Minerals

305 J.L.Nehru Aluminium Research Dev.& Design Centre
306 National Institute of Miners' Health
307 National Institute of Rock Mechanics

Ministry of Non-Conventional Energy Sources

308 National Institute of Renewable Energy
309 Centre for wind Energy Technology

Ministry of Planning

310 Indian Statistical Institute
311 Institute of Applied Manpower Research

Ministry of Power

312 Central Electricity Regulatory Commission
313 Central Power Research Institute
314 National Power Training Institute
315 Energy Management Centre, Nagpur

Ministry of Railway

316 Centre for Railway Information Systems, New Delhi

Ministry of Rural Development

317 CAPART
318 National Institute of Rural Development, Hyderabad

Ministry of Social Justice & Empowerment

319 Animal Welfare Board
320 Central Adoption Research Agency
321 Central Wakf Council
322 Institute of Physically Handicapped
323 National Institute for Rehabilitation Training & Research
324 National Commission for Backward Classes
325 National Commission for Minorities
326 National Commission for Safaikaramcharis
327 National Commission for SCs/STs
328 National Institute of Mentally Handicapped
329 National Institute of Hearing Handicapped
330 National Institute of Orthopaedically Handicapped
331 National Institute of Visually Handicapped, Dehradun
332 National Trust for Mentally Retarded & Cerebral Palsy
333 Rehabilitation Council of India
334 Special office for linguistic Minorities –Allahabad
335 Dr.B.R. Ambedkar Foundation, New Delhi
336 Maulana Azad Education Foundation, New Delhi
337 Chief Commissioner for Handicapped, New Delhi

Ministry of Small Scale Industry

338 Central Footwear Training Institute, Agra
339 Central Institute of Handtools, Jalandhar
340 Central Institute of Tool Design, Hyderabad
341 Central Tool Room, Bhubaneshwar
342 Central Tool Room, Ludhiana
343 Central Toom Room Training Centre
344 Coir Board, Kochi
345 Electronics Service & Training Centre
346 Indian Institute of Entrepreneurship
347 Indo German Tool Room, Ahmedabad
348 Indo German Tool Room, Aurangabad
349 Indo-Danish Tool Room, Jamshedpur
350 Indo-German Tool Room, Indore
351 Khadi & V.I. Commission, Mumbai
352 National Institute for Entrepreneur & Small Business Development
353 Process & Product Development Centre, Agra
354 Process cum Product Development Centre, Meerut

Ministry of Surface Transport

355 Seamen's PF Organisation
356 Calcutta Dock Labour Board357 Calcutta Port Trust
358 Cochin Port Trust
359 DTC Employees PF Account
360 Inland Water Transport Authority of India
361 Jawaharlal Nehru Port Trust
362 Kandla Dock Labour Board
363 Kandla Port Trust
364 Madras Dock Labour Board
365 Madras Port Trust
366 Mormugao Dock Labour Board
367 Mormugao Port Trust
368 Mumbai Dock Labour Board
369 Mumbai Port Trust
370 National Highways Authority of India
371 New Mangalore Port Trust
372 Paradip Port Trust
373 Tarrif Authority; for Major Ports
374 Tuticorin Port Trust
375 Vizag Dock Labour Board
376 Vizag Port Trust

Ministry of Science & Technology

377 International Advanced Res.Centre for Powder Metallurgy & New Materials
378 Birbal Sahni Institute of Palaeobotany, Lucknow
379 Centre for DNA Finger Printing & Diagnostics
380 Council of Scientific & Industrial Research
381 Indian National Science Academy, New Delhi
382 Indian Academy of Sciences Bangalore
383 Indian Association for the cultivation of Science, Calcutta
384 Indian Institute of Tropical Meteorology, Pune
385 Indian National Academy of Engineering
386 Indian Science Congress Association, Calcutta
387 J.L.Nehru Centre for Advanced Scientific Research, Bangalore
388 Maharashtra Association for Cultivation of Science
389 National Accreditation Board for Testing & Collaboration Laboratories
390 National Brain Research Centre
391 National Centre for Cell Sciences, Pune
392 National Centre for Plant Gerome Research
393 National Institute of Immunology
394 Raman Research Institute, Bangalore
395 S.N.Bose National Centre for Basic Sciences, Calcutta
396 Sree Chitra Tirumal Medical Inst.of S&T, Thiruvananthapuram
397 Technology Information Forecasting Assessment Council
398 Vigyan Prasar
399 Bose Institute, Calcutta
400 Indian Institute of Astro-Physics
401 Indian Institute of Geo-magnetism, Mumbai
402 National Academy of Science
403 National Atlas & Thematic & Mapping Organisation
404 Technology Development Board, New Delhi
405 Wadia Institute of Himalayan Geology, Dehradun

Ministry of Space

406 National MST Radar Facility Gadanki
407 National Remote Sensing Agency, Hyderabad
408 Physical Research Laboratory Ahmedabad

Ministry of Textiles

409 ATIRA
410 BITRA
411 Central Silk Board
412 Cotton Technology Mission
413 IJRA
414 Institute of Fashion Technology
415 Jute Manufacturers Development Council
416 MANTRA
417 National Centre for Jute Diversification
418 New NIFTs
419 NITRA
420 Silk & Art Silk Mills Research Association
421 SITRA
422 Texttiles Committee, Bombay
423 Wool Development Board
424 WRA

Ministry of Tourism

425 Indian Institute of Tourism & Hotel Management
426 Institute of Hotel Management

Ministry of Urban Development

427 DDA
428 National Institute of Urban Affairs
429 NCR Planning Board
430 Building Material and Technology Promotion Council

Ministry of Water Resources

431 Brahmputra Board
432 National Institute of Hydrology
433 National Water Development Agency
Source: GOI Web Directory
Courtesy: GConnect.in