7th Pay Commission: Top 2 developments before Budget 2017 raise hopes for Central government employees
With the dust at least partly settled over demonetisation and the subsequent disruption at the finance ministry, there seems to be renewed cheer among Central government employees of a decision on allowances as recommended by the 7th Central Pay Commission (CPC). Two developments in this regard are worth taking note of, even as Budget 2017 is about a month away.
As has been reportedly earlier, the second amnesty scheme for tax defaulters – Pradhan Mantri Garib Kalyan Yojana, 2016 – estimated to net the Modi government a substantial amount, the financial outgo of Rs 1,02,100 crore no longer seems to be a hurdle.
However, the note ban decision and the spate of activities that followed the decision about raising allowances to the back burner made employees restive.
Now they hope the government will quickly move on the issue that involves about 47 lakh Central government employees and 53 lakh pensioners, of which 14 lakh employees and 18 lakh pensioners are from the defence forces.
While a website claiming to represent bureaucrats said that the finance ministry is likely to pay the enhanced allowances (possibly along with arrears) after Budget 2017 in February, another said that employees have sought a meeting with the ministry to resolve the issue at the earliest.
"Government is very pleased to pay the higher allowances to its employees after Budget. The acute cash crunch in banks and ATMs that prevailed for a month following the demonetization move of the government has eased from January 1, as the daily withdrawal limit from ATMs has been increased from Rs 2,500 to Rs 4,500. Hence, the Finance Ministry felt it would be wiser to announce of higher allowances after Budget," the Sen Times quoted a senior finance ministry official as saying.
Another significant development is a communication by the staff side National Council of the Joint Consultative Machinery (JCM) seeking an early redressal of the issue.
"Almost four months have passed (since September 1, 2016 meeting) without any outcome. All the Central Government Employees are quite agitated as well as are having mental agony because allowances of the VII CPC, have not been implemented. You are therefore, requested to fix-up a meeting of the Committee on Allowances, at an earliest to resolve the issues placed in the memorandum of the Staff Side(JCM) on various allowances," the letter read.
The CPC examined 196 allowances and gave its recommendations on abolishing or raising some of them while recommending others to be subsumed with other perks. It had proposed 138.71 percent hike in HRA and 49.79 percent for other allowances, while submitting its voluminous report in November 2015.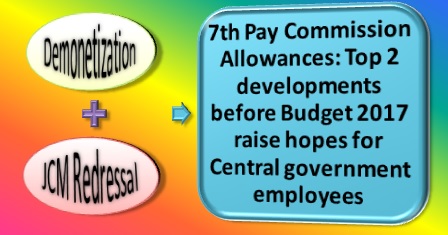 The Budget for the financial year 2017-18 is likely to be presented on February 1 by Finance Minister Arun Jaitley.
Read at:
[ibtimes.co.in ##eye##]