Cabinet's decision on Allowance – Discontentment amongst the Central Govt. Employees: AIDEF writes to JCM for urgent meeting
ALL INDIA DEFENCE EMPLOYEES FEDERATION
"S.M. Joshi Bhavan", Survey No. 81, Dr. Babasaheb Ambedkar Road, Khadki, Pune – 411003
No.014/1014/NC(JCM)/AIDEF/17
Dated: 30.06.2017
To
Comrade Shiva Gopal Mishra,
Secretary/ Staffside,
National Council (JCM),
13-C, Ferozsha Road, New Delhi.
Subject : Cabinet's decision on Allowance to central Government Employees.
Dear Comrade,
After the decision taken by the Cabinet on the Lawasa Committee's recommendation on the CPC Allowances including HRA, there is a total discontentment amongst the Central Govt. Employees. The Govt. assured NJCA that within 4 months they will settle all the 7th CPC related demands. However the Govt. made the Central Govt. Employees to wait for more than an year and ultimately has decided to implement what the 7th CPC has recommended with some minor changes here and there. The demand of the NJCA and Staffside to revise the Allowances from 1/1/2016 has been rejected and Govt. has decided to revise the same only from 01/07/2017, thereby denying the arrears on Allowances to the Central govt. Employees.
The Govt. is remaining silent on the demand of minimum pay, fitment factor and NPS. The Govt has already rejected the option No.1 recommended by Th CPC to the pre-2016 pensioners.
In this situation this Federation is of the view that you may urgently call a meeting of the NJCA or Staff Side to discuss the entire issue and to take decision on future course of action considering the anger, dissatisfaction and discontentment amongst the Central Govt. employees. We hope you will appreciate the seriousness of the situation.
With regards,
Yours Comradely,
S/d,
(C. Sri Kumar)
General Secretary.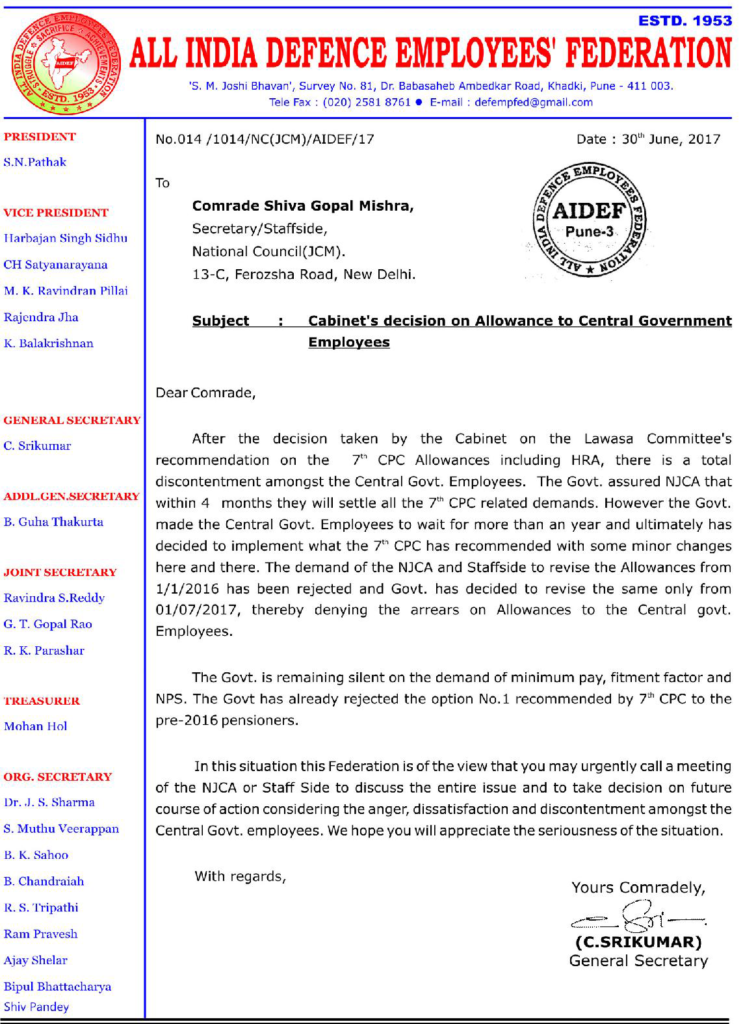 Source: ConfederationHq