Revision of Pension of pre-2016 Central Civil Pensioners/ Family Pensioners on the basis of Pay Matrix of 7th CPC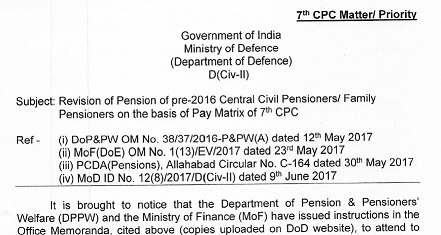 Government of India
Ministry of Defence
(Department of Defence)
D(Civ-II)
Subject: Revision of Pension of pre-2016 Central Civil Pensioners/ Family Pensioners on the basis of Pay Matrix of 7th CPC.
Ref – (i) DoP&PW OM No. 38/37/2016-P&PW(A) dated 12th May 2017
(ii)vMoF(DoE) OM No. 1(13)/EV/2017 dated 23rd May 2017
(iii) PCDA(Pensions), Allahabad Circular No. C-164 dated 30th May 2017
(iv) MoD ID No. 12(8)/2017/D(Civ-II) dated 9th June 2017
It is brought to notice that the Department of Pension & Pensioners' Welfare (DPPW) and the Ministry of Finance (MoF) have issued instructions in the Office Memoranda, cited above (copies uploaded on DoD website), to attend to the work relating to revision of Pension of pre-2016 retirees expeditiously. In the OM dated 23.05.2017, MoF has delineated the procedure to be followed / role to be performed by each agency [Pension Accounting Authorities/ PAOs/ HoDs/Heads of Offices] to complete the process of revision of pension of pre-2016 retirees in a coordinated and planned manner. In para 4(c) & 4(d) of the MoF OM dt 23 5.2017, it has been specified that (extracts):
Para 4(c)(i):


The Pension Accounting Offices shall pass on the
available


& relevant data of live-pensioners to the concerned
PAOs by

31st May, 2017.


The concerned PAOs on receiving data from Pension

Accounting Organisations shall immediately pass on the
data

to the concerned HoDs to ascertain the actual

number of retirees (and) take action to revise the
pension of


retirees who had worked under their administrative
control,

on the basis of orders dated 12.05.2017 issued by

DoP&PW.. .after due verification of relevant
records.

In compliance of these orders, PCDA(Pensions), Allahabad have issued Circular No. C-164 dated 30.05.2017, addressed to all HoDs under MoD, to prescribe the sequential action to be performed by the respective HoDs/HOOs to move ahead in this direction, alongwith a few examples to display the manner in which Pension/Family Pension is to be calculated in various cases. In addition to the guidance to the Heads of Offices in fixation of their pension, PCDA (Pension) have also assured their assistance in identification of the living pensioners. They have also furnished the contact details of an officer of PCDA who can be contacted by Heads of Offices for clarifications if any.
It is requested that all the HoDs of the organisations / Dtes under the control of various Wings of MoD may be advised to study the instructions contained in the above cited OMs/letters scrupulously and to monitor at their level the progress of revision of pension of identified retired Government employees, so as to complete this task by 30th Sep 2017. A Progress Report in this regard is to be furnished by HoDs to the respective administrative Divisions by the 1st & 15th of each month, in the enclosed format.
It is important to inform that the progress of this item of work is being monitored closely by the MoF. Besides, as per directions of MoF, the progress shall also be watched in the Senior Officers Meeting (SOM') chaired by Defence Secretary.
(M. Subbarayan)
Joint Secretary (Estt)
Tel. 011-23019474
Encl : Format of Progress Report
MoD ID No.12(8)/2017/D(Civ-II) dated 23.06.2017
Source: www.mod.nic.in [pdf]