7th CPC Allowance Order: Coal Pilot Allowance admissible to Shuntman and accompany the coal pilot for shunting duties
Government of India
Ministry of Railways
(Railway Board)
PC-VII No.39

RBE No. 92/2017

New Delhi, dated-11.08.2017

No.F(E)I/2017/AL-4/6

The General Managers,

Eastern Railway, Kolkata,

South Eastern railway, Kolkata,

East Central Railway, Hajipur,

South East Central Railway, Bilaspur,

East Coast Railway, Bhubaneshwar.
Sub: Revision of the rate of Coal Pilot Allowance.

Consequent upon the decision taken by the Government on the recommendations
of the Seventh Central Pay Commission, the rates of Coal Pilot Allowance
admissible to Shuntman and other staff of Transportation Department who
accompany the Coal Pilot in the collieries for shunting duties, may be
revised as under:
| | | |
| --- | --- | --- |
| | Existing Rate (Rs.) | Revised Rate (Rs.) |
| For the First Trip | 45/- | 102/- |
| For every subsequent trip | 15/- | 34/- |
2. These orders are effective from 1st July, 2017.
3. All other terms and conditions governing grant of Coal Pilot Allowance
will remain unchanged.
4. Hindi version is enclosed.
Please acknowledge receipt.
(Sonali Chaturvedi)
Deputy Director Finance (Estt.),
Railway Board.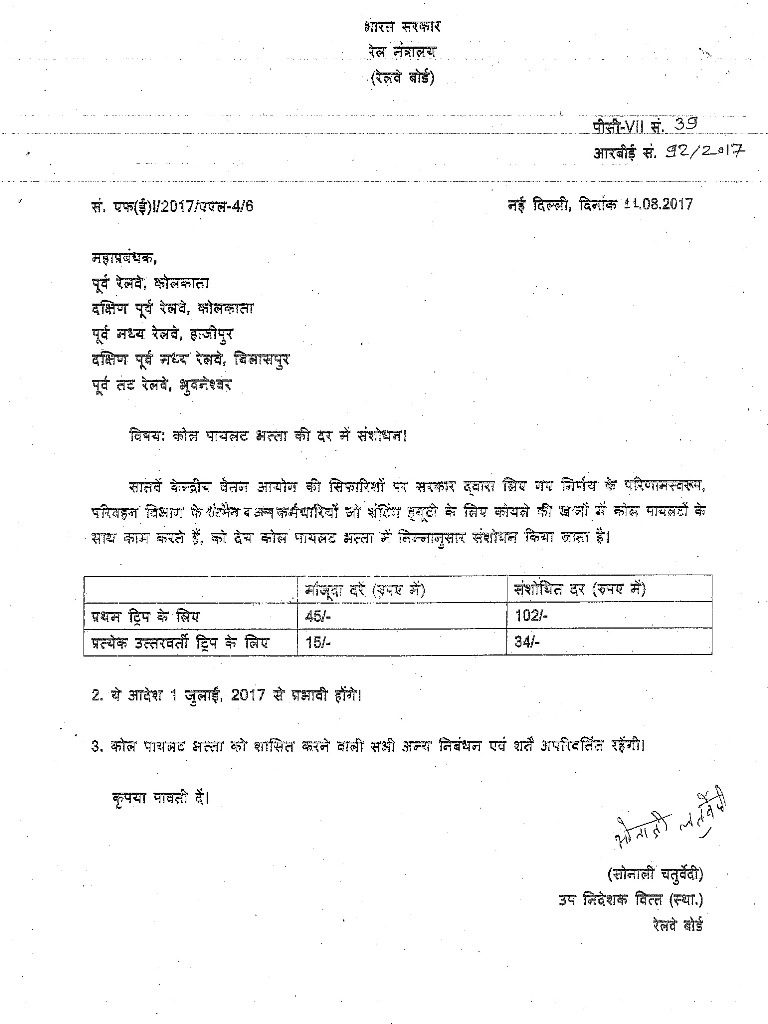 Source: Click here to download PDF