7th CPC, Allowances, OROP: Listing initiative for welfare of Armed Forces & Ex-servicemen by Def Minister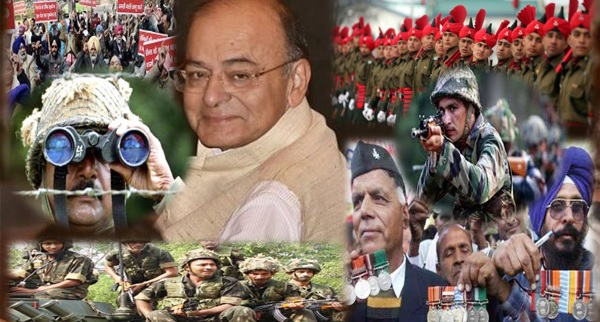 The comments assumed significance as armies of India and China are locked in a face-off in Dokalam for the past eight weeks. The defence minister was addressing the armed forces personnel in a customary radio broadcast on the eve of the 71st Independence Day.
Hailing sacrifice of the armed forces, Jaitley assured them that the government will do all that is necessary to keep their morale high and to meet their functional requirements. Listing initiatives for welfare of the security personnel, he said the government has taken decision on recommendations of the 7th pay commission on allowances, which will benefit 14 lakh personnel.
He said rates of Siachen allowance for extreme risk and hardship has been increased from Rs14,000 per month to Rs30,000 per month while counter insurgency operations allowance was increased from between Rs3,000 and Rs11,700 per month to between Rs6,000 and Rs16,900 per month.
He said territorial army allowance has been hiked from between Rs175 and Rs450 per month to Rs1,000 and Rs2,000 per month. Jaitley said the benefits of One Rank One Pension (OROP) scheme started reaching the ex-servicemen and families since last year.
"Till 10 July this year, a sum of Rs4,156 crore and Rs2,385 crore have been paid towards first and second instalments of OROP arrears to around 20,40,000 Ex- Servicemen/family pensioners and 15,93,000 Ex-Servicemen respectively.
"Further, a sum of Rs2,250 crore has also been paid to 15,13,000 ex-servicemen as third instalments of OROP arrears. The government is also sympathetically considering the report of the one-man judicial committee headed by justice L. Narasimha Reddy on OROP to look into the anomalies, if any, arising out of implementation of OROP and will take decision soon," he said.
Jaitley also said that the government has enhanced penury grant to non-pensioner ex-servicemen/widows to Rs4,000 per month from the existing rate of Rs1,000 per month. The defence minister also mentioned about the a campaign to have a 'Wall of Valour' in 1,000 educational institutions across the country. "Portraits of Param Vir Chakra decorated soldiers will be displayed at designated places on educational campuses to instil sense of nationalism among the students," he said.
Read full story at LiveMint: Defend India's borders with all your might, Arun Jaitley tells forces