Departmental Anomaly Committee to settle the anomalies arising out of the implementation of 7th Central Pay Commission's recommendations
NFIR
No.IV/DAC/7CPC/2016
Dated: 24/11/2017
The Secretary (E),
Railway Board,
New Delhi
Dear Sir,
Sub: Departmental Anomaly Committee to settle the anomalies arising out of the implementation of 7th Central Pay Commission's recommendations-reg.
Ref: (i) Railway Board's letter No. PC-VII/2016/DAC/I dated 05/10/2016, 29/03/2017, 18/04/2017, 03/05/2017, 25/05/2017, 06/06/2017 & 20/11/2017.
(ii) NFIR's letter No. IV/DAC/7 CPC/2016 dated,09/06/2017 & 16/08/2017.
In continuation of above cited references, the Federation furnishes additional material on Item No. 17 pertaining to Pharmacist category to facilitate the DAC to discuss in the ensuing meeting. Attention is also invited to NFIR's letter of even number dated 09/06/2017 on this issue of which Item No. 17 of the enclosure is relevant (Annexure-I).
Federation also encloses an Item under heading "grant of Additional Allowance to the remaining categories of Running Staff viz., ALP, Sr. ALP, LP (Shunting), Goods (Guard)" together with copy of Board's letter No. PC-VII/2017/R-U/38 dated 20/11/2017 to NFIR for discussion in the second meeting of the DAC (Annexure-II).
So far as the subject "Technical Supervisors of Railways", is concerned, the DoP&T vide F.No. 11/2/2016-JCA-I(Pt.) dated 30th October 2017 has since advised the Secretary (Staff Side) that this being Railway specific item, the Staff Side may take up at the Department Anomaly Committee of Ministry of Railways. A copy of Note pertaining to Technical Supervisors of Railways is also enclosed which may be clubbed with Item No. (xviii) sent to Railway Board on 08/11/2017 (Annexure-III).
DA/As above
The Commission has failed to appreciate that the category of pharmacist possessing the upgraded qualification of 4 year Degree (Technical) has not been considered on par with the other categories of staff holding Degree qualification. The study report submitted by the IIM Ahmedabad which forms the basis.of recommended pay scales to all the employees of the Central Government, does not contain the category of Pharmacist, apparently, the Pharmacist category has not been studied for the purpose of granting appropriate Pay Scale.
In view of the prevailing situation the case of Pharmacist deserves to be review by the Anomaly Committee for grant of atleast GP 4600/- at the time of appointment.
Grant of Additional Allowance to the remaining categories of Running Staff viz., ALP, Sr. SLP, LP Shunting, Goods (Guard)
Railway Board vide letter No. PC-VII/2017/1/7/5/5 dated 10/08/2017 issued instruction for grant of revised rates of Additional Allowance to the Running Staff viz., Loco Pilot (Goods)/Passenger/Mail-Express/Motorman, Sr. Passenger (Guard) and Guard (Mail/Express) w.e.f. 01st July 2017 without covering the remaining Running Staff belonging to the categories of ALP, Sr. ALP, LP (Shunting), Guard (Goods) etc. In this connection, Federation contends that the remaining Running Staff have been discriminated against wrongly ignoring the fact that there working conditions and responsibilities are akin to those Running Staff who have been granted revised rates of Additional Allowance.
Federation further contends that the ALP, Sr. ALP, LP (Shunting) and Guard (Goods) are also part of Running Staff for all purpose, therefore they also need to be covered for grant of Additional Allowance like other Running Staff to avoid the feeling of de-motivation among them.
NFIR, therefore, requests the Railway Board to review the case afresh and issue instructions for granting Additional Allowance to the ALP, Sr. ALP, LP (Shunting) and Guard (Goods).
Sub: Seventh CPC pay structure – grave injustice done to Graduate Engineers and Diploma Engineers in Railways – Review urged.
NFIR invites kind attention of the Railway Board to Para 11.40.104 to 11.40.115 of the 7th CPC report (Page No. 747 to 749).
Vide Para 11.40.109 of the 7th CPC report, it has been stated that "the next post in the hierarchical structure for Technical Supervisors is the post of Assistant Engineer. There is a 1:1 ratio between the posts of Assistant Engineer filled by Direct Recruitment and those filled through promotion".
In this connection, Federation points out that no promotions are presently available for SSEs on the basis of 1:1 ratio. The ground reality is that directly recruited Graduate Engineers to the post of SSE (6th CPC GP 4600/-) continued to remain in the same Grade Pay/Pay Level for not less than 15 to 20 years. Federation also conveys that it would be incorrect to call them "Technical Supervisors" while their official designations are Sr. Section Engineers or Jr. Engineers.
It is further learnt that the 7e Central Pay Commission had relied upon the study report given by Indian Institute of Management, Ahmedabad for denying the improved pay matrices for Graduate Engineers as well Diploma Engineers. Para 6.16.2 of the study report of IIM, Ahmedabad submitted to the 7th CPC is reproduced below:
"6.16.2 Sector-Wise Career Progression and Promotion Rules: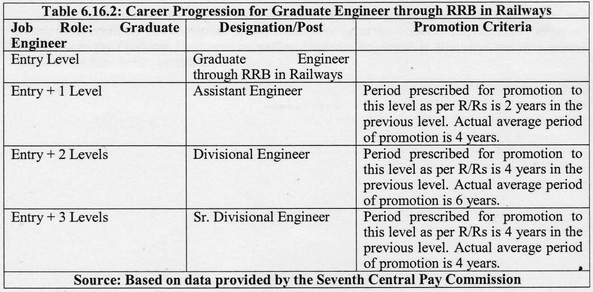 NFIR hopes that the Railway Board admits the truth that never promotions have been granted to the Graduate Engineers on completion of 4-years period to the post of Assistant Engineer and to the post of Divisional Engineer on completion of 4-years in the previous pay level. The IIM's distorted study report has done grave damage to the career growth of directly recruited Graduate Engineers in Railways. The wrong information given to the 7th CPC with regard to career progression and salary details of Graduate Engineers recruited though RRB in Railways through IIM's study report has caused severe damage to their career resulting around resentment among them.
It is sad to state that the Pay Commission has deviated its own principle as enumerated vide Para 4.1.19 of its report, which is reproduced below:-
"Historically the qualification and skill set required as well as roles and responsibilities discharged at various levels in the overall hierarchy have been central to the basis for pay grading. The rationalization index has been applied keeping this principle in mind".
It is surprising to note that the Railway Ministry (as recorded vide Para 11.40.1 12 of the 7th CPC report) had strongly defended the continuation of existing arrangements on functional grounds, ignoring the reality that the Railway Ministry in the year 2010 had proposed replacement of GP 46001- with GP 4800/- for improving the career growth of SSEs etc. The Railway Board also failed to mention before 7th CPC of its decision to upgrade Apex Level (GP 4600/-) posts to Group 'B' Gazetted (which is yet to be finalized). A.serious anomaly has arisen as a result of misleading facts placed by Railway Ministry before 7th CPC and also the totally incorrect study report of IIM, Ahmedabad presented to the 7th CPC as sought by the Commission.
NFIR, therefore, urges upon the Railway Ministry to review de-novo the entire issue and rectify all aberrations and anomalies arisen consequent upon the denial of improved pay structure and status to the Graduate Engineers as well as Diploma Engineers in Railways and also accord approval for time bound promotions to them.
Source: NFIR