List of Cancelled, Partial Cancelled, Diverted & Frequency Reduced Trains for Foggy Season 2017-18
Press Information Bureau
Government of India
Ministry of Railways
29-November-2017 18:58 IST
Ministry of Railways Announces Cancellation/Partial
Cancellation/Diversion/Frequency Reduction of Trains For The Forthcoming Foggy
Season 2017-2018.


This Will Be Done With Effect From 1st December 2017 to 13th February 2018.
In order to manage the train operations in upcoming foggy season 2017-18,
Ministry of Railways has devised a detailed plan for cancellation & frequency
reduction etc. of trains traversing through fog affected area. The
Cancellation, Partial Cancellation Reduction in Frequency and Diversion of
trains mentioned in the list (given below) will be done with effect from 1st
December 2017 to 13th February 2018.
The advanced cancellation etc., is being done, so that, passengers may plan
their journeys accordingly. In case of cancellation etc., full refund of fare
will be given to the affected passengers. The passengers are advised to check
the status of the train before undertaking their journey. The status of these
trains will also be communicated to the passengers on their respective
registered mobile numbers.
During the fog, the visibility becomes very low and trains have to run on a
highly-restricted speed to ensure safety of the passengers which leads to
considerable delays in the movement of trains.
The status of these trains will be monitored periodically keeping in view the
intensity of fog and decisions to restore some of the trains may be taken, as
and when operationally feasible.

List of Trains to be cancelled during
foggy weather 2017-2018

(01.12.17 TO 13.02.18)

S.No.

Train no

Train name

From Station

To Station

Freq.

1

12179

Intercity

Lucknow Jn

Agra Cantt

Daily

12180

Agra cantt.

Lucknow Jn

Daily

2

13257

Jan Sadharan

Danapur

Anand Vihar

Daily

13258

Anand Vihar

Danapur

Daily

3

14005

Lichchivi

Sitamarhi

Anand Vihar Terminus

Daily

14006

Anand Vihar Terminus

Sitamarhi

Daily

4

14207

Padmavat

Pratapgarh

Delhi

Daily

14208

Delhi

Pratapgarh

Daily

5

14211

Intercity

Agra cantt.

New Delhi

Daily

14212

New Delhi

Agra Cantt

Daily

6

14217

Unchahar

Prayag

Chandigarh

Daily

14218

Chandigarh

Prayag

Daily

7

14221

Express

Faizabad

Kanpur Anwarganj

Daily

14222

Kanpur Anwarganj

Faizabad

Daily

8

14235

Express

Varanasi

Bareilly

Daily

14236

Bareilly

Varanasi

Daily

9

14265

Express

Varanasi

Dehradoon

Daily

14266

Dehradoon

Varanasi

Daily

10

14307

Express

Prayag

Bareilly

Daily

14308

Bareilly

Prayag

Daily

11

14525

Intercity

Ambala

Sri Ganganagar

Daily

14526

Sri Ganganagar

Ambala

Daily

12

15209

Jansewa

Shaharsa

Amritsar

Daily

15210

Amritsar

Shaharsa

Daily

13

15273

Satyagrah

Raxaul

Anand Vihar

Daily

15274

Anand Vihar

Raxaul

Daily

14

15275

Express

Saharsa

Barauni

Daily

15276

Barauni

Saharsa

Daily

15

15483

Sikkim Mahananda

Alipurduar

Delhi

Daily

15484

Delhi

Alipurduar

Daily

16

19717

Intercity

Jaipur

Chandigarh

Daily

19718

Chandigarh

Jaipur

Daily

17

11901

Express

Mathura

Kurukshetra

Five days

11902

Kurukshetra

Mathura

Five days

18

14673

Shaheed

Jaynagar

Amritsar

Four days

14674

Amritsar

Jaynagar

Four days

19

12873

Jharkhand Swarna Jayanti

Hatia

Anand Vihar

Tri weekly

12874

Anand Vihar

Hatia

Tri weekly

20

12583

AC Double Decker

Lucknow Jn

Anandvihar

Bi weekly

12584

Anandvihar

Lucknow Jn

Bi weekly

21

13119

Express

Sealdah

Anand Vihar

Bi weekly

13120

Anand Vihar

Sealdah

Bi weekly

22

14003

Express

New Delhi

Malda Town

Bi weekly

14004

Malda Town

New Delhi

Bi weekly

23

14309

Ujjaini

Ujjain

Dehradoon

Bi weekly

14310

Dehradoon

Ujjain

Bi weekly
LIST-2(Frequency Reduction)
List of Trains whose frequency is
proposed to be reduced during foggy weather 2017-2018
w.e.f. –
01.12.17 to 13.02.18
S.No
Train no
Train Name
From Station
To Station
Frequency
Cancelled on day
1
12023
Jan Shatabdi
Howrah
Patna
Six days
Thursday
12024
Patna
Howrah
Thursday
2
12365
Jan Shatabdi
Patna
Ranchi
Daily
Friday
12366
Ranchi
Patna
Friday
3
12393
Sampoorna Kranti
Rajendra Nagar
New Delhi
Daily
Wednesday
12394
New Delhi
Rajendra Nagar
Thursday
4
12397
Mahaboodhi
Gaya
New Delhi
Daily
Monday
12398
New Delhi
Gaya
Tuesday
5
12561
Swatantrta Senani
Jaynagar
New Delhi
Daily
Thursday
12562
New Delhi
Jaynagar
Friday
6
15203
Express
Barauni
Lucknow
Daily
Tuesday
15204
Lucknow
Barauni
Friday
7
15211
Jan Nayak
Darbanga
Amritsar
Daily
Wednesday
15212
Amritsar
Darbanga
Friday
8
13345
Intercity/
Link
Varanasi
Singrauli
Daily
Tuesday
23347
Chopan
Shaktinagar
Tuesday
9
13346
Singrauli
Varanasi
Daily
Tuesday
23346
Shaktinagar
Chopan
Tuesday
10
13133
Express
Sealdah
Varanasi
Five days
Tuesday
13134
Varanasi
Sealdah
Friday
11
12192
Sridham
Jabalpur
New Delhi
Daily
Wednesday
12191
New Delhi
Jabalpur
Thursday
12
22405
Garibrath
Bhagalpur
Anand Vihar
Tri Weekly
Thursday
22406
Anand Vihar
Bhagalpur
Wednesday
13
13239
Express
Patna
Kota
4 days a week
Friday
13240
Kota
Patna
Saturday
14
12225
Kaifiyat
Azamgarh
Delhi
Daily
Thursday
12226
Delhi
Azamgarh
Wednesday
15
12279
Taj
Jhansi
Nizamuddin
Daily
Wednesday
12280
Nizamuddin
Jhansi
Wednesday
16
13413
Farrakka
Malda Town
Delhi
Tri weekly
Monday
13414
Delhi
Malda Town
Wednesday
17
13483
Malda Town
Delhi
Four Days
Friday
13484
Delhi
Malda Town
Sunday
18
12331
Himgiri
Howrah
Jammutawi
Tri weekly
Tuesday
12332
Jammutawi
Howrah
Thursday
19
12333
Vibhuti
Howrah
Allahabad City
Daily
Tuesday
12334
Allahabad City
Howrah
Wednesday
20
13005
Amritsar Mail
Howrah
Amritsar
Daily
Monday
13006
Amritsar
Howrah
Wednesday
21
13021
Mithila
Howrah
Raxaul
Daily
Wednesday
13022
Raxaul
Howrah
Thursday
22
14257
Kashi Vishwananth Express
Varanasi
New Delhi
Daily
Tuesday
14258
New Delhi
Varanasi
Wednesday
23
14625
Intercity
Delhi Sarai Rohilla
Firozpur
Daily
Tuesday
14626
Firozpur
Delhi Sarai Rohilla
Wednesday
24
13151
Express
Kolkatta
Jammutawi
Daily
Wednesday
13152
Jammutawi
Kolkatta
Friday
25
13049
Amritsar
Express
Howrah
Amritsar
Daily
Tuesday
13050
Amritsar
Howrah
Thursday
26
15011
Express
Lucknow Jn
Chandigarh
Daily
Wednesday
15012
Chandigarh
Lucknow Jn
Thursday
27
14649
Saryu Yamuna
Jaynagar
Amritsar
Tri-weekly
Friday
14650
Amritsar
Jaynagar
Wednesday
28
14523
Harihar Express
Barauni Jn
Ambala
Bi weekly
Thursday
14524
Ambala
Barauni Jn
Tuesday
29
11123
Mail
Barauni
Gwalior
Daily
Tuesday, Friday
11124
Gwalior
Barauni
Monday, Thursday
LIST-3(Partial Cancellation)
List of Partially cancelled trains
during foggy weather 2017-2018
w.e.f. – 01.12.17 TO 13.02.18
S.
No.
Train No.
Train Name
From
To
Frequency
Partial Cancellation between
1
12403
Express
Allahabad
Jaipur
Daily
Mathura-Jaipur-Mathura
12404
Jaipur
Allahabad
2
13007
Udyan Abha Toofan
Howrah
Sri Ganganagar
Daily
Agra Cantt.-Sri Ganganagar- Agra Cantt.
13008
Sri Ganganagar
Howrah
3
12369
Kumbha Express
Howrah
Haridwar
Five days
Lucknow-Haridwar- Lucknow
12370
Haridwar
Howrah
List of Trains diverted during foggy
weather 2017-2018

w.e.f. – 01.12.17 TO 13.02.18

S.

No.

Train No.

Train Name

From

To

Frequency

Scheduled route

Diverted route

1

13237

Express

Patna

Kota

Tri Weekly

Kanpur-Tundla-Agra-Mathura-Bharatpur

Kanpur-Farrukhabad-Kasganj-Mathura-

Achhnera-Bharatpur

13238

Express

Kota

Patna

Tri weekly

Bharatpur-Mathura-Agra-Tundla-Kanpur

Bharatpur-Achhnera-Mathura-Kasganj-Farrukhabad-Kanpur

2

13239

Express

Patna

Kota

4 days a week

Kanpur-Tundla-Agra-Mathura-Bharatpur

Kanpur-Farrukhabad-Kasganj-Mathura-

Achhnera-Bharatpur

13240

Express

Kota

Patna

4 days a week

Bharatpur-Mathura-Agra-Tundla-Kanpur

Bharatpur-Achhnera-Mathura-Kasganj-Farrukhabad-Kanpur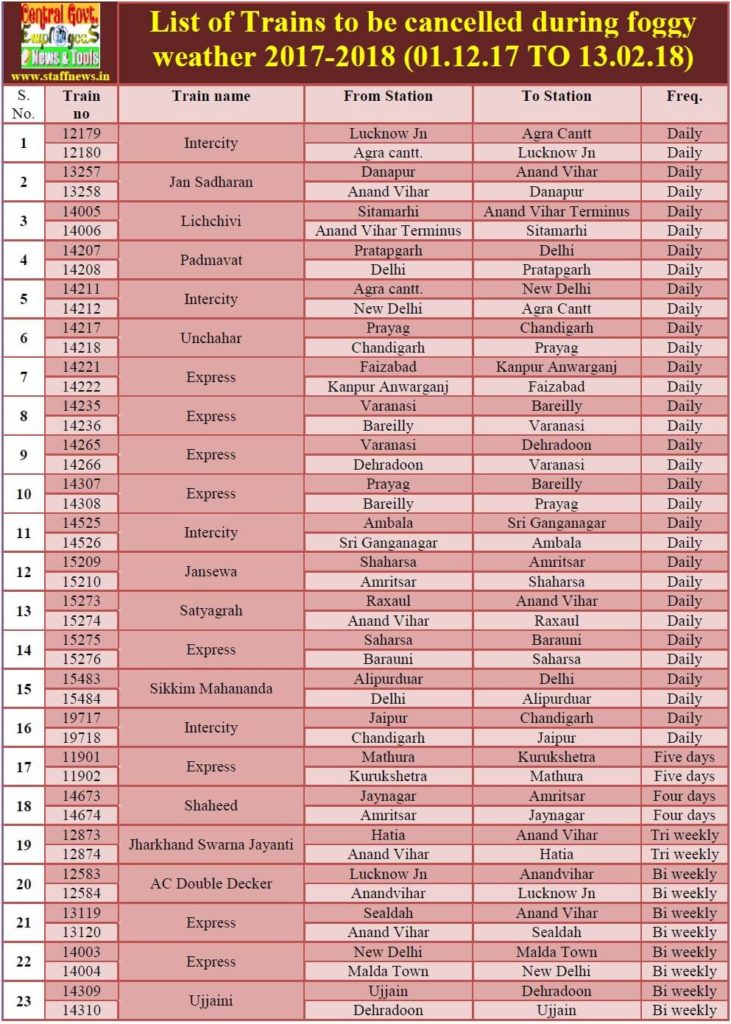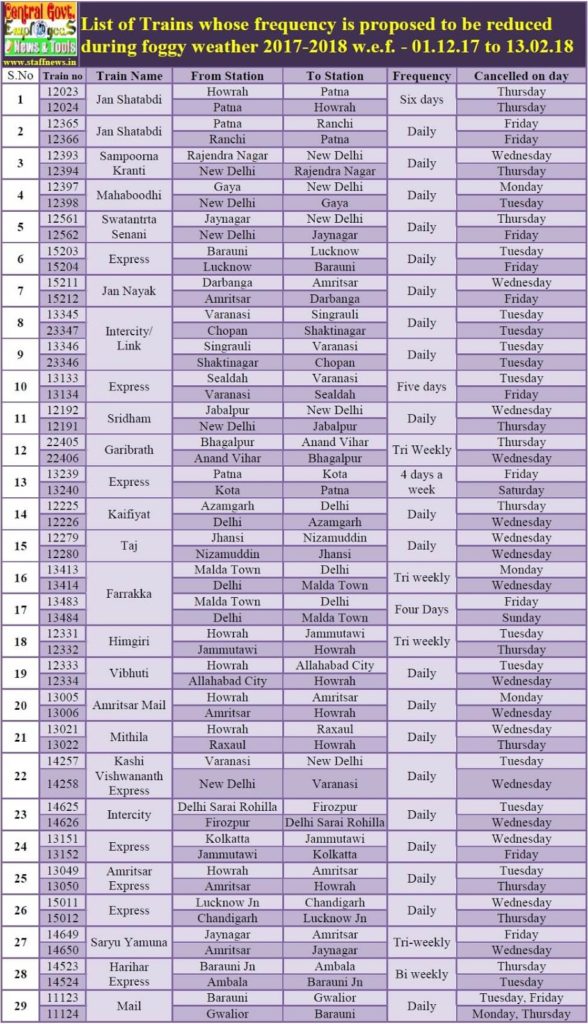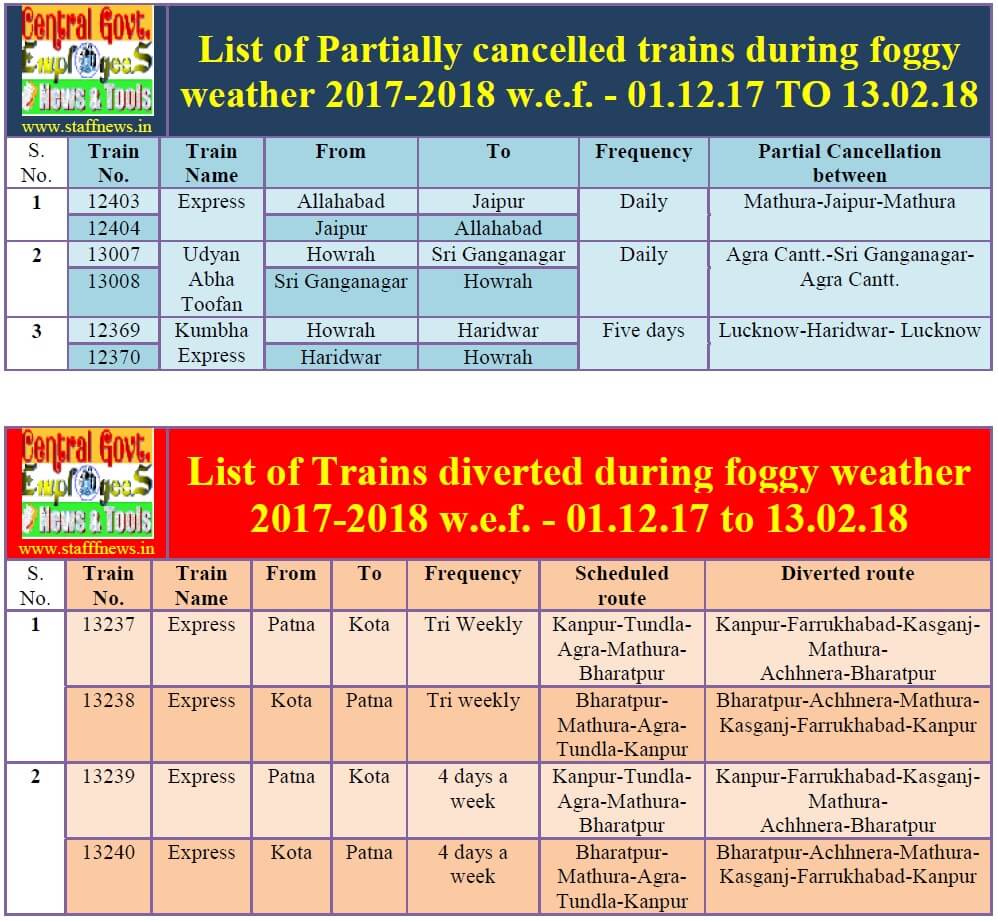 Source: PIB