Benefit of NPS and reversion to old defined benefit pension system: Details
GOVERNMENT OF INDIA
MINISTRY OF FINANCE
LOK SABHA
UNSTARRED QUESTION NO: 4075
ANSWERED ON: 10.08.2018
Reintroduction of Old Pension Scheme
RAKESH SINGH Will the Minister of FINANCE be pleased to state:-
(a) the details of drawbacks of the New Pension Scheme (NPS) introduced for the Government officials;
(b) whether the NPS is not as beneficial monetarily as the Old Pension Scheme (OPS) and if so, the details thereof;
(c) whether the Government employees are disgruntled with the NPS and if so, the details thereof; and
(d) whether the Government proposes to reintroduce the OPS replacing the NPS, if so, the details thereof and the action taken by the Government in this regard?
ANSWER
The Minister of State in the Ministry of Finance
(a) & (b) National Pension System (NPS) has been designed giving utmost importance to the welfare of the subscribers. Government has made a conscious move to shift from the defined benefit pension scheme to defined contribution pension scheme i.e. NPS, due to rising and unsustainable pension bill. There are a number of benefits available to the employees under NPS. Some of the benefits are enlisted below:
NPS is a well designed pension system managed through an unbundled architecture involving intermediaries appointed by the Pension Fund Regulatory and Development Authority (PFRDA) viz. pension funds, custodian, central record keeping and accounting agency, National Pension System Trust, trustee bank, points of presence and Annuity service providers. It is prudently regulated by PFRDA which is a statutory regulatory body established to promote old age income security and to protect the interest of subscribers of NPS.
The pension wealth which accumulates over a period of time till retirement grows with a compounding effect. The all-in-costs of the institutional architecture of NPS are among the lowest in the world.
Contribution made to the NPS Tier-I account is eligible for tax deduction under the Income Tax Act, 1961. An additional tax rebate of Rs.50000 is also allowed for contributions made to NPS Tier-I under Section 80CCD (1B) of the Income Tax Act, 1961.
Subscribers can withdraw up to 25% of their own contributions before attaining age of superannuation, subject to certain conditions. Further, PFRDA vide "PFRDA (Exits and Withdrawals under the NPS) (First Amendment) Regulations, 2017" dated 10.08.2017 has liberalized norms for partial withdrawals which also include reduction of requirement of minimum years of being enrolled under NPS from 10 years to 3 years from the date of joining.
PFRDA has increased the maximum age limit from 60 years to 65 years for joining NPS-All Citizen Model and Corporate Sector Model, vide "PFRDA (Exits and Withdrawals under the NPS) (Second Amendment) Regulations, 2017" dated 06.10.2017.
PFRDA vide "PFRDA (Exits and Withdrawals under the NPS) (Third Amendment) Regulations, 2018" dated 02.02.2018 has facilitated easy exit & withdrawal in case of disability and incapacitation of the subscriber covered under NPS.
Transparency and Portability is ensured through online access of the pension account by the NPS subscribers, across all geographical locations and portability of employments.
(c) & (d) Representations have been received which inter alia also include the demand that the Government may revert to old defined benefit pension system. However, due to rising and unsustainable pension bill and competing claims on the fiscal, there is no proposal to replace the NPS with old pension scheme in respect of Central Government employees recruited on or after 01.01.2004.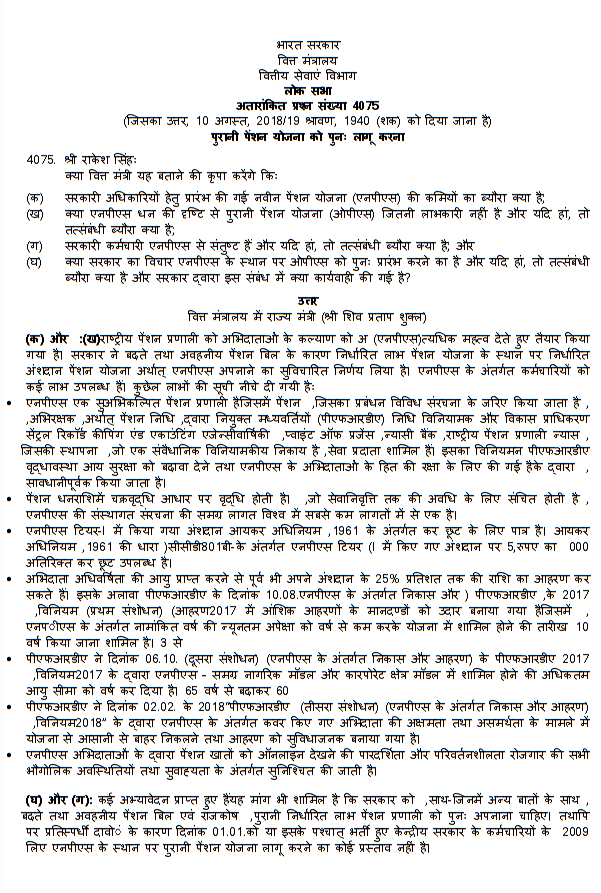 Source : Loksabha