Gazette Notification: ECHS for the purposes of Section 80D of IT Act, 1961 for the A.Y. 2019-20 & subsequent assessment years..
MINISTRY OF FINANCE
(Department of Revenue)
[CENTRAL BOARD OF DIRECT TAXES]
NOTIFICATION
New Delhi, the 26th September, 2018
S.O. 4982(E).
— In exercise of the powers conferred by clause (a) of sub section (2) of section
80D of the Income Tax Act, 1961 (43 of 1961), the Central Government hereby notifies the Ex-Servicemen Contributory Health Scheme of the Department of Ex-Servicemen Welfare, Ministry
of Defence, for the purposes of the said clause for the assessment year 2019-20 and subsequent
assessment years.
[Notification No. 55 /2018 (F.No. 178/15/2018-ITA-I)]
VINAY SHEEL GAUTAM, Under Secy.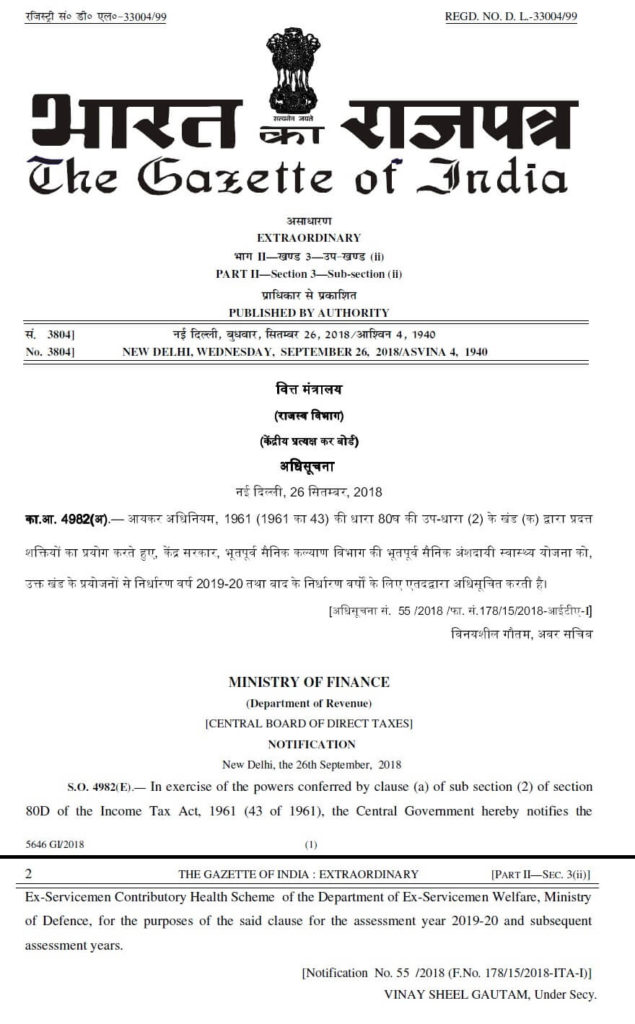 Source: Click here to view/download the PDF [https://www.incometaxindia.gov.in/communications/notification/notification55_2018.pdf]