MACP in Promotional Hierarchy – GP 4800 & 5400 to Sr Accountant – Demand for end of discrimination in view of Govt Orders & Judicial verdicts
All India Civil Accounts Employees Association
RECOGNIZED BY GOVT. OF INDIA)
Central Headquarters
No:- AlCAEA/HQ/A-2/2018/412
Dated: 08.10.2018
To,
Shri Anthony Lianzuala,
Controller General of Accounts,
Ministry of Finance,
Department of Expenditure,
4th Floor, GPOA, Block-E, INA,
New Delhi – 110023
Subject: – Discrimination in granting Grade Pay on Grant of Financial Benefits under M.A.C.P. – Violation of Government Order and judicial Verdicts.
Sir,
On behalf of members of this Association I am to submit herewith following facts for your kind consideration and early favorable action.
1. The Ministry of Personnel, Public Grievances and Pension under O.M. No. 38/86/03-P&PW(A) dated 26-04-2004 has granted parity of Pay Scales in organized Accounts cadre w.e.f. 01-01-1996 notionally and actually from 19-02-2003 as shown below:
S. No.
Name of the Post
Existing Pay Scale as on 01-01-1996
Up-graded Pay Scale to be applicable.
1.
Auditor/Accountant
4000-100-6000
4500-125-7000
2.
Sr. Auditor/Sr. Accountant
5000-150-8000
5500-175-9000
3.
Section Officer/junior Accounts
Officer
5500-175-9000
6500-200-10500
4.
Asst. Audit Officer/Asst. Accounts Officer
6500-200-10500
7450-225-11500

2. The hierarchical set up of the Department is:
| | | |
| --- | --- | --- |
| 1. | Accountant Group C | Filled in by Direct Recruitment or by Promotion from L.D.C. |
| 2. | Sr. Accountant Group B Non-Gazetted | Non- Gazetted Promotional Post to Accountant |
| 4. | Asst. Accounts Officer Group B | Promotion Post to Senior Accounts Officer on passing the Departmental Examination and on seniority -cum fitness basis |
3. The 6th Central Pay Commission has merged the post of Section Officer with Assistant Accounts Officer from 01-01-2006. The 6th Pay Commission has recommended the Pay Band 2 in the Pay Scale of Rs. 9300-34800 Plus Grade Pay of Rs. 4200/- to the Senior Accountant. The Asst. Accounts Officer were also given the Pay Band No. 2 but they were given the Grade Pay of Rs. 4800/-.
4. The Government of India, Ministry of Personnel, Public Grievances and Pensions under O.M. No. 35034/3/2008-Estt (D) dated 19-05-2009 has introduced the Scheme of Modified Career Progression Scheme (for brevity M.A.C.P.) which is the modified version of earlier A.C.P. Scheme. As per the Scheme the Government Servants will be granted 3 financial up- gradations after completion of 10, 20 and 30 years of service if they have not received any regular Promotion. The condition No. 2 read with 6.2 of the Annexure 1 of the OM. laid down that:
…….financial upgradations under the Scheme should be done strictly in accordance with the hierarchy of grade pays in pay bands as notified vide CCS (Revised Pay) Rules, 2008"
According to the information available to this Association, the Senior Accountants are being granted Grade Pay of Rs. 4600 /-(level 7 of pay matrix) on grant of benefits under M.A.C.P.
In this connection, your kind attention is invited to the following orders/Judgments of the various Tribunals/ High Courts/Supreme Court wherein the Tribunals/ High Courts have held that the Grade Pay of hierarchical Promotion Post has to be given on grant of financial benefits under M.A.C.P.
1. Central Administrative Tribunal (C.A.T.) Ernakulam Order dated 27-09-2011 in T.P.Leena Vs. Union of India.
The Tribunal has granted the Grade Pay of Rs. 4800/- on grant of lst Financial Benefit under M.A.C.P. from Rs. 4200/-.
2. The High Court of Ernakulam has by Judgment dated 21-06-2012 in the case of Union of India Vs. T.P.Leena has upheld the Order of CAT. and Hon'ble Supreme Court has dismissed the S.L.P. by Judgment dated 15-10-2012 holding that there is no reason to interfere with Impugned Order.
[Copies of above Order/ judgments are enclosed as Annexure 'A')
3. CAT New-Delhi by Order dated 26-11-2012 in Sanjay Kumar & others Vs. Ministry of Defence & others has granted the Grade Pay of Promotion Post (Copy enclosed).
Sir, it would not be out of place to submit that the Controller of Accounts C.B.D.T. Mumbai in compliance of C.A.T. Mumbai order has by order No. ZAO/MACP/ADMN/12015-16 dated 01-02-2016 has granted Grade Pay of Rs. 4800[- (level 8 of Pay Matrix] to 13 Senior Accountants on grant of benefits of 2"d M.A.C.P. The copy of the Order is enclosed as Annexure 'B' for your perusal.
It is further submitted that the Principal Chief Controller of Accounts. Zonal Accounts Office, CBDT, Mumbai has, while quoting Principal Chief Controller of Accounts C.B.D.T. New- Delhi letter No. -PCCA/CBDT/Estt/Rep/2018-381-382 dated 01-08-2018 has granted benefits of 3rd M.A.C.P. to 16 Senior Accountants under order No. ZAO/CBDT/MUM/ADMN/MACPS/2018-191 742 dated 04-09-2018 [Copy enclosed]. The perusal of the order would exhibit that all the Senior Accountants were in receipt of Grade Pay of Rs. 4800/- (level 8 ef Pay Matrix] on grant of benefits of 2nd M.A.C.P. and they have been granted Grade Pay of Rs. 5400/-[level 9 of Pay Matrix) which is the Grade Pay of hierarchical Post of Asstt. Accounts Officer.
In View of submission made in the letter, it is clear that the members of our Association are meted out with discrimination as far as grant of Grade Pay of Rs. 4800/-[level 8 of Pay Matrix) on grant of benefits of M.A.C.P. to Senior Accountants are concerned. They are given the Grade Pay of Rs. 4600/- [level 7 of Pay Matrix). This amounts to discrimination and violative of Article 14 and 16 of the Constitution of India. It is therefore requested that the Grade Pay of Rs. 4800/-(level 8 of Pay Matrix) may please be granted to all the Senior Accountants who have been granted benefits of M.A.C.P. A comprehensive review may please be taken and set right the grave injustice caused to our members.

In this context the observation of Principal Bench New Delhi in the case of All India Defence Civilian Clerks Association of ADC and Records Office and another Vs. The Secretary, Ministry of Defence and others in order dated 01-02-2012 (Copy enclosed) assumes importance.
We do not understand the logic of the Ministry of Defence, D.O.P & T. Ministry of Finance or even the Ministry of Law as to how the aforesaid directions as upheld by Hon'ble High Court of Delhi and the Apex Court cannot be made applicable to the Applicants who are admittedly similarly placed. In our considered opinion the Respondents/Departments should desist from rejecting the genuine request of the employees and force them to knock the door of Courts unnecessarily without any justifiable grounds.
In view of above observation of Hon'ble Principal Bench I request you to consider our request positively and arrange to do justice by removing the discrimination between the two set of similarly situated employees.
Thanking you
Yours faithfully
Enclo: As stated above.
(V. Bhattacharjee)
Secretary General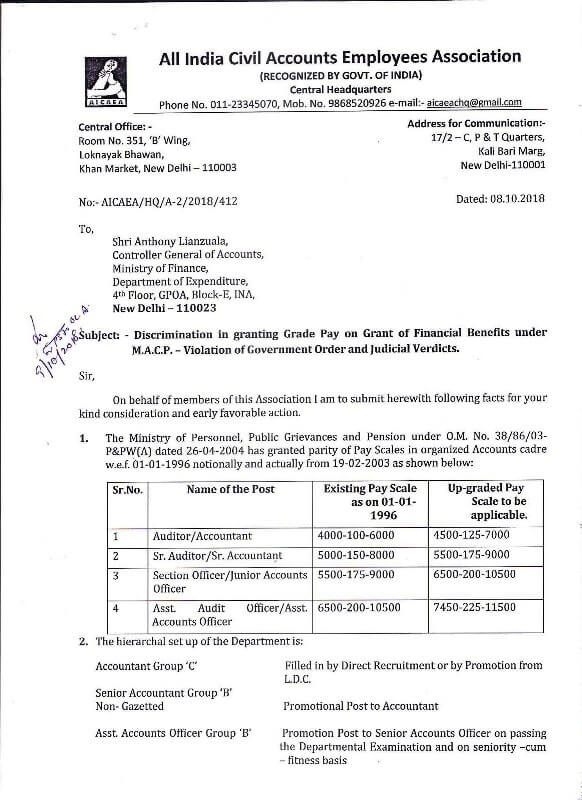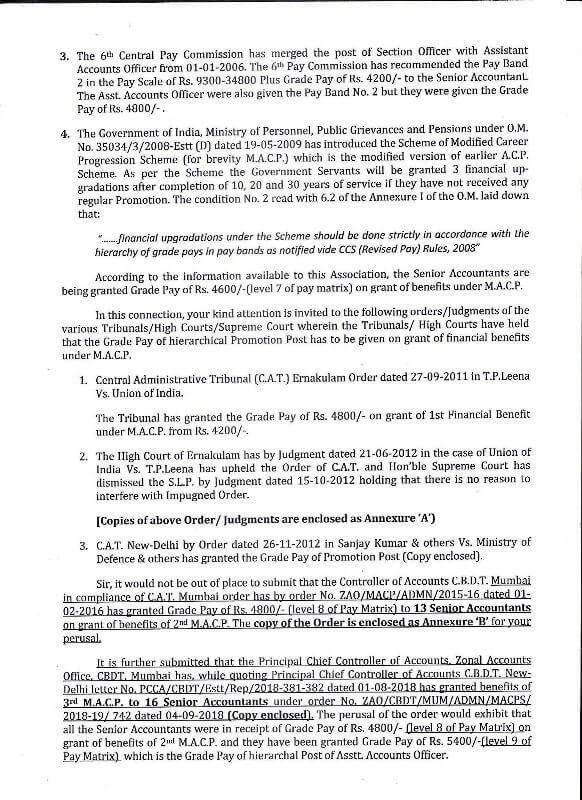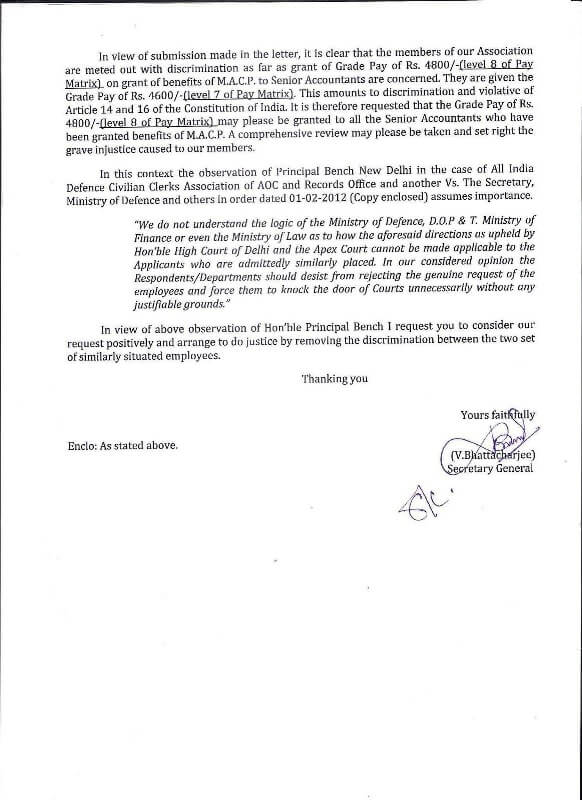 Source: http://nfcaahqnd.blogspot.com/2018/10/demand-forend-of-discrimintion-grant-of.html