Feasibility of Five Days Week for LAOs/RAOs/AOs/ GEs – CGDA seeks comments
कार्यालय रक्षा लेखा प्रधान नियंत्रक (मध्य कमान),
Office of the Principal Controller of Defence Accounts (Central Command)
करिअप्पा मार्ग, लखनऊ छवानी – 226002
Cariappa Road, Lucknow Cantt. Pin Code – 226002
(केवल वैबसाइट के माध्यम से/ Through website only)
सं. प्रशा./1अ/6017/आर.ओ.सी.
दिनांक : 18/02/2019
सेवा में,
सभी LAOs, RAOs, AOGEs
PCDA (CC) लखनऊ कमान के अंतर्गत आने वाले।


विषय :- LAOs, RAOs, AOGEs के लिए सप्ताह में 5 कार्यदिवस के संबंध में।
संदर्भ:- मुख्यालय कार्यालय का पत्र संख्या प्रशा./III/3012/विविध/कार्यदिवस दिनांक 07/01/2019 (छायाप्रति संलग्न )।
***************
संदर्भित पत्र के माध्यम से मुख्यालय कार्यालय, दिल्ली छवानी ने उपरोक्त विषय के परिक्षोपरांत इस कार्यालय की टिप्पणी मांगी है। अतः सभी LAOs/RAOs/AOGEs से अनुरोध है कि उपरोक्त विषय पर अपनी टिप्पणी/सुझाव 3 दिनों में मुख्यालय कार्यालय, लखनऊ को फ़ैक्स/ई.मेल द्वारा प्रेषित करना सुनिश्चित करें।
वर्गाधिकारी द्वारा अवलोकित।
व.ले.अ.(प्रशा.)
कार्यालय रक्षा लेखा महानियंत्रक, उलान बटार रोड, दिल्ली छवानी-10
Office of the CGDA, Ulan Batar Road, Palam,
Delhi Cantt-110010
No.AN/III/ 3012/ Misc./Working Days dated 07.01.2019.
To,
All PCsDA / PCA (Fys.)/ CsDA
(through CGDA website)
Subject: 5 days week for lAOs/ RAOs/ AOs/ GEs etc.

During 55th Steering Committee Meeting of III level JCM Council of CGDA HQrs. held on 19.11.2018, the staff association raised the issue of having uniform policy regarding number of days of working/ attendance in a week for LAOs/ RAOs under DAD. They have informed that some LAOs in AF setup are working for 5 days despite the fact that AF units are working 6 days a week.
As per para 259 of OM Part-1, hours of attendance for offices attached to units and formations may be fixed by the PCDA/ CDA to conform to the working hours followed by the units/ formations concerned (5 days week or 6 days week as the case may be) provided they put in uniformly on an average 40 hours a week irrespective of the numbers of working hours fixed for the units/ formations concerned.
In order to facilitate a view being taken in the matter, the Chairman of the JCM has directed to seek comments/ suggestions from all field Controllers regarding feasibility for five days in a week working/ attendance in LAOs/ RAOs in the DAD.
It is therefor, requested to furnish your comments to HQrs. office on the subject for examination and consideration of agenda point.
(Mustaq Ahmad)
Dy.CGDA (AN)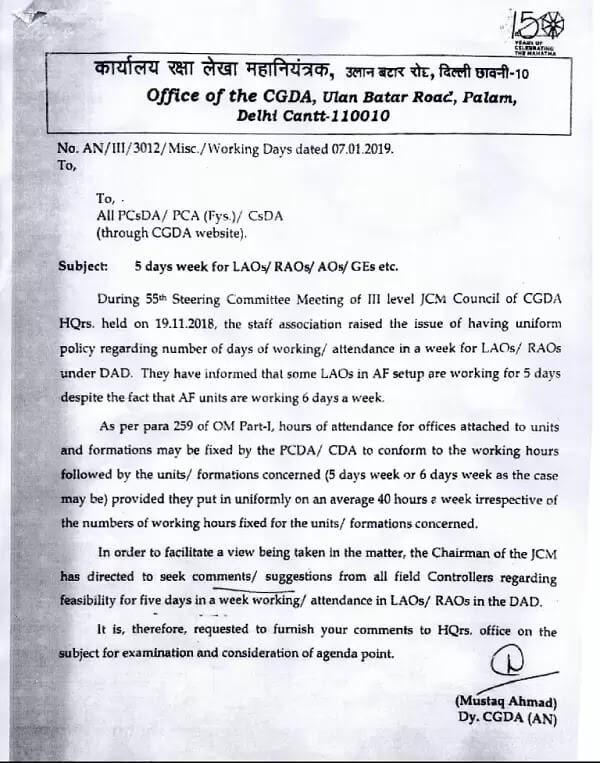 Source: Click here to view/download signed pdf
[http://pcdacc.gov.in/download/circularsnew/5workingday.pdf]