Which is Better Exam SSC CPO or SSC CGL?
When it comes to recruitment, the Staff Selection Commission receives the highest number of applications every year. SSC Combined Graduate Level (CGL) is held to recruit eligible candidates for the job-profiles available in the government sectors, ministries and departments. While SSC CPO exam is conducted to select Sub-Inspectors & Assistant Sub-Inspectors.
Every post has its pros and cons but ultimately, it is your interest that will help you choose your job. In order to determine which exam is better, you must know about the deciding parameters such as salary structure, type of work, working conditions, level of difficulty in the exam, career growth & promotion, etc. Finally, you can make up your mind and start studying for the target job.
Let us first compare the latest exam pattern of SSC CPO & SSC CGL.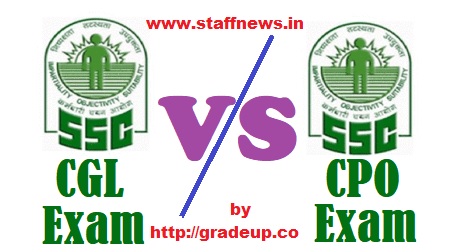 Exam Pattern | SSC CPO vs SSC CGL
Both the examinations are computer-based and contain equal weightage of marks. As per the feedback by applicants, it has been observed that the
exam of SSC CGL
is relatively difficult than SSC CPO exam.
| | | |
| --- | --- | --- |
| Exam Pattern | SSC CPO | SSC CGL |
| Mode of Exam | Online Mode | Online Mode |
| Level of difficulty | Less difficult | More difficult |
| Total Weightage | 200 | 200 |
| Total questions | 200 | 100 |
| Number of questions in each section | 50 | 25 |
| Marks for correct response | +1 | +2 |
| Negative marking | -0.25 | -0.5 |
| Time Allotted | 2 Hours | 1 Hour |
Number of Vacancies| SSC CPO vs SSC CGL
In terms of vacancies, recruitment done through SSC CGL is far more than
SSC CPO
. The expected vacancies for both the recruitment processes are given below:
Number of Vacancies under SSC CPO & CGL

Recruitment

Vacancies

SSC CGL

600+3448+50+3991
(Previous year vacancies)

SSC CPO

1223* (more vacancies to be added)
In-hand Salary Comparison (Grade-wise) | SSC CPO vs SSC CGL
A candidate is allotted a designation based on his post preference and merit rank. In simple words, higher the rank in the merit list, better the job profile, with respect to the post preference by the qualified candidate.
Grade pay

SSC CPO

SSC CGL

Maximum In-hand Salary

Rs. 41231/-
(Sub-Inspector in Delhi-Police/ CAPFs)

Rs. 55039/-
(Assistant Audit Officer & Assistant Accounts Officer)

Minimum In-hand Salary

Rs. 31223/-
(Assistant Sub-Inspector in CISF)

Rs. 25165/-
(Profiles with 2400 grade-pay)
Promotion | SSC CPO vs SSC CGL
According to the guidelines laid by the Central Government, your promotion will largely depend on the years of experience and work performance throughout the years.
SSC CGL: Considering all the profiles under SSC CGL, you will be eligible for your 1st promotion after attaining 3-4 years of work experience. In order to avail 1st promotion, you may also have to clear departmental exam of the respective job post. It will take you a minimum 6-8 years of experience for the next promotion.
SSC CPO: If you have been selected for the post of Assistant Sub-Inspector (ASI) then you can expect your 1st promotion in next 5 years.
Allowances| SSC CPO vs SSC CGL
Unlike private sectors, government sectors provide you a lot of allowances such as lunch allowance, children's education allowance, etc. In addition, a CAPF personnel in CPO receives allowances from the government such as ration allowance and dress allowance. Thus, it helps to save a lot of money. A CAPF is also eligible for various allowances under the quota of 'Person from Armed Forces'. On the other hand, you will not be eligible for additional allowances if you are designated under SSC CGL.
Type of Work| SSC CPO vs SSC CGL
The qualified candidates in SSC CGL will be engaged in doing desk jobs related to auditing, assistance, inspection, investigation, etc. while selected candidates as Sub-Inspectors in CPO will be indulged in providing security, protecting the border between two adjacent countries, prevention of cross-border crimes, etc.
Conclusion
In the end, it's all up to your area of strength and interest. A candidate willing to apply for SSC CPO exam must be physically fit and possess the skill-set of a policeman while if you prefer to do a desk job then you should apply for SSC CGL examination.
Article by gradeup.co