CGHS Meerut Fresh Empanelment: Vardhman Hospital, Meerut & Centre for Sight, Moradabad
OFFICE OF THE ADDITIONAL DIRECTOR
CENTRAL GOVERNMENT HEALTH SCHEME
SURAJ KUND ROAD, MEERUT
No. 29-11/2019-CGHS/MRT/ESTT/Hospital Cell
Dated: 23-07-2019
OFFICE MEMORANDUM
Sub: Notification of Fresh empanelment of Private Hospitals & Diaqnostic Centers under continuous empanelment scheme 2017 of CGHS, Meerut
As per Empanelment of private hospitals, exclusive eye hospitals / centres, exclusive Dental clinic, cancer hospitals / units, diagnostic laboratories and imaging centres under CGHS-2017 and last date of application submission on 28-06-2019 for continuous fresh empanelment of Private Hospitals & Diagnostic Centers under CGHS Meerut, a committee was formed with two Senior Medical Officers headed by Additional Director. Inspection for authentication of documents submitted was carried out by Dealing Hand & three Medical Officers, CGHS Meerut. The qualified Hospitals according to category and purpose attached as given below (on the recommendation of Hospital Evaluation Committee) up to 30-09-2019 or Fresh Empanelment whichever is earlier.
1. The Hospital who have qualified for empanelment under CGHS, Meerut have submitted the Draft MOA with CGHS along with performance Bank Guarantee and are approved for empanelment of Private Hospitals under CGHS, Meerut with effect from date of notification of the OM.
2. The empanelment shall be for a period up to 30-09-2019 from the date of notification or till new empanelment process whichever is earlier.
HOSPTIALS:-MEERUT
SI. No.
Name of Hospital
Address & Tel.No.
NABH Accredited/ Non-NABH
Facilities empanelled for
1.
Vardhman Hospital & Research Centre
694/2, Shastri, Near PNB, RTO Road, Meerut. Phone
No. 0121- 2601808, 70556036
Applied for
Anaesthesiology, Dermatology & Venereology, General
Medicine, General Surgery, Orthopaedic Surgery (excluding Joint
Replacement), Respiratory Medicine, Day Care Services, Critical Care,
Endocrinology, Hepato-Pancreato-Biliary Surgery, Oncology-
(Gynaecological), Plastic and Reconstructive Surgery, Urology (including
dialysis and lithotripsy)
EXCLUSIVE EYE CENTRE: MORADABAD
SI. No.
Name of Hospital
Address & Tel.No.
NABH Accredited/ Non-NABH
Facilities empanelled for
1.
Centre for Sight
Kanth Road, Mohra KI, Milak, Moradabad, Phone No.
0591-24524005 34524007
Applied for
General Services Specialized Services: Cataract/
Glaucoma, Retina Medical, Cornea (excluding cornea bank), Occuloplasty &
Adnexa, Strabismus
Encl: As above
(Dr. A.K. Naharia)
ADDITIONAL DIRECTOR
CGHS MEERUT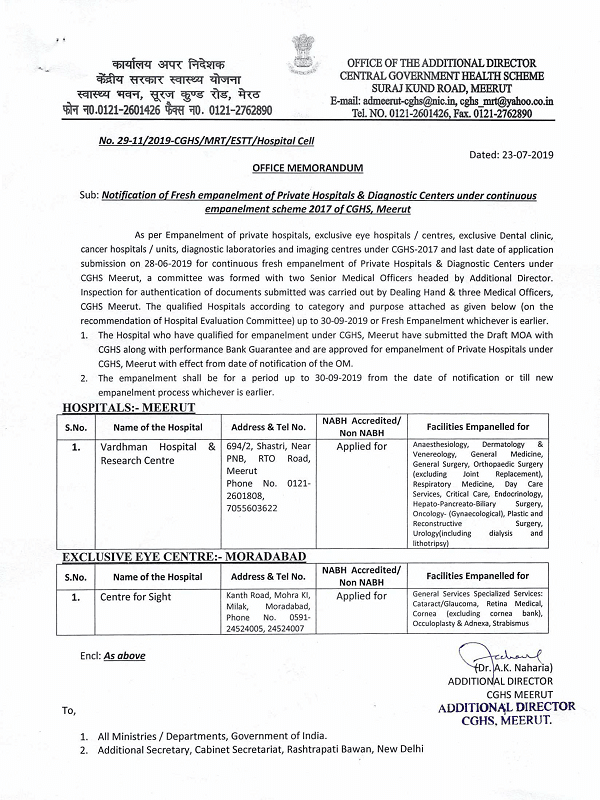 Source: CGHS.GOV.IN
[https://cghs.gov.in/showfile.php?lid=5479]