CGHS Ranchi Eye Care Center empanelment Shreshtha Netra Chikitsalaya Pvt. Ltd.
GOVERNMENT OF INDIA
OFFICE OF THE ADDITIONAL DIRECTOR
CENTRAL GOVERNMENT HEALTH SCHEME
NEW A.G. COLONY, DORANDA, RANCHI-834002
No. CGHS /Continuous Empanelment/2018-19 /53
Dated at Ranchi,the 24/08/2018
OFFICE ORDER
Sub: Empanelment of Non-NABH / Non-NABL Health Care Organizations (HCOs) in CGHS, Ranchi.
In pursuance of Govt. of India, MoH&FW Office Memorandum No. S. 11011/28/2017-CGHS( HEC) dated 16.05.2017 on the above mentioned subject, it is to convey that in addition to the list of the hospitals (including eye centres) already empanelled, the Non-NABH approved Exclusive Eye Care Hospital has also been empanelled under CGHS Ranchi as interim measure, as per the list attached, provisionally w.e.f. 01/09/2018. The newly empanelled Eye Care Hospital may be treated as included in the existing list of empanelled health care organizations under CGHS on existing terms and conditions.
Additional Director
CGHS, Ranchi
NAME OF EXCLUSIVE EYE CARE HOSPITAL EMPANELLED UNDER CGHS, RANCHI THROUGH CONTINUOUS EMPANELMENT SCHEME w.e.f. 01/08/2018.
SI. No.
Name of Health Care Organization
Address & Tel.No.
NABH/ Non-NABH Accredited
Facilities empanelled for
1.
Shreshtha Netra Chikitsalaya Pvt. Ltd.
Ground Floor, Krishna Mall, Between Gate No. 1 & 2,
Ashok Nagar, Ranchi-834002
Tel No. 0651-2245162

Mob. No. 9771430108

Non – NABH
Exclusive Eye Care Clinic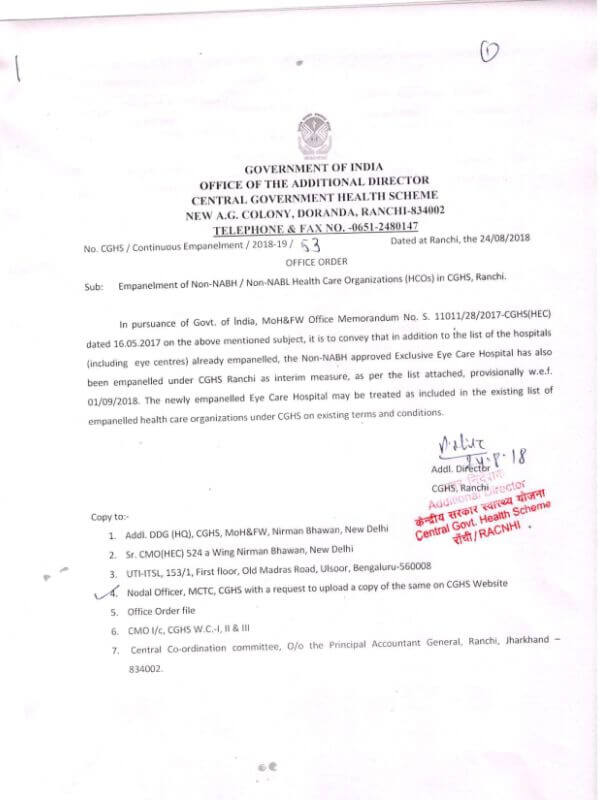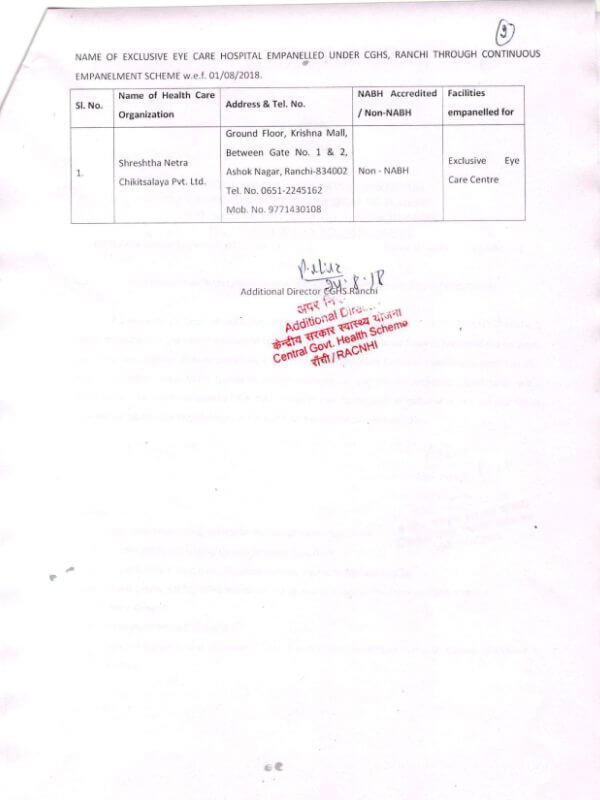 Source:
[https://cghs.gov.in/showfile.php?lid=5457]