Jindal Naturecure Institute, Banglore: Extension of empanelment under CGHS & CS(MA) Rules upto 13.11.2019
F.NO.25-2/2018/CGHS/JD AYUSH
Government of India
Ministry of Health & Family Welfare
Directorate General of Central Government Health Scheme
***************
Nirman Bhawan, New Delhi
Date:- 09.08.2019
OFFICE MEMORANDUM
Subject:- Extension of empanelment of AYUSH Hospitals/Centers under CGHS and CS (MA) Rules till 31.07.2019.
With reference to the above mentioned subject attention is drawn to the OM of even no. dated 14.05.2018 vide which non-NABH empanelled AYUSH Hospitals/Centers were required to obtain NABH accreditation with in a period of one year from date of issue of the said OM. However some of the empanelled Non-NABH AYUSH Hospitals/Centers have not been able to obtain NABH accreditation with in stipulated time period.
The matter has been reviewed and it has been decided to accord extension of validity of empanelment till 13.11.2019 to Jindal Naturecure Institute for obtaining NABH accreditation and in case of failure to do so, action as deemed fit would be initiated against this AYUSH Hospital/Center.
1. Jindal Naturecure Institute, Jindal Nagar, Tumkur Road, Bangalore-560073, Phone No. 080-23717777.
This issue with the approval of SS&DG (CGHS).
(Dr. Atul Prakash)
Director, CGHS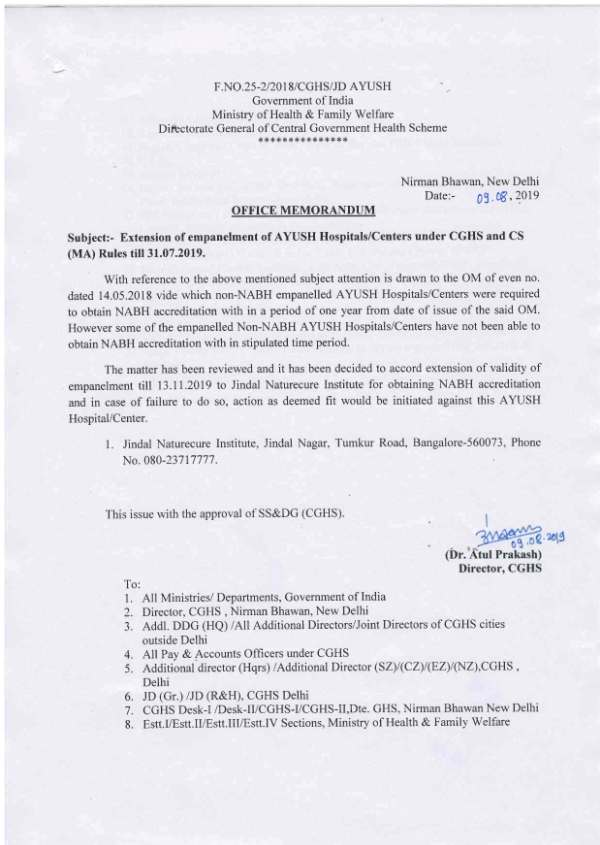 Source: https://cghs.gov.in/showfile.php?lid=5484