Penal Provisions for violation of Reservation in promotion पदोन्नति में आरक्षण का उल्लंघन हेतु दंडात्मक प्रावधान
GOVERNMENT OF INDIA भारत सरकार
MINISTRY OF PERSONNEL, PUBLIC GRIEVANCES AND PENSIONS
कामिक, लोक शिकायत तथा पेंशन मंत्रालय
(DEPARTMENT OF PERSONNEL & TRAINING)
(कामिक और प्रशिक्षण विभाग)
RAJYA SABHA राज्य सभा
UNSTARRED QUESTION NO. 2824 अतारांकित प्रश्न संख्या: 2824
(TO BE ANSWERED ON 12.12.2019) (दिनांक 12.12.2019 को उत्तर के लिए)
PENAL PROVISIONS FOR VIOLATION OF RESERVATION IN PROMOTION
पदोन्नति में आरक्षण का उल्लंघन हेतु दंडात्मक प्रावधान
2824. SHRI RAVI PRAKASH VERMA: 2824. श्री रवि प्रकाश वर्माः
SHRI NEERAJ SHEKHAR: श्री नीरज शेखरः
Will the PRIME MINISTER be pleased to state:
क्या प्रधान मंत्री यह बताने की कृपा करेंगे कि:
(a) the details of legal and penal provisions against Government officials for violation of/not following reservation in promotion to SCs/STs;
(b) the details of steps Government has taken to ensure that reservation in appointments and promotion is followed properly by various departments/ organisations; and
(c) the details of vacancies under SCs/ STs and OBC quota in Central Government jobs as on date?
(क) अनुसूचित जातियों/अनुसूचित जनजातियों को पदोन्नति में आरक्षण का अनुपालन नहीं करने/उल्लंघन करने वाले सरकारी अधिकारियों के विरूद्ध विधिक और दंडात्मक प्रावधानों का ब्यौरा क्‍या है;
(ख) विभिन्‍न विभागों/संगठनों द्वारा नियुक्तियों और पदोन्‍नतियों में आरक्षण के उचित अनुपालन को सुनिश्चित करने के लिए सरकार द्वारा उठाए गए कदमों का ब्यौरा क्‍या है; और
(ग) आज की तारीख के अनुसार केन्द्र सरकार की नौकरियों में अनुसूचित जातियों/अनुसूचित जनजातियों और अन्य पिछड़े वर्ग के कोटे में रिक्तियों का ब्यौरा क्या है?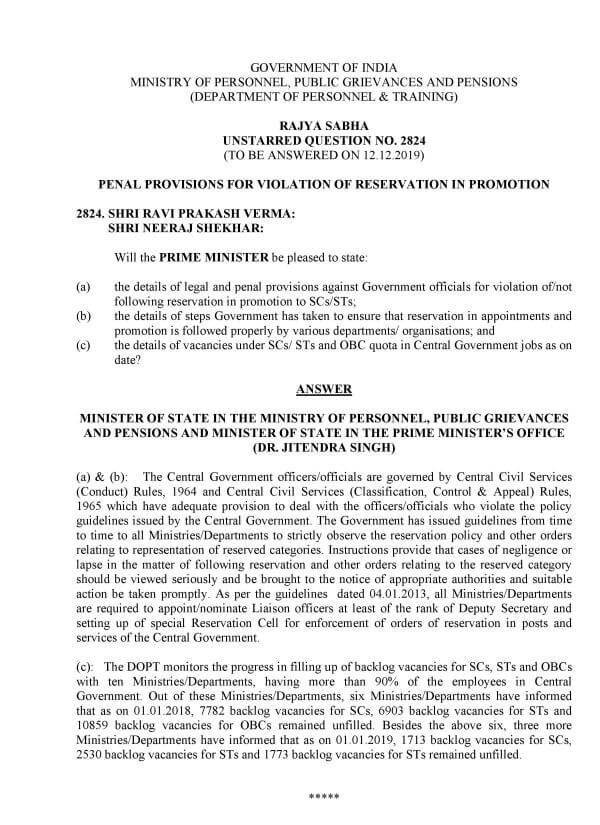 उत्तर

ANSWER

MINISTER OF STATE IN THE MINISTRY OF PERSONNEL, PUBLIC GRIEVANCES AND PENSIONS AND MINISTER OF STATE IN THE PRIME MINISTER'S OFFICE (DR. JITENDRA SINGH)
कार्मिक, लोक शिकायत तथा पेंशन मंत्रालय में राज्य मंत्री तथा प्रधानमंत्री कार्यालय में राज्य मंत्री (डॉ. जितेन्द्र सिंह)

(a) & (b): The Central Government officers/officials are governed by Central Civil Services (Conduct) Rules, 1964 and Central Civil Services (Classification, Control & Appeal) Rules, 1965 which have adequate provision to deal with the officers/officials who violate the policy guidelines issued by the Central Government. The Government has issued guidelines from time to time to all Ministries/Departments to strictly observe the reservation policy and other orders relating to representation of reserved categories. Instructions provide that cases of negligence or lapse in the matter of following reservation and other orders relating to the reserved category should be viewed seriously and be brought to the notice of appropriate authorities and suitable action be taken promptly. As per the guidelines dated 04.01.2013, all Ministries/Departments are required to appoint/nominate Liaison officers at least of the rank of Deputy Secretary and setting up of special Reservation Cell for enforcement of orders of reservation in posts and services of the Central Government.

(c): The DOPT monitors the progress in filling up of backlog vacancies for SCs, STs and OBCs with ten Ministries/Departments, having more than 90% of the employees in Central Government. Out of these Ministries/Departments, six Ministries/Departments have informed that as on 01.01.2018, 7782 backlog vacancies for SCs, 6903 backlog vacancies for STs and 10859 backlog vacancies for OBCs remained unfilled. Besides the above six, three more Ministries/Departments have informed that as on 01.01.2019, 1713 backlog vacancies for SCs, 2530 backlog vacancies for STs and 1773 backlog vacancies for STs remained unfilled.

(क) और (ख) : केन्द्र सरकार के अधिकारी/कार्मिक केन्द्रीय सिविल सेवा (आचरण) नियम, 1964 और केन्द्रीय सिविल सेवा (वर्गीकरण, नियंत्रण और अपील) नियम, 1965 द्वारा शासित होते है जिसमें केन्द्र सरकार दवारा जारी किए गए नीतिगत दिशाननिर्देशों का उललघंन करने वाले अधिकारियों/कार्मिकों के खिलाफ कार्रवाई करने के लिए पर्याप्त प्रावधान किए गए हैं। सरकार ने समय-समय पर सभी मंत्रालयों/विभागों को सख्ती से आरक्षण नीति और आरक्षित वर्गों के प्रतिनिधित्व से संबंधित अन्य आदेशों का अनुपालन करने के लिए दिशा-निर्देश जारी किए हैं। अनुदेशों में यह निदेश दिया गया है कि आरक्षण और आरक्षित वर्ग से संबंधित अन्य आदेशों के अनुपालन के मामले में लापरवाही अथवा चूक करने के मामलों को गंभीरता से लिया जाए तथा इसे समुचित प्राधिकारियों के संज्ञान में लाया जाए और उन पर समय पर उचित कारवाई की जाए। दिनांक 04.01.2013 के दिशाजनिर्देशों के अनुसार, सभी मंत्रालयों/विभागों को कम से कम उप सचिव की रैंक वाले संपर्क अधिकारी की नियुक्ति/नामांकन करना तथा केन्द्र सरकार के पदों और सेवाओं में आरक्षण के आदेशों को लागू करने के लिए विशेष आरक्षण प्रकोष्ठ की स्थापना करना अपेक्षित होता है।

(ग) कार्मिक और प्रशिक्षण विभाग, केन्द्र सरकार में 90% से अधिक कर्मचारियों वाले मंत्रालयों/विभागों में अनुसूचित जातियों (अजा), अनुसूचित जनजातियों (अजजा) और अन्य पिछड़े वर्गों (अपिव) के लिए बैकलॉग रिक्तियों को भरने में हुई प्रगति की निगरानी करता है। इन दस मंत्रालयों/विभागों में से छह मंत्रालयों/विभागों ने सूचित किया है कि दिनांक 01.01.2018 तक की स्थिति के अनुसार, अनुसूचित जातियों की 7782 बैकलॉग रिक्तियां, अनुसूचित जनजातियों की 6903 बैकलॉग रिक्तियां तथा अन्य पिछड़े वर्गों की 10859 बैकलॉग रिक्तियां भरी जानी शेष थीं। उपर्यक्त छह मंत्रालयों के अतिरिक्त, तीन और मंत्रालयों/विभागों ने सूचित किया है कि दिनांक 01.01.2019 तक की स्थिति के अनुसार, अनुसूचित जातियों की 1713 बैकलॉग रिक्तियां, अनुसूचित जनजातियों की 2530 बैकलॉग रिक्तियां तथा अन्य पिछड़े वर्गों की 1773 बैकलॉग रिक्तियां भरी जानी शेष थीं।

*****
Source: Rajya Sabha