Exemption to employees to mark Biometric Attendance in AEBAS: Railway Board forwarded DoPT OM to All Zonal Railways/PU/PSU/CORE, METRO & RDSO
भारत सरकार/ GOVERNMENT OF INDIA
रेल मंत्रालय/ MINISTRY OF RAILWAYS
रेलवे बोर्ड/ RAILWAY BOARD
No. E(G)2017/LE 1-34
New Delhi, Dated: 09.03.2020
The General Managers,
All Zonal Railways,
Production Units /
Public Sector Undertakings ,
CORE,METRO & RDSO.
Sub: Exemption to employees to mark Biometric Attendance in Aadhar Based Biometric Attendance System(AEBAS)-reg.
A copy of DOP&T's Office Memorandum No. C-13014/1/2020 Vig dated 06.03.2020 on the above noted subject, is sent herewith for information and compliance.
Please acknowledge receipt.
DA: As above.
Sd/-
(Anita Gautam)
Director Estt.(General)
Railway Board
Enclosure: Exemption to employees to mark biometric attendance in Aadhar Based Biometric Attendance System (AEBAS)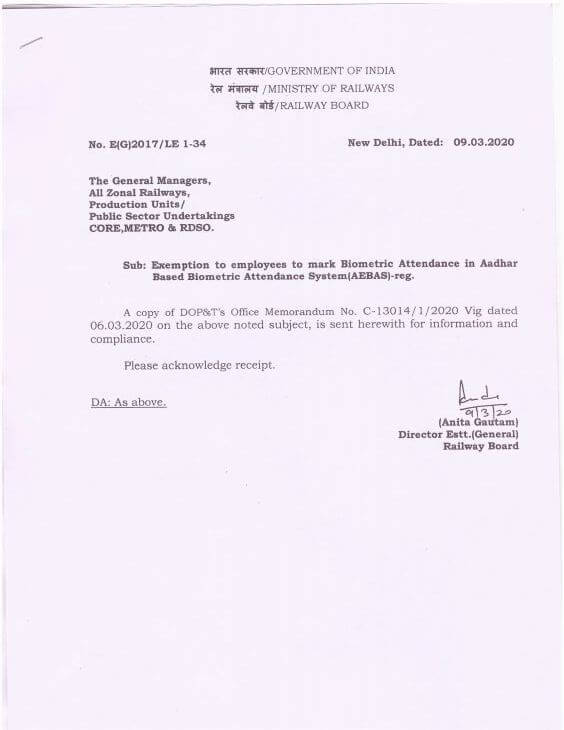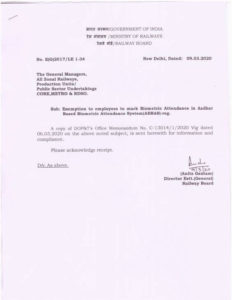 Source: http://indianrailways.gov.in/railwayboard/uploads/directorate/establishment/eg/2020/E(G)_Exemption_AEBAS_09032020.pdf